Two months ago most forecasts called for a decline in the semiconductor market in 2020 as reported in our Semiconductor Intelligence May 2020 newsletter. The outlook changed in June, as the Worldwide Semiconductor Trade Statistics (WSTS) consensus forecast projected 3.3% growth in 2020. This month IC Insights revised its IC forecast for 2020 to 3.0% growth from its April forecast of a 4% decline. The optimism is largely based on WSTS data which shows the January to May 2020 semiconductor market up 6.4% versus the same period in 2019.
Most major semiconductor companies have not yet reported second quarter 2020 results. Micron Technology reported revenue for its fiscal quarter ended in May up 13.4% from the prior quarter, above the high end of its guidance. Micron expects revenue growth of 6% to 15% in its current quarter. Texas Instruments reported 2Q 2020 revenue down 2.7% from 1Q 2020, however this was above its high-end guidance of a 4.2% decline. TI guidance for 3Q 2020 was 1% to 9% revenue growth. Despite the better than expected results, there is concern in a statement TI made about its industrial customers. TI Investor Relations VP Dave Pahl stated, "We do believe that some customers are trying to maintain strong inventory positions to limit exposure to any supply chain disruptions."
The cautious optimism for the semiconductor market in 2020 may be premature. The impact of the COVID-19 (coronavirus) pandemic on the world economy in 2020 is almost impossible to predict. The outlook looked promising when hard hit European countries such as Spain, France and the UK saw declines in new cases in April and May. However, in June and July there has been a major surge in new cases in the U.S., Brazil, and India – the world's third, sixth and second most populous countries, respectively. According to Johns Hopkins University, cumulative worldwide COVID-19 cases were 15.3 million as of July 23, two- and one-half times the cumulative 6.2 million cases at the end of May.
Mobile phones have been the largest market for semiconductors for several years. China electronics production took a major hit in January and February 2020 as China shut down many factories to try to get COVID-19 under control. Mobile phone units were down 41% from a year ago and PCs were down 29%. In the second quarter of 2020, mobile phone units were down 21% from a year earlier while PC units were up 17%. Total China electronics production in local currency (yuan) recovered from a 14% year-to-year decline in January and February to 12% growth in 2Q 2020. Even if China is able to return to year ago production levels by 4Q 2020, mobile phone units will still be down about 15% in 2020 versus 2019. China accounts for the vast majority of smartphone production.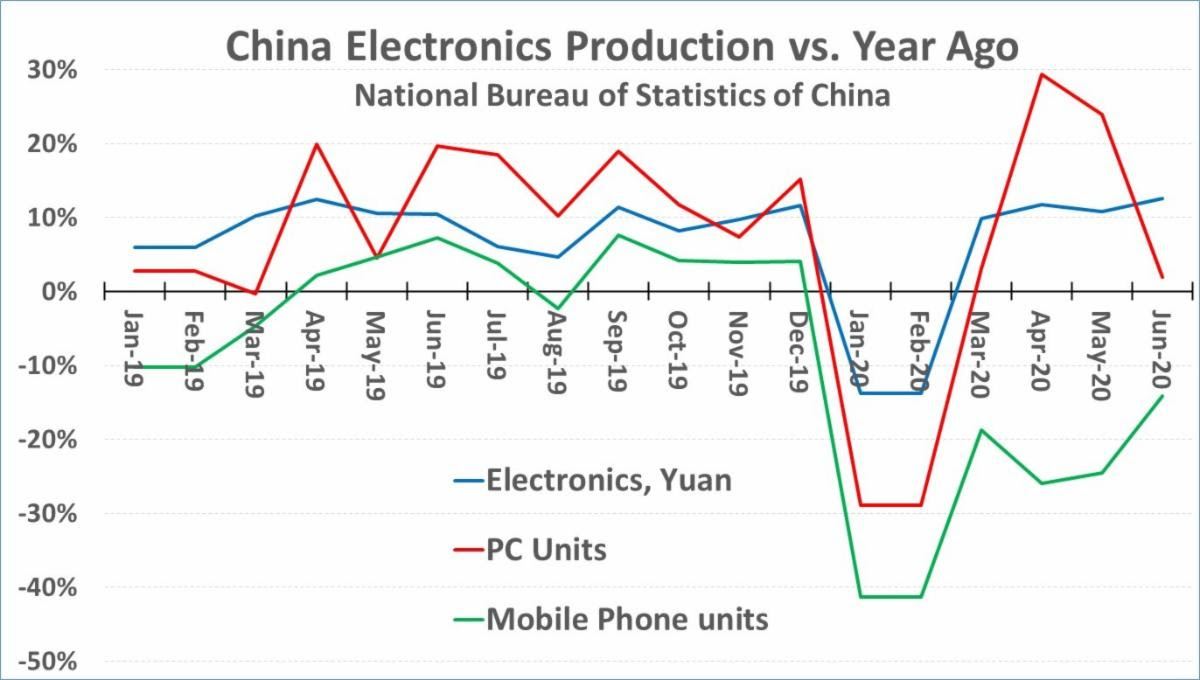 Second quarter 2020 smartphone shipment estimates have not yet been released, but available data indicates a very weak quarter. Canalys estimates China smartphone shipments were down 22% in 2Q 2020 versus a year ago. India shipments were down 48% as many retail outlets were closed due to COVID-19. Counterpoint Research estimates sell-through of smartphones in the U.S. was down 25% from a year ago. These three countries account for about half of worldwide smartphone shipments.

The latest available forecasts for the 2020 smartphone market range from -11.9% from IDC to -16% from Fitch Ratings. If 2Q 2020 smartphone shipments come in weaker than expected (as is likely based on the above data) these forecasts will be revised downward. It is conceivable the smartphone market could decline 20% in 2020.

The news is better for PCs, the second largest market for semiconductors after smartphones. IDC estimates PC unit shipments in 1Q 2020 were down 10% from a year ago but bounced back to 11% growth in 2Q 2020. For the first half of 2020, PC units were up 1.2% from a year ago. This is impressive given that PC units have declined in six of the last eight years. The PC market has been driven by demand from more people working and learning from home over the last several months.

We at Semiconductor Intelligence will update our forecast next month once 2Q 2020 data is available. Our May forecast was a 6% decline in the 2020 semiconductor market. Our August forecast will probably again call for a decline. COVID-19 will have an impact on the worldwide economy through at least the end of the year. Unemployment rates in much of the world are as high or higher than rates in the great recession of 2008-2009. Employed people are likely to be more cautious about spending during the pandemic. Though the PC market is healthy, the smartphone market will see its first major decline in its history. As TI indicated, some electronics companies may be building semiconductor inventories due to concerns about the stability of the supply chain. If end markets remain weak in the second half of 2020, these companies may significantly reduce semiconductor purchases to adjust inventory levels.
In the history of the semiconductor market, it has experienced downturns when the overall economy has been growing (1985 for example), but it has never been immune from a global economic downturn.
Also Read:
Is the Worst Over for Semiconductors?
Share this post via: