Global electronics production is healthy, despite the COVID-19 pandemic. The chart below shows the three-month-average change versus a year ago (3/12 change) in electronics production (measured in local currency) for the major Asian producers. China is the largest electronics manufacturing country and the original source of the COVID-19 outbreak.
In 2018, China electronics production growth averaged 13% versus the prior year. In 2019, the average growth dropped to 9% as some manufacturing shifted to other countries due to the trade dispute between the U.S. and China. In early 2020, China shut down many manufacturing plants in an effort to control the spread of COVID-19. As a result, 3/12 change went negative in February and March, bottoming out at -5.9% in March. China production has since recovered to 3/12 growth rates in the 11% to 12% range in May through July.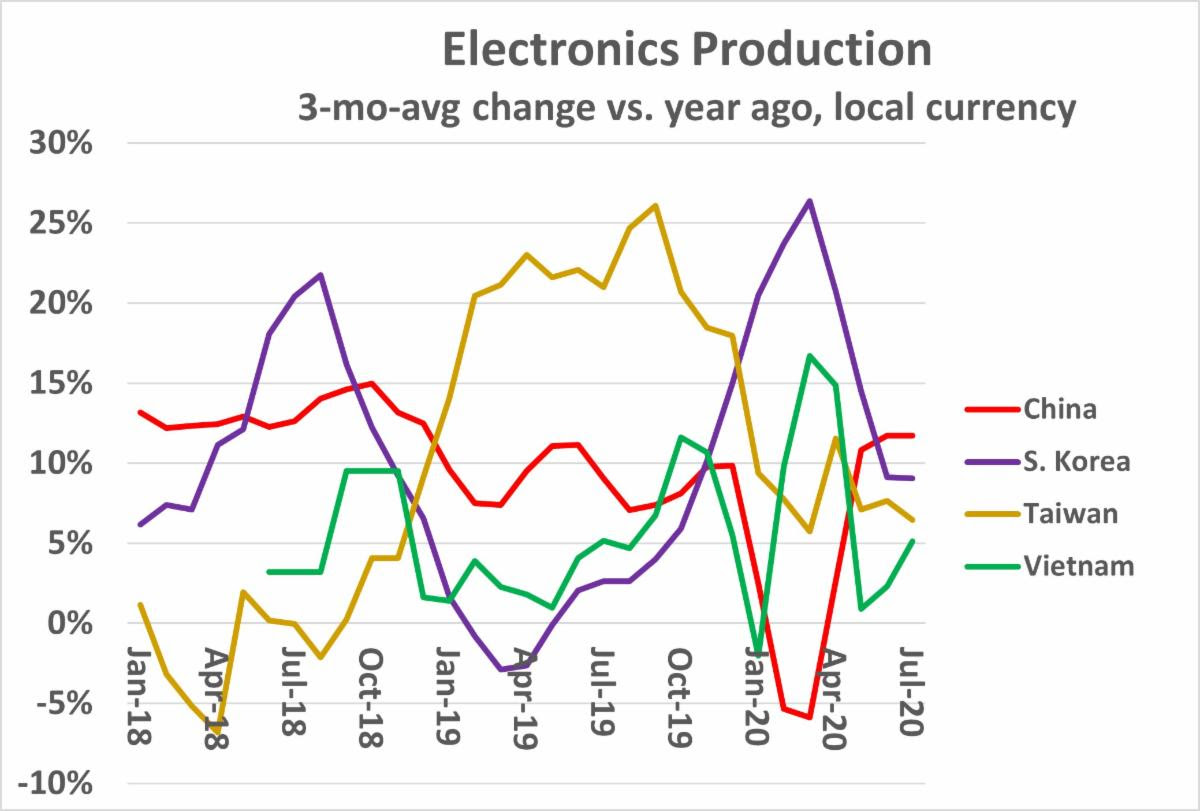 Taiwan was a major beneficiary of production shifts out of China in 2019. Taiwan's electronics production 3/12 change averaged just about flat in 2018 before averaging 21% in 2019. Average 3/12 growth has slowed to 8% in 2020, but no significant slowdown due to COVID-19 has been shown. South Korea and Vietnam 3/12 change has been volatile over the last two and a half years.
However, neither country shows any significant impact from COVID-19. Vietnam's 3/12 change did dip to -2% in January, but that was due to a slowdown which began in December 2019.
Electronic production in the mature economies of the United State and European Union has shown weak to moderate growth in the last few years. U.S. 3/12 growth in 2018 averaged 4%, slowing to 0.7% in 2019. EU-27 (European Union countries excluding the UK) 3/12 growth averaged 5% in 2018 and -1.7% in 2019. 3/12 growth in the U.S. and EU has been weak in 2020, but it is difficult to say how much of this is due to the COVID-19 pandemic and how much is a continuation of previous trends. Both the U.S. and EU bounced back to 3/12 growth of 2% in July.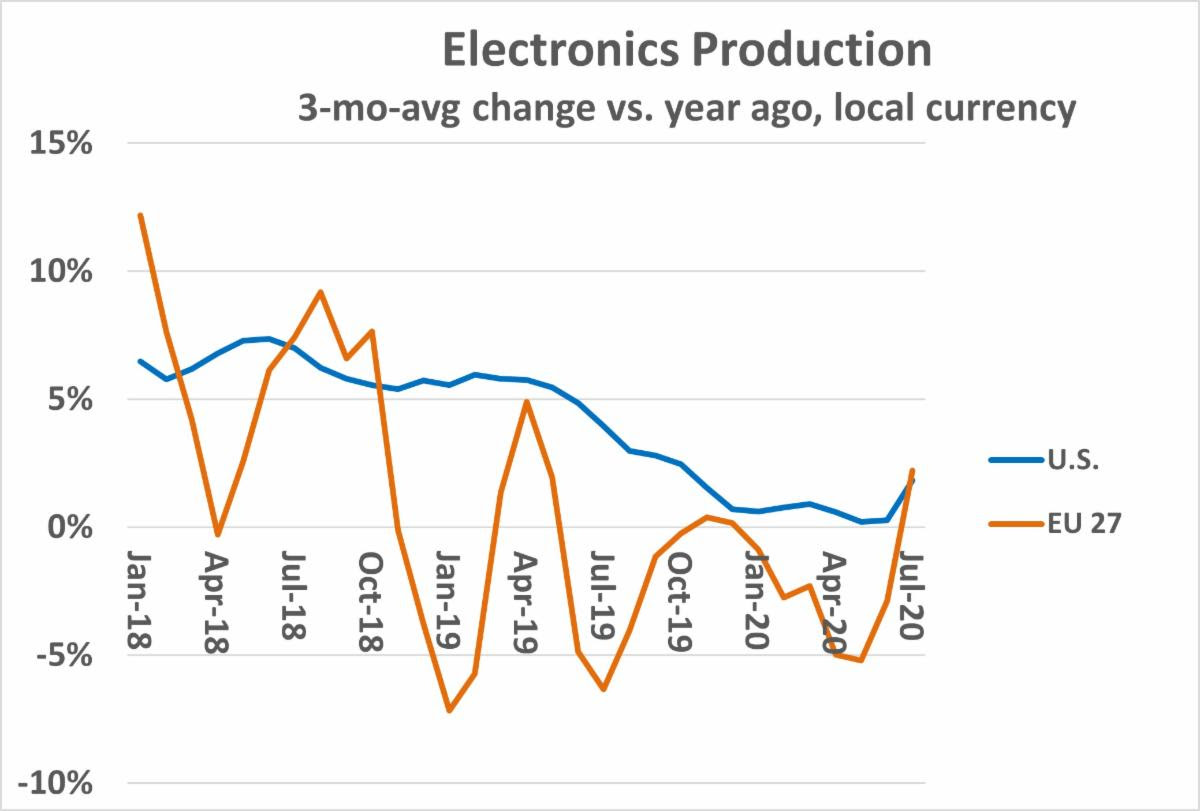 The impact of the COVID-19 pandemic on electronics production is also demonstrated by the combined revenue trends of the two largest contract electronics manufacturers, HonHai (also know as Foxconn) and Pegatron. Both companies are based in Taiwan but have manufacturing facilities around the world. Most of their production is in China. The combined revenues dropped by more than half from NT$668 million in December 2019 to NT$299 million in February 2020. Year-to-year growth was 2% in 2019 over 2018 but declined 14% in January and February. Year-to-year growth recovered to 6% in August and revenues were NT$526 million, 94% of the average monthly revenues in 2019. According to Digitimes.com, HonHai and Pegatron are expected to see revenues peak in 4Q 2020 with the launch of new Apple iPhone models.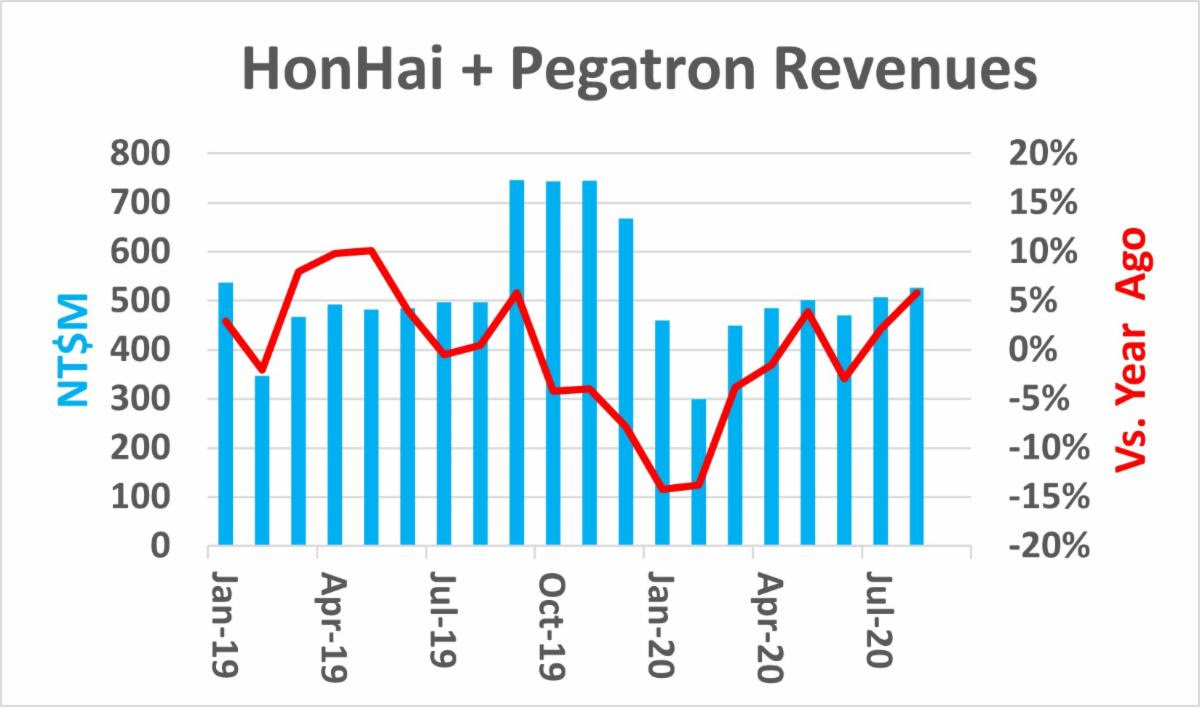 Interestingly, the major electronics manufacturing countries in Asia had relatively low COVID-19 death rates compared to Europe and the U.S. According to Johns Hopkins University of Medicine, China's COVID-19 deaths per 100,000 population was 0.34. Vietnam and Taiwan had the lowest death rates of all countries listed. South Korea's rate of 0.71 was below the worldwide rate of 1.20. Four of the five largest European countries had rates above 46. The U.S. rate was 59.5.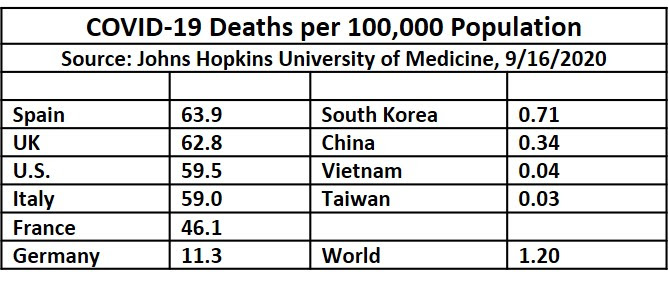 The pandemic-related shutdowns have devastated many sectors of the global economy – particularly travel, tourism, entertainment, bars, restaurants, and brick-and-mortar retail stores. However, the shutdowns have contributed to the growth of some electronic devices. With numerous workplaces and schools closed or limited, more people are working and learning from home.
This has driven many people to upgrade their PCs and tablets. Some households which previously did not have PCs or tablets are now acquiring them, often paid for, or subsidized by, employers or school systems. This month, IDC forecast 3.3% growth in 2020 for personal computing devices (PCs, tablets, and workstations).
The smartphone market was slow in the first half of 2020 due to manufacturing disruptions and the temporary closing of many retail outlets. Smartphone demand is expected to rebound in the second half of 2020 as manufacturing returns to normal. In August, IDC revised their 2020 smartphone unit shipment forecast to a 9.5% decline compared to an expected 11.9% decline in June. Apple's expected release of its 5G iPhone 12 models in October should drive strong fourth quarter 2020 growth.
Also Read:
Semiconductors Not as Bad as Expected!
Semiconductors up in 2020? Not so fast
Share this post via: