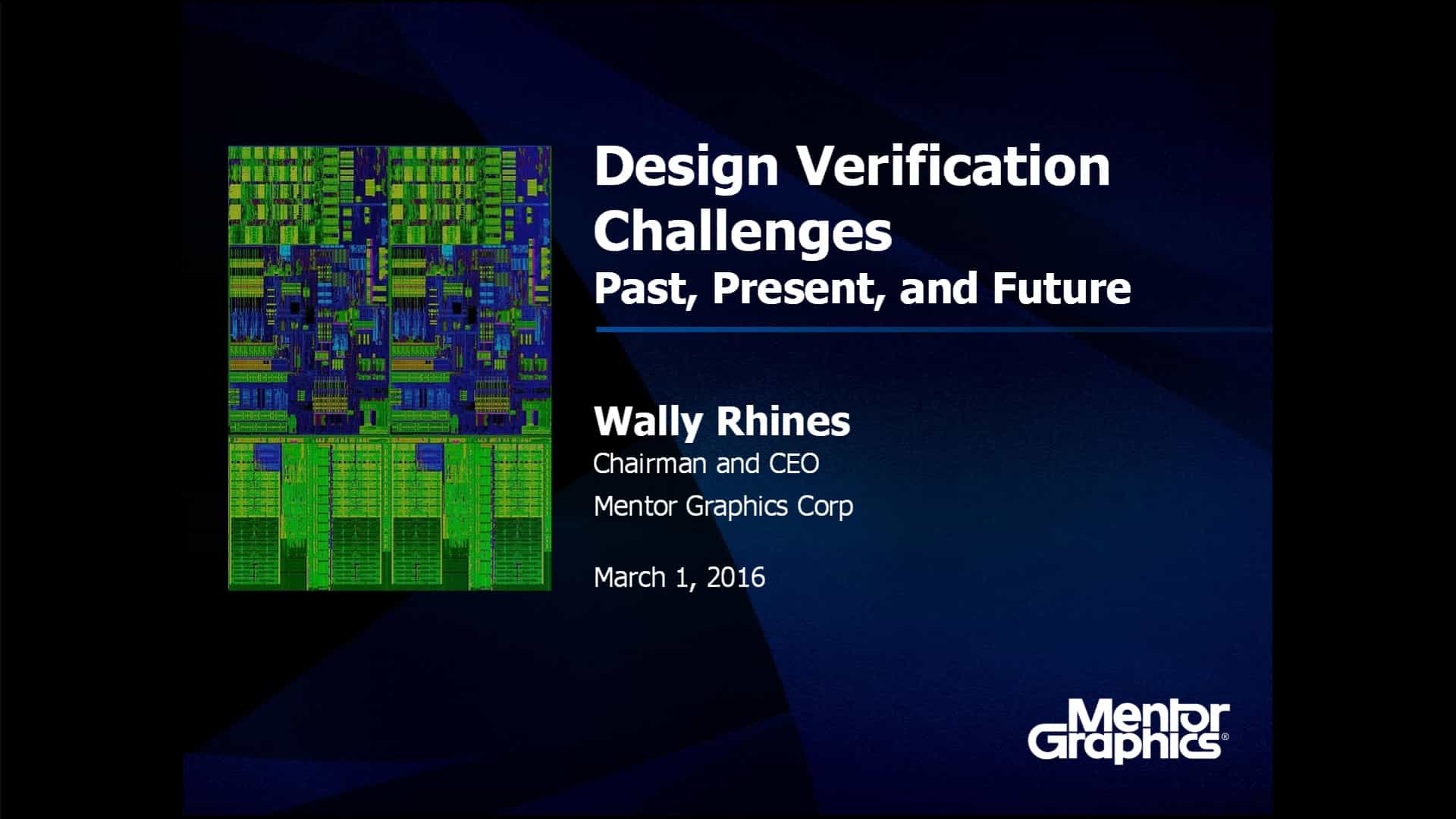 Who can present seventy six slides in sixty minutes, still have time for questions, AND make it interesting? Dr. Walden Rhines that's who. Here is a link to the presentation but I have to warn you, it is a 100MB PDF file:
Design Verification Challenges: Past, Present, and Future

The DVCon conference was well attended again this year (1,117 participants), probably because the number of verification engineers required for SoC design is exploding. The highlight of the conference of course was Wally's keynote. In my opinion history is an important part of business strategy and some of the strongest leaders we have are history buffs. It is important to know how you got to where you are today to better make decisions about tomorrow, right? That is why we published a book on the history of the fabless semiconductor industry and a book on The Origin and Evolution of ARM Processors in our Devices.
One example is Dr. Morris Chang. His recollection of more than sixty years in the semiconductor history is legendary. Morris is also fluent on World War II history and military strategy. Another example is Dr. Walden Rhines. Wally's semiconductor stories covering his days at TI and Mentor Graphics are nothing short of fascinating. Hopefully Wally's autobiography is in process.
So, if you want a trip down memory lane, the first 57 slides of Wally's presentation are a great read. If not skip down to slide #58 and see what's next for functional verification and beyond. Great presentation but I do have a problem with the FPGA Prototyping section starting on page #53. Mentor is an emulation company and the study that is referenced reflects that, absolutely.
Coincidentally, Don Dingee and I are currently researching FPGA Prototyping in preparation for our next book and a session for the Electronic Design Process Symposium in Monterey next month. The session is FPGA Prototyping for IoT, Don's keynote is The Internet of Trust and a New Frontier For Exploration. Following Don is a panel discussion with FPGA prototyping experts: Tom De Schutter (Synopsys), Frank Schirrmeister (Cadence), and Toshio Nakama (S2C).
If you would like to read more about emulation versus FPGA Prototyping you can start here: What's the Difference between Emulation and Prototyping? If you would like to get the latest on FPGA Prototyping and have a candid discussion with experts join us in Monterey:
About EDPS:
The Electronic Design Processes (EDP) 2016 Workshop and Symposium, in its 23rd year, has fostered the free exchange of ideas among the top thinkers, movers, and shakers who focus on how chips and systems are designed in the electronics industry. It has provided a forum for this cross-section of the design community to discuss state-of-the-art improvements to electronics design processes and CAD methodologies, rather than on the functions of the individual tools themselves.
Attendees of this elite workshop have met each year since 1993. It has attracted some of the most far-seeing people in the electronics industry and academia as speakers. If you need to know where the industry is and where it's going with respect to the design and development, and especially methodologies and technology of design, you should consider attending this year.
Share this post via: