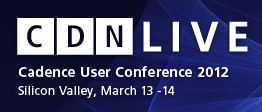 Next Tuesday and Wednesday, March 13-14th, is CDNLive in Silicon Valley at the DoubleTree Hotel (which I see we are now meant to call DoubleTree by Hilton, although I still have to think twice not to call it the Red Lion, the group whose CFO at one point was Ray Bingham who was CFO and then CEO of Cadence. Trivia fact for the day).
CDNlive has a new format and going forward it will be much more technically focused. In the early days of CDNLive, which was the Fister era, CDNlive was modeled on the Intel developer forum. But Cadence markets to engineers who want to know about technology and practical techniques. So most of the people at CDNLive are users and relatively few Cadence people. Of the 90 sessions taking place over the two days, 76 are user-driven.
There are 3 keynotes on the first day, starting at 10.30:
Lip-Bu Tan, Cadence CEO

Challenges, opportunities and collaboration

Rick Cassidy, President of TSMC

North America Life in the silicon century

Tom Lantzsch, Exec VP of ARM Corporate Development

Your world at your fingertips
Following that at noon a buffet lunch is served in the expo hall where Cadence has a booth with 14 demos and partners from ANSYS to TSMC also have booths and demos. Lunch during the second day offers a chance to meet R&D engineers from Cadence.
Before the keynotes, and after lunch, and through all of the second day, there are 8 tracks of detailed technical presentations running in parallel. The tracks are:
[LIST=1]
Digital Design
Mixed-signal/Low Power
Custom
Verification
SoC/DIP
System/Software
System Verifcation
High Performance

Companies presenting include Cadence (of course), TSMC, Qualcomm, Broadcom, IBM, Cisco, AMD, Xilinx, ARM, Rambus and many others. A lot of customers designing chips on the leading edge with stories from the trenches.

At the end of the day, back to the expo for a reception from 5.45 to 7.30. Demos and drinks.

More information about the conference is here.
Registration is here, or if you really procrastinate you can register on the day.

Share this post via: