In most of the electronic equipments, semiconductor chips are a major source of heat generation. And in semiconductor designs several hardware and software techniques are being used to contain power dissipation; a major cause for heat. However due to multiple functionality being squeezed into small form factors, we continue to experience our electronic devices such as smartphone, notebook and other networking and telecom devices that operate continuously, getting heated up after prolonged use. It's essential to manage that heat to disperse through appropriate enclosure design, cooling, heat sink and other techniques; otherwise even a single chip failure can render the whole system at risk. How to model those designs for cooling of electronic devices which pose several complexities such as sheer number of solid-fluid and solid-solid surfaces, material property, highly cluttered for air circulation etc.?
It was a positive surprise for me coming across this state-of-the-art tool, FloTHERM XT from Mentor. I really admire the versatility of offerings from Mentor across all spheres of semiconductor design from chip and package to complete system, applicable to diverse set of applications including automotive, aerospace and defense.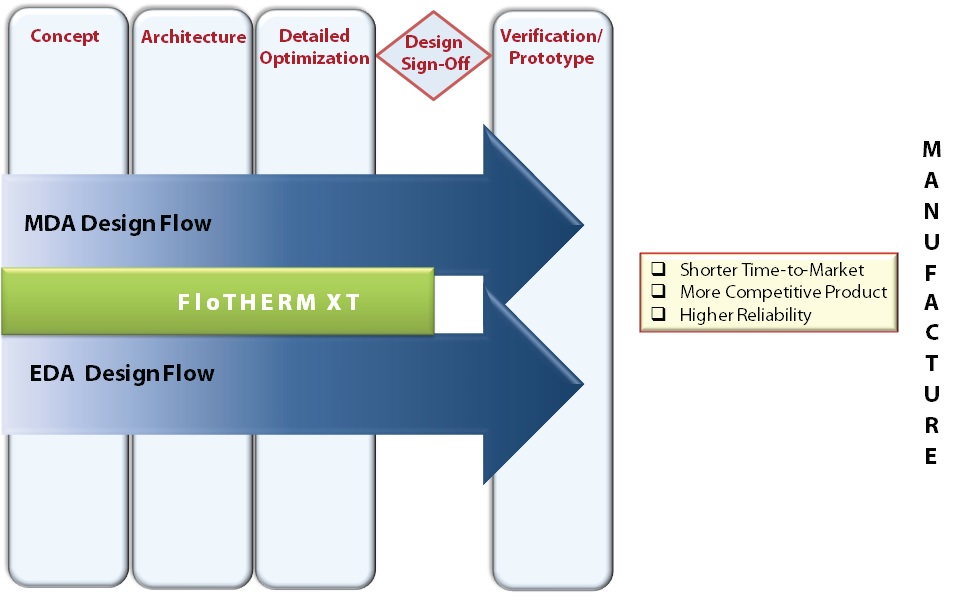 FloTHERM XT takes EDA and MDA (Mechanical Design Automation) design flows together from concept to product validation, thus minimizing the risks associated with thermal aspects of the design as early as possible. It uses a solid modelling engine that can create a 3D model of the product with the desired level of details to keep the electronic and mechanical design in sync. This unique tool is easily used by design as well as thermal experts who can analyse the system through plenty of what-if scenarios.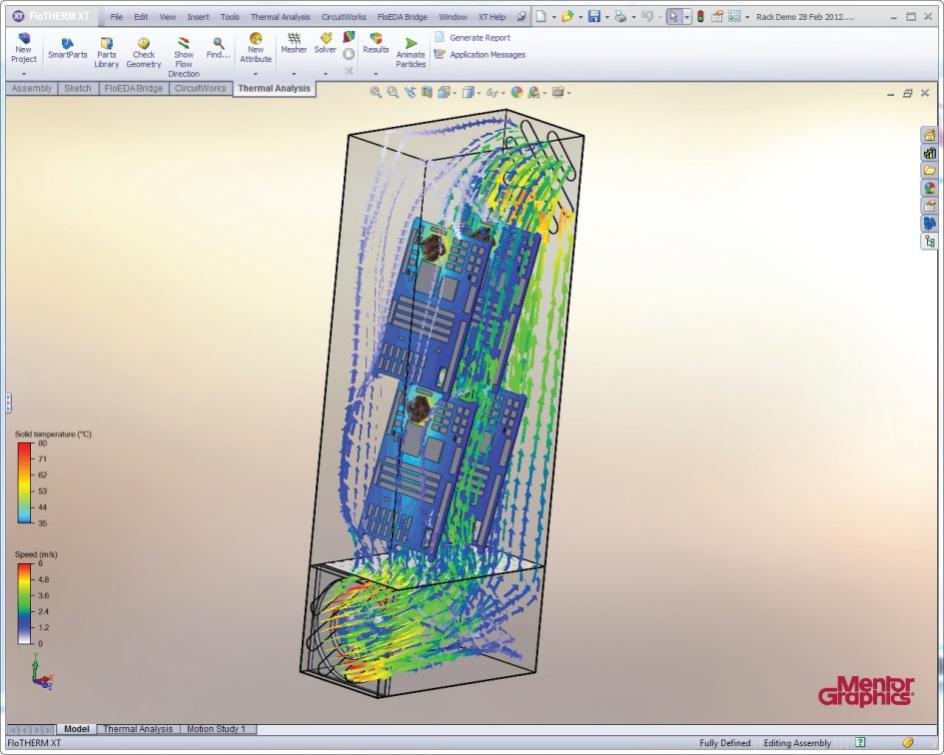 FloTHERM XT provides an easy-to-use GUI to build models, automatic meshing, and efficient simulation of complex systems and convergence that significantly reduces overall time spent on thermal simulation compared to any CFD (Computational Fluid Dynamics) based solution.
The whole process is best described through a case study in a whitepaper at Mentor's website.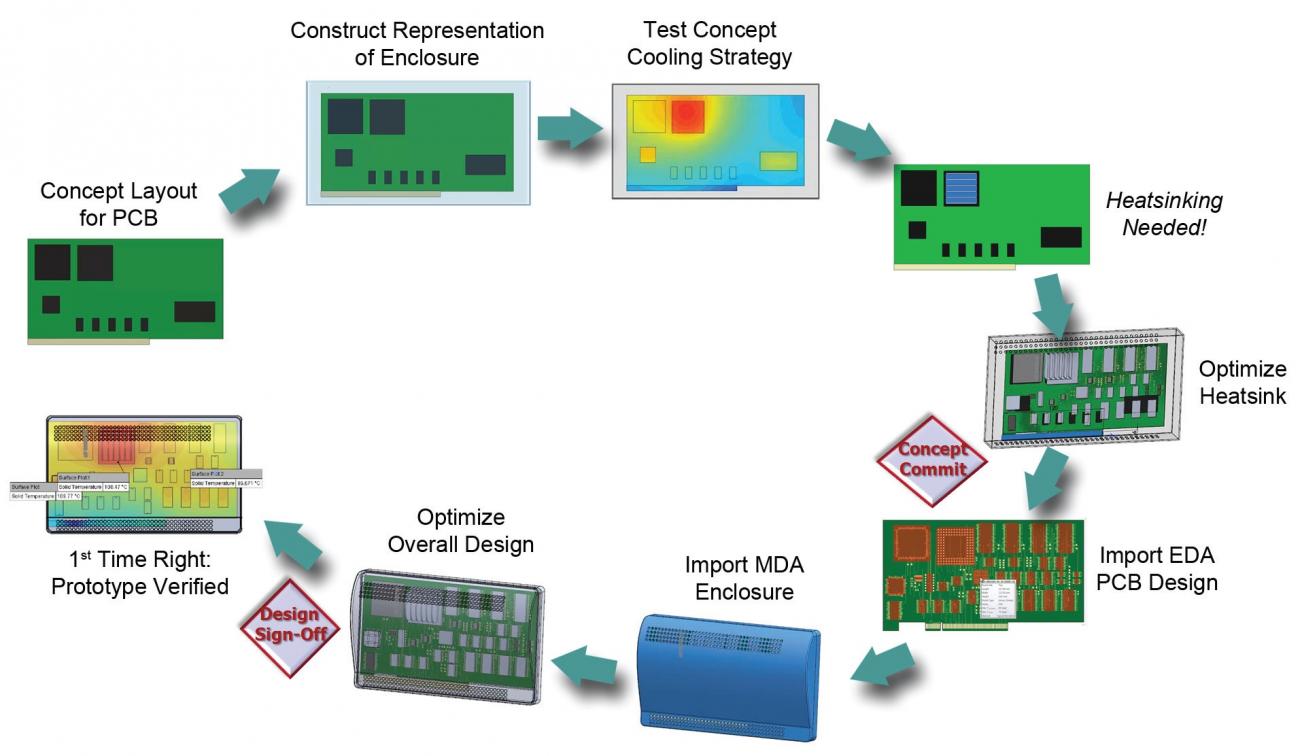 [FloTHERM XT – Thermal design flow – Concept to prototype for electronic products]
The design starts with a simple representation of a PCB and components. An initial assessment of temperatures of critical components and cooling strategy is made. And then a complete model of the system is developed in stages with required enclosure and heat sinks designed through MCAD. Interface resistances are added and the full board layout is imported from EDA via FloEDA bridge. After merging enclosure from MDA system and PCB from EDA system, a thorough thermal simulation is performed. The component modelling also evolves through the flow; thermal models can change in complexity as required. FloTHERM XT has advanced library swapping and filtering support to choose appropriate models. The detailed modelling of IC packages is also done to determine if critical junction temperatures are exceeded.
Since power dissipation has increased and products are more compact than ever, thermal designs have become critical bringing EDA and MDA design flows closer together. FloTHERM XT provides a rapid design environment to create model geometry do simulation and develop the best optimized prototype to be manufactured. It has semi-automatic, object based algorithms, with options to adjust the mesh manually where required.
A detailed study of the thermal design issues, complexities involved in CFD based systems and how FloTHERM XT solves those issues in simplistic terms for the user is described in the whitepaper. It's a good read for thermal, electronic, automotive, aerospace, and defense design engineers.
More Articles by Pawan Fangaria…..
lang: en_US
Share this post via: