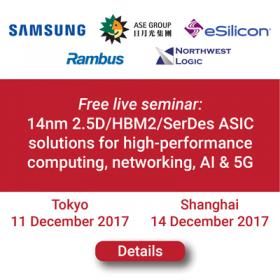 I remember the days of the IDM (integrated device manufacturer). For me, it was RCA, where I worked for 15 years as the company changed from RCA to GE and then ultimately to Harris Semiconductor. It's a bit of a cliché, but life was simpler then, from a customer point of view at least. RCA did it all. We designed all the IP, did the physical design, owned fabs, assembly and test facilities and took full responsibility for every custom chip we built from handoff to volume production. We even developed and supported a complete suite of design tools. It was called CAD then, not EDA.
Things are different now. Building a custom chip now requires a lot of contributions from a lot of companies. Design, fab, packaging, IP, test and EDA are all delivered by different organizations with a laser focus on doing a particular part of the job very well. If you look at the challenges of FinFET and 2.5 designs for markets such as the cloud and AI, the complexity and number of players goes up yet again due to things like HBM memory stacks, interposers, advanced packages and enabling IP.
It is against this backdrop that I am pleased to say, "help is on the way". eSilicon has been working with an extended family of ecosystem partners for many years, and a group of us will be taking it on the road soon, in Shanghai and Tokyo, to show how a team of companies can work as one to deliver advanced ASICs. We'll be presenting at the Tokyo Conference Center, Shinagawa, Japan on Monday, December 11 and at the Kerry Hotel, Pudong, Shanghai, China on Thursday, December 14.
Over the course of the day from 10:30 AM to 4:00PM, you'll hear from Samsung Memory about their HBM2 solutions, Samsung Foundry about their advanced 14nm FinFET solutions, ASE Group about their advanced packaging solutions, eSilicon, about their ASIC and 2.5D design/implementation and IP solutions, Rambus about their high-performance SerDes solutions and Northwest Logic about their HBM2 controller solutions. A complete ecosystem to address the requirements of advanced ASICs for markets such as high-performance computing, networking, deep learning and 5G.
There will also be cocktails and networking from 3:00PM to 4:00PM, with many very interesting lucky draw prizes to award.
Find out more about this valuable event and sign up to attend. It's free, but space is going fast. We hope to see you there.
About

e

Silicon



eSilicon is an independent provider of complex FinFET-class ASIC design, custom IP and advanced 2.5D packaging solutions. Our ASIC+IP synergies include complete, silicon-proven 2.5D/HBM2 and TCAM platforms for FinFET technology at 14/16nm. Supported by patented knowledge base and optimization technology, eSilicon delivers a transparent, collaborative, flexible customer experience to serve the high-bandwidth networking, high-performance computing, artificial intelligence (AI) and 5G infrastructure markets.
Share this post via: