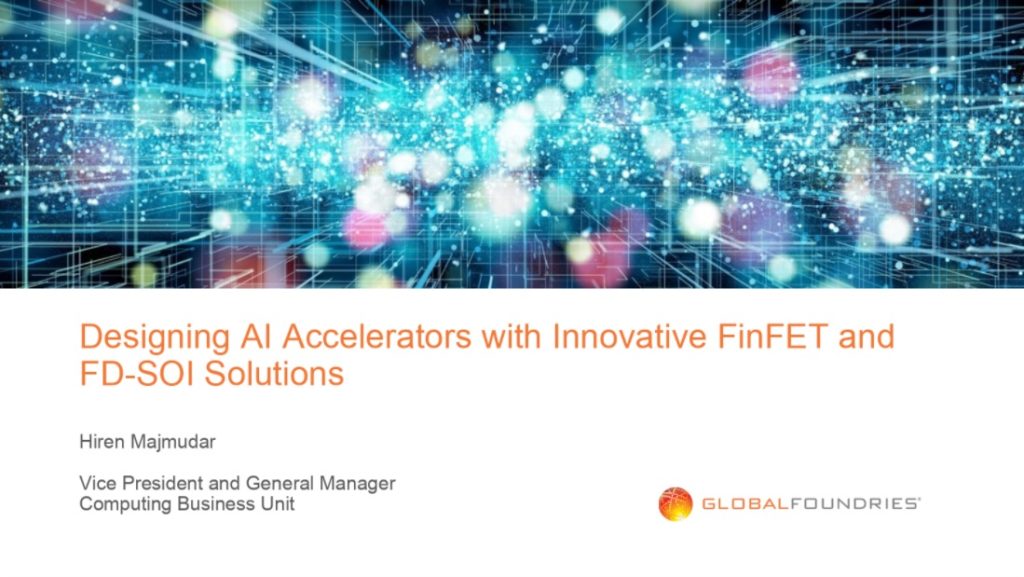 I had the pleasure of spending time with Hiren Majmudar in preparation for the upcoming AI Accelerators webinar. As far as webinars go this will be one of the better ones we have done. Hiren has deep experience in both semiconductors and EDA during his lengthy career at Intel and now with a pure play foundry. He is intelligent, personable, and a great speaker, absolutely.
Register HERE today and if you can't make the broadcast on August 6th at 10am PDT we will send you the replay.
Designing AI Accelerators with Innovative FinFET and FD-SOI Solutions
Explosive data growth has led to significant power bottlenecks from the data center to the edge. Enter the Renaissance of Computing, featuring purpose-built accelerators that solve these problems, significantly speeding up AI applications such as training and model inferencing in the cloud and at the edge. Utilizing these and re-imagining architectures solves power issues that empower applications like audio, video and image processing, smart edge devices, and autonomous vehicles.
This webinar will highlight GLOBALFOUNDRIES' unique AI solutions for both Cloud and Edge via dual FinFET (12LP and 12LP+) and FD-SOI (22FDX®) roadmap to address power bottleneck in training and inference applications. The FinFET platform features optimized standard cells and a single rail 0.55V Vdd bitcell. In contrast, 22FDX features 0.5V ULP and 1pA/cell ULL power options and eMRAM. Additionally, comprehensive IP for host communication via PCIe and memory via DDR / LPDDR / GDDR and HBM are available for both platforms to accommodate embedded or external memory AI architectures.
The speaker is Hiren Majmudar, Vice President and General Manager of the Computing Business Unit at GLOBALFOUNDRIES. In this capacity, he is responsible for P&L management of GF's Computing Business with a focus on CPU, GPU, AI, FPGA, and Gaming customers.
Hiren has over 25 years of experience in the semiconductor industry. Before joining GF, he was Vice President of Corporate Business Development at SiFive. He has also served as Vice President and Managing Director at Intel Capital, where he led Corporate Venture Investments and M&A practice with focus on Semiconductor Design Sector. He has spent 20 years in technical and management leadership in Silicon Design, EDA & Software Development Tools, Technical Marketing, and Business Development.
This webinar is in partnership with SemiWiki and GLOBALFOUNDRIES
About GF
GLOBALFOUNDRIES (GF) is the world's leading specialty foundry. GF delivers differentiated feature-rich solutions that enable its clients to develop innovative products for high-growth market segments. GF provides a broad range of platforms and features with a unique mix of design, development and fabrication services. With an at-scale manufacturing footprint spanning the U.S., Europe and Asia, GF has the flexibility and agility to meet the dynamic needs of clients across the globe. GF is owned by Mubadala Investment Company. For more information, visit www.globalfoundries.com.
Also Read:
Contact over Active Gate Process Requirements for 5G
Embedded MRAM for High-Performance Applications
Webinar on eNVM Choices at 28nm and below by Globalfoundries
Share this post via: