Embedded non-volatile memory (eNVM) plays an essential role in most systems and SoCs. eFLASH has found its way into a wide range of devices, including automotive, industrial, IoT and those in a mixture of other markets. NAND Flash has proven to be a workhorse in all of these areas. For instance, MCUs use them for code and data storage and analog chips use them for trim and configuration information. Requirements for new and additional functionality in these systems is driving the need for increased use of eNVM. At the same time these new requirements are also pushing these designs into smaller technology nodes.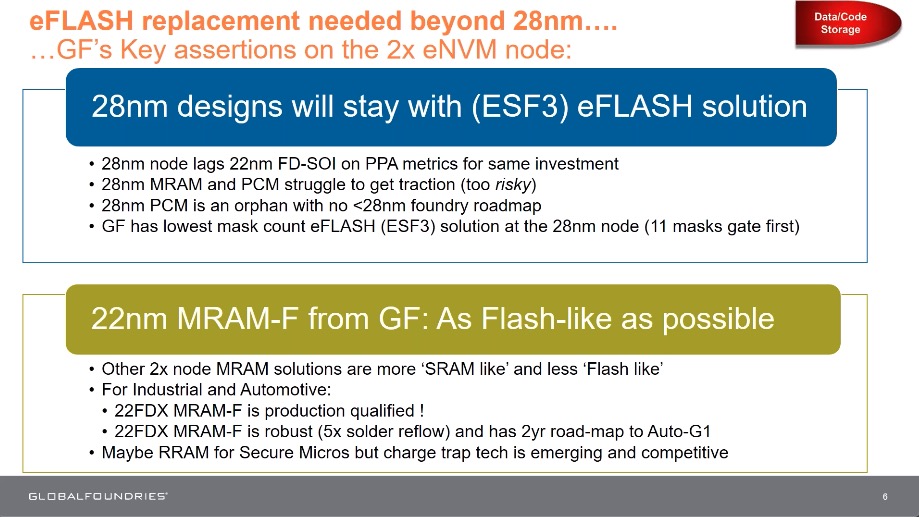 In their upcoming webinar, GLOBALFOUNDRIES (GF) will point out that NAND FLASH is going to hit a wall after 28nm. This means that the industry will need a compelling alternative for newer designs. The webinar titled "eNVM technology Choices for Advanced Automotive, Industrial and Multi Market Solutions in Partnership with Globalfoundries" provides a forward look at how designers can adapt as new eNVM technologies become necessary and even desirable. Martin Mason is the presenter for the webinar. He is the Senior Director for Embedded Memory at GF.
What will be interesting to hear in this webinar is how MRAM is helping make for a smooth transition in eNVM for a wide range of applications at 22nm. Industrial and automotive applications have rigorous requirements. According to Martin eMRAM is not only up to the job but offers some strong benefits. GF's 22FDX MRAM-F is production qualified and offers a robust 5x solder reflow.
Martin is prepared to make the case that eMRAM-F is not only as attractive as eFLASH but is actually better in a number of ways. It's fair to say that a lot of work has been done to bring eMRAM to market, and it looks like GF has done their homework. Their third generation eMRAM on 22nm is equal to or better than eFLASH in almost every important figure of merit. According to Martin eMRAM surpasses eFLASH in write speed and write power, two very important metrics. Its endurance rivals or exceeds eFLASH. And apparently even concerns about environments with magnetic fields are not warranted.
eMRAM gets really interesting when you look at cost and complexity. Typically, eMRAM needs 3 additional masks plus an alignment mask versus 10 or more masks for eFLASH. GF is in production with eMRAM-F on their 22FDX process. They offer -40C to 125C MRAM macros in 4Mb to 48Mb. Martin will get into the specific performance and specs for their qualification designs during the webinar. He will also discuss in detail endurance figures and the lack of read margin degradation at high numbers of read cycles.
Interestingly, at nodes below 20nm MRAM can be tuned for use as high speed memory offering a replacement for SRAM. Martin will discuss this in the webinar as well. So, the future for MRAM is quite promising.
Often when we look out at the horizon and see new technology in development, it is easy to step back and wait until that technology matures before spending any real time considering it. It was not that long ago that suggesting investigating MRAM might have not been seen like a good idea. However, MRAM is now proven and offers many advantages. This webinar on April 7th at 10AM PDT is a perfect way to gather useful information on this topic.
Also Read:
GLOBALFOUNDRIES Sets a New Bar for Advanced Non-Volatile Memory Technology
Specialized Accelerators Needed for Cloud Based ML Training
The GlobalFoundries IPO March Continues
Share this post via: