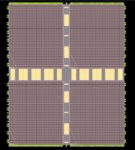 eFPGA is now widely available, has been used in dozens of chips, is being designed into dozens more and it has an increasing list of benefits for a range of applications. Embedded FPGA, or eFPGA, enables your SoC to have flexibility in critical areas where algorithm, protocol or market needs are changing. FPGAs can also accelerate many workloads faster than processors. For example, Microsoft Azure uses one FPGA accelerator for every 2 Intel Xeons. Flex Logix provides eFPGA cores which have density and performance similar to leading FPGAs in the same process node. The EFLEX eFPGA is silicon proven in 40nm down to 12nm with 7nm in process.
WEBINAR: eFPGA What's Available Now, What's Coming & What's Possible!
In this webinar Andy Jaros talks about the emergence of eFPGA over the last five years and the success of Flex Logix amongst multiple market segments. Here is a quick update from their website:
"We are solidly funded and backed by strong Venture Capitalists Lux and Eclipse. We have proven our eFPGA technology in 180nm, 40nm, 28/22nm, 16nm and 12nm with TSMC and GlobalFoundries. There are more than 10 working SoCs with our technology and >>10 more in fab/design.  Our customers are very well funded organizations and companies and our technology is strategically critical to them.  Our cash in the bank and our backlog/commitments mean that we do not need to raise cash in 2020 and we can fund our AI Inference chip development and production ramp from cash flow. Our AI chip, InferX X1, benchmarks with superior price/performance on real-world neural network models customers have given us. As X1 ramps production our financial situation will be even stronger."
Andy Jaros is one of my trusted few. He is the VP of Sales and Solutions Architecture at Flex Logix. Andy has more than 30 years of semiconductor experience most of which involves IP, most notably ARC, Virage Logic, and Synopsys. I was at Virage when we acquired ARC and that is where I first met Andy, who is also a neighbor of mine. He continued on with Synopsys after they acquired Virage and then moved to Flex Logix more than 4 years ago. At that time eFPGA was just another acronym. Today, Flex Logix is the leading provider of embedded FPGA hard IP and software. Flex Logix is also launching Inference Acceleration chips for Edge Applications so they are not just an IP company.
Flex Logix came to SemiWiki four years ago and we have now published 40 blogs with them that have earned more than 250,000 views. Excellent content gets excellent views, absolutely.
The webinar is coming up so register now:
WEBINAR: eFPGA What's Available Now, What's Coming & What's Possible!
Here are the questions I have for Andy. If you have others let me know:
What is the area penalty for using an eFPGA?
How does the eFPGA get programmed and by who?
What specific design considerations do you need to make for eFPGA use?
Share this post via: