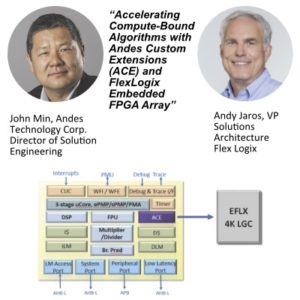 RISC-V have great adoption and momentum. One of the key benefits of RISC-V is the ability for SoC designers to extend its instruction sets to accelerate specific algorithms. Andes' ACE (Andes Custom Extensions) allow customers to quickly create, prototype, validate and ultimately implement custom memories, dedicated ports to accelerators and memories.  Andes automates many of these tasks with its COPILOT (Custom-OPtimized Instruction deveLOpment Tools).  COPILOT is an all-in-one design tool to implement custom extensions and instructions in easy to use simple language, automatically enables simulations with these extensions and finally, creating self-verification methodology to ensure the extensions are operating correctly.
However, there are two challenges to adding custom extensions to RISC-V processors that are not usually considered.  One, these extensions do take gates that are designed for specific acceleration.  Two, you cannot add more custom extensions and instructions after you fabricate the chip to expand target applications and extend the useful life of the chips.
Flex-Logix's eFPGA capability brings a new dimension to solving these challenges to Custom Extension.  Imagine the old toys we played with "Etch a Sketch" that gave you a blank slate to create art over and over again.  Flex Logix's solutions gives you the blank slate of gates that can be used over and over again with your SOC.  By using Flex-Logix's reprogrammable fabric, these instructions can be "programmed" as needed, and those gates can be reused for multiple instructions. Even better, one can create instructions and extensions AFTER the SoC is fabricated to target new software workloads for different applications or improve performance and power with new instructions after the chip is deployed in the field.  This is the ultimate software update that can extend the life of the SOC's.
Andes and Flex-Logix are working together to create the ultimate Etch a Sketch for the Engineers and Architects.  And we hope to make it as easy as our childhood toys to unleash our creativity in order to accelerate processing while lowering the cost of Area and Power in order the next generation of SOCs tailored for embedded computing in IOT and Machine learning.
Over a series of Webinars for rest of 2023, Andes and Flex will present our solutions for creating and fielding Andes Custom Extensions.  And we are working hard to bring tighter integration of our two companies' technologies in order to allow the SoC Architects to imagine solutions that are fully optimized and truly extendable, even after the Chips have been created.
About Flex Logix
Flex Logix is a reconfigurable computing company providing leading edge eFPGA and AI Inference technologies for semiconductor and systems companies. Flex Logix eFPGA enables volume FPGA users to integrate the FPGA into their companion SoC, resulting in a 5-10x reduction in the cost and power of the FPGA and increasing compute density which is critical for communications, networking, data centers, microcontrollers and others. Its scalable AI inference is the most efficient, providing much higher inference throughput per square millimeter and per watt. Flex Logix supports process nodes from 180nm to 7nm, with 5nm in development; and can support other nodes on short notice. Flex Logix is headquartered in Mountain View, California and has an office in Austin, Texas. For more information, visit https://flex-logix.com.
About Andes Technology
Eighteen years in business and a Founding Premier member of RISC-V International, Andes is a publicly-listed company (TWSE: 6533; SIN: US03420C2089; ISIN: US03420C1099) , a leading supplier of high-performance/ low-power 32/64-bit embedded processor IP solutions, and the driving force in taking RISC-V mainstream. Its V5 RISC-V CPU families range from tiny 32-bit cores to advanced 64-bit Out-of-Order processors with DSP, FPU, Vector, Linux, superscalar, with processor integrating vector processor and/or multi/many-core capabilities. By the end of 2022, the cumulative volume of Andes-Embedded™ SoCs has surpassed 12 billion. For more information, please visit https://www.andestech.com.  Follow Andes on LinkedIn , Twitter, Bilibili  and YouTube!
Also Read:
CEO Interview: Frankwell Lin, Chairman and CEO of Andes Technology
Reconfigurable DSP and AI IP arrives in next-gen InferX
eFPGA goes back to basics for low-power programmable logic
Share this post via: