Podcast EP102: A Brief History of eFPGA with Geoff Tate of Flex Logic
Dan is joined by Geoff Tate, CEO and Co-founder of Flex Logix. Geoff explains the embedded FPGA market, including some history, applications and challenges to deliver a product that customers really want. He provides some very relevant background on why Flex Logix has been so successful in this market, and what lies ahead.
GEOFF Tate: BSc, Computer Science, University of Alberta. MBA Harvard. MSEE (coursework), Santa Clara University. 1979-1990 AMD, Senior VP, Microprocessors and Logic with >500 direct reports. 1990 joined 2 PhD founders as founding CEO to grow Rambus from 4 people to IPO to $2 Billion market cap, till 2005.
The views, thoughts, and opinions expressed in these podcasts belong solely to the speaker, and not to the speaker's employer, organization, committee or any other group or individual.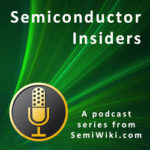 Share this post via:
---