Podcast EP33: Processing AI Workloads
Dan and Mike are joined by Dana McCarty, vice president of sales and marketing at Flex Logix Technologies, Inc. Using an eFPGA-based architecture for processing AI workloads is discussed, along with typical applications and power, performance and cost benefits. The competitive positioning of Flex Logix's InferX X1 are reviewed, along with the methodology to implement AI workloads with the part.
Dana is responsible for InferX X1 software, silicon and systems products. He holds a BSEE, University of Texas at San Antonio. Dana started writing software as a test engineer at AMD. He transitioned into sales holding senior management and then executive roles in both the USA and globally for Broadcom, Maxlinear, Teradyne and ARM. Dana has lived for eight years in Taiwan and China.
Flex-Logix are gold partners at this year's 4th Annual AI Hardware Summit, held in California and online from September 13-16. The Summit's mission is to help those accelerating AI workloads in the cloud, and at the edge, with this year all about systems level AI acceleration. Quote SEMIWIKI10 to save 10% on all passes.
View the agenda brochure here:  https://hubs.ly/H0Vkbf90
The views, thoughts, and opinions expressed in these podcasts belong solely to the speaker, and not to the speaker's employer, organization, committee or any other group or individual.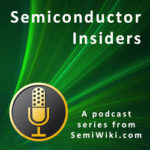 Share this post via:
---