As the market for edge processing is growing, the performance, power and cost requirements of these applications are getting increasingly demanding. These applications have to work on instant data and make decisions in real time at the user end. The applications span the consumer, commercial and industrial market segments. AI hardware accelerator solutions are being sought to meet the needs of these applications.
With its focus on the embedded vision market, Flex Logix introduced its InferX X1 accelerator chip in 2019. The InferX X1 is the industry's most efficient AI edge inference accelerator that can bring AI to embedded vision applications across multiple industries. Flex Logix has been working on making AI system adoption and deployment easier in a number of markets and applications. Ease of incorporation into the customers' applications accelerates the adoption of any useful technology and the InferX X1 is no exception.
At the AI Hardware Summit this week, Flex Logix launched Hawk X1, the industry's first Mini-ITX AI x86 based system card. I had an opportunity to chat about that announcement with Barrie Mullins, VP of Product Management for Flex Logix.
Enabling Easier Edge and Embedded AI Deployment
The Hawk X1 is designed for customers looking to upgrade their current Mini-ITX systems with AI, or quickly develop new edge AI appliances and solutions. As the bulk of existing mini-ITX systems are x86 based, the Hawk X1 will be a drop-in upgrade to these systems. This makes it easier for customers to get to market faster at a lower development cost and reduced risk. From an operating system perspective, the Hawk X1 supports both Linux and Windows.
AI Workflow for Development and Deployment
The Hawk X1 system leverages Flex Logix's InferX accelerator chip, the industry's most efficient AI inference chip for edge systems. It provides Flex Logix's customers a price/performance/power advantage over competitive edge inference solutions. Flex Logix's Easy Vision platform includes pre-trained ready-to-use models for object detection such as hard hat, people counting, face mask and license plate recognition. Customers can save over six months of product development time, additional system costs and power compared to alternate solutions.
Depending on the application, a customer may want to utilize the pre-trained ready-to-use AI models, load them to the Hawk X1 board and run their application. Alternately, they may want to develop their own models using the Easy Vision Platform and the Infer Model Development Kit (MDK). The MDK optimizes, quantifies and compiles the models into the format that the Hawk X1 will understand. The customer then uses the Run Time Kit (RTK) to configure and manage the run time execution.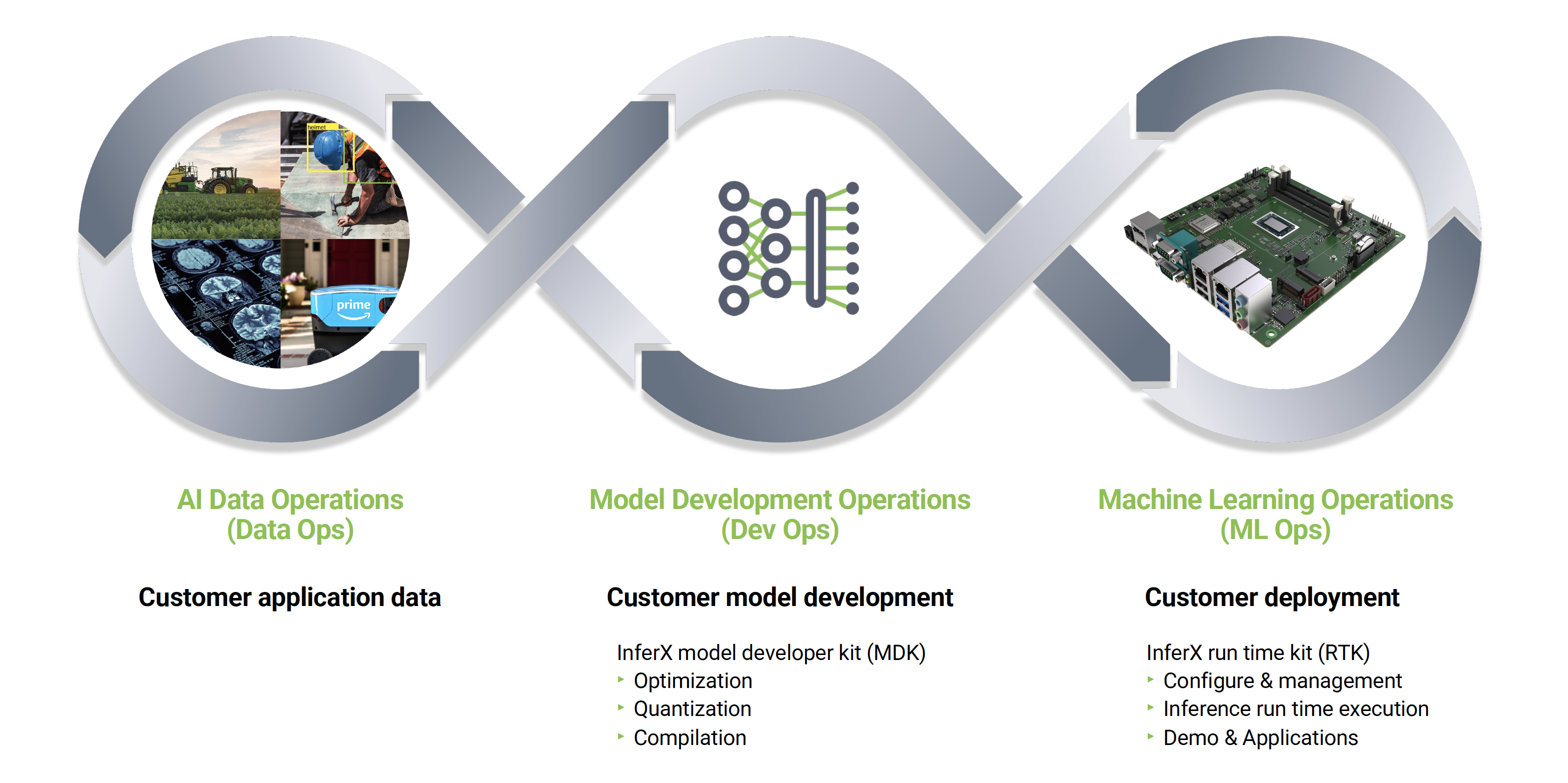 Hawk X1 Hardware Specification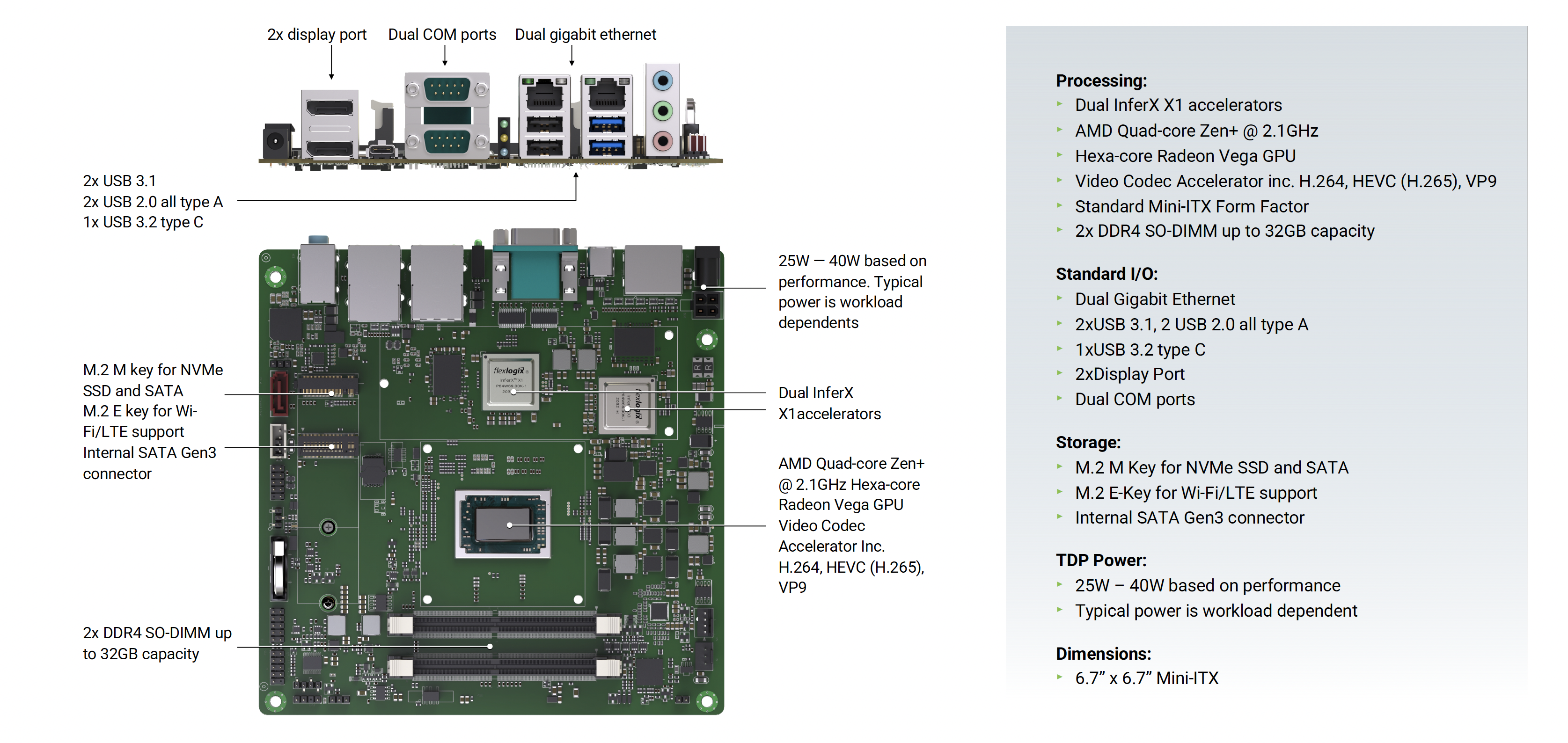 The interfaces are ready for direct connect to the cameras. The Hawk X1 includes two InferX X1 accelerators and the AMD Quad-core chip for delivering the highest performance system. Flex Logix plans to launch another version of the card with one InferX X1 chip and an AMD Dual-core chip to address customers who may want a lower performance system. Customers get to choose their own memories allowing customers to have more control on the performance, power consumption and cost of the system. The Hawk X1 comes with a thermal solution that sits on top of the card to dissipate the heat.
Target Markets and Applications
Safety and Security

Mask, personal protection equipment (PPE) detection, building access, data anonymization and privacy

Manufacturing and Industrial Optical Inspection

Employee safety, logistics and packaging, and inspection of parts, processes and quality

Traffic and Parking Management

Traffic junction monitoring, vehicle detection and counting, public and private parking structures, toll booths

Retail

Logistics, safety, consumer monitoring, automated checkout, and stock management

Healthcare:

Medical image analytics, patient monitoring, mask detection, staff and facility access control and safety

Agriculture

Crop inspection, weed and pest detection, automated harvesting, yield and quality analysis, animal monitoring and health analysis

Robotics

First/last mile delivery, forklifts, tuggers, drones, and autonomous machines
Benchmarking Hawk X1
The Hawk X1 offers better performance against all NVIDIA boards. The main competition in this space is the Xavier AGX based systems. In the chart below, you can see how the Hawk X1 compares against the Xavier AGX with popular and standard object detection models.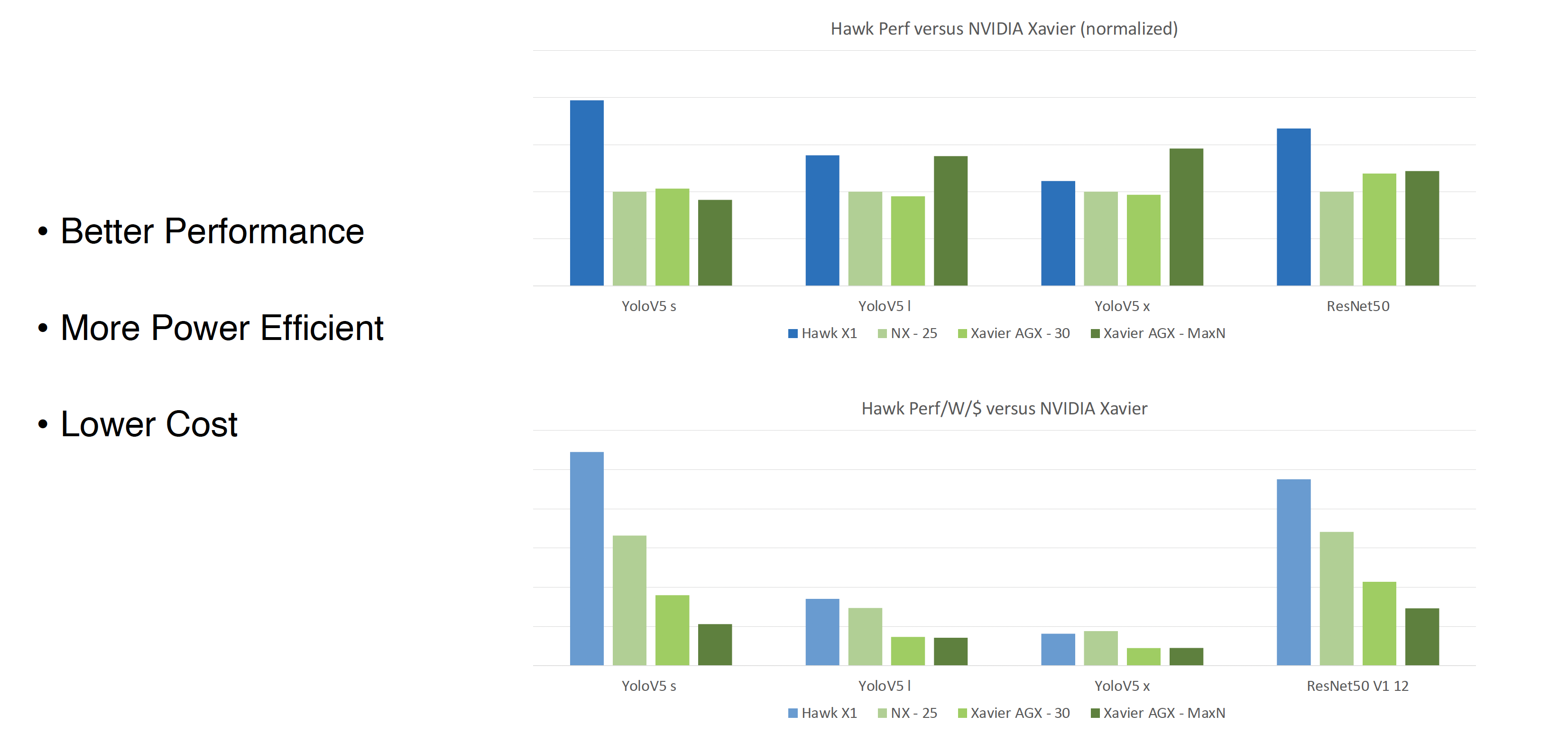 Hawk X1 Availability
Flex Logix is taking orders for delivery starting January 2023. Hawk X1 is priced at $1,299 for order quantity of 1Ku+.
Summary
Through the latest addition to its product portfolio, Flex Logix has made AI system adoption and deployment easier for a number of market applications. The Hawk X1  in the mini-ITX form factor is deployment ready for Safety and Security, Manufacturing and Industrial and Traffic and Parking management applications.
You can read the Hawk X1 product announcement here.
For more details, visit Flex Logix website.
Also Read:
Flex Logix Partners With Intrinsic ID To Secure eFPGA Platform
EasyVision: A turnkey vision solution with AI built-in
WEBINAR: 5G is moving to a new and Open Platform O-RAN or Open Radio Access Network
Share this post via: