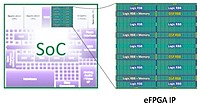 eFPGA stands for embedded Field Programmable Grid Arrays.  An eFPGA is a programmable device like an FPGA but rather than being sold as a completed chip it is licensed as a semiconductor IP block. ASIC designers can license this IP and embed it into their own chips adding the flexibility of programmability at an incremental cost.
We covered the history and importance of the FPGAs in our book "Fabless: The Transformation of the Semiconductor Industry". In fact, you can get the 2019 updated version of Fabless at our upcoming webinar HERE but I digress…
Flex Logix landed on SemiWiki.com in 2016 as the first eFPGA company. From our first blog on 2/12/2016:
Nearly 30 years after the FPGA debuted, Flex Logix was formed in March 2014 based on programmable logic technology described in a ISSCC paper from UCLA alumni Cheng Wang and Fang-Li Yuan. CEO Geoff Tate (of Rambus fame) set a course away from competing with FPGA companies, instead adopting an IP strategy and aiming to embed reconfigurability in high-volume SoCs for mobile, IoT, wearable, server, and other applications. Flex Logix begins 2016 with 1 patent issued and 6 more applications pending, a recent $7.4M round of Series A1 financing, a new VP of silicon engineering in Abhijit Abhyankar, and a new VP of sales in Andy Jaros.
A lot has changed in the eFPGA business over the last 3 years but not Andy Jaros. Andy is still VP of Sales of Flex Logix and he will be presenting at our upcoming webinar eFPGA – "What a great idea! But I have no idea how I'd use it!" Here is the abstract in case you are interested in talking to Andy and learning more about eFPGAs:
For decades, chip designers have thought, "wouldn't it be great to have RTL flexibility for their ASICs?" Decades have come and gone, and there have been many failed attempts at providing this type of technology. Now that there is viable, usable FPGA IP available for designers, the challenge now is up to the designer to take advantage of it. This webinar will discuss why FPGA IP is viable now. It will also provide some ideas for designers where they may be able to take advantage of this programmable technology on their next ASIC.
Embedded FPGA (eFPGA) Overview handout for attendees included!
Andy has decades of semiconductor experience to share and has been championing eFPGA use for that last 3+ years so he knows where the bodies are buried. I first worked with Andy when Virage Logic acquired ARC and we have been friends ever since. Previous to ARC, Andy was at ARM and Motorola so he knows the processor core business. After Synopsys acquired Virage, Andy spent 5+ years with the Synopsys IP group before joining Flex Logix in early 2016. Andy and I are neighbors so I literally know where he lives. I remember talking about his job offers at our local coffee shop with him. I remember voting for Flex Logix with both hands.
The upcoming eFPGA webinar is offered in three different time zones for your convenience or you can register without attending and the replay will be sent to you automatically.  Either way, I hope to see you there!

Share this post via: