There's much talk in EDA about High Level Synthesis (HLS), Transaction Level Modeling (TLM) and the Universal Verification Methodology (UVM), however there's a lower-level of abstraction, the transistor-level, where high-speed digital cell libraries are created, analog circuits are crafted, and AMS designers tweak transistor sizes and choose circuit topologies in order to meet stringent specifications. At the transistor level the IC designers have many challenges, like:
Will my circuit be robust and work across all PVT conditions?
How does process variation effect the yield of my design?
Is my design optimized?
How do I port from 90 nm to 65 nm?
Does this analog topology work with FinFET processes?
Related – Transistor-level Sizing Optimization
One EDA company founded in 2001 has a focus on tools used for interactive, manual, semi- and fully automatic analysis, sizing, design centering and yield optimization of analog and mixed-signal circuits. Their annual user group meetingwas last week in Munich, and I attended to learn first-hand. The company is called MunEDA, pronounced moo-nee-dah.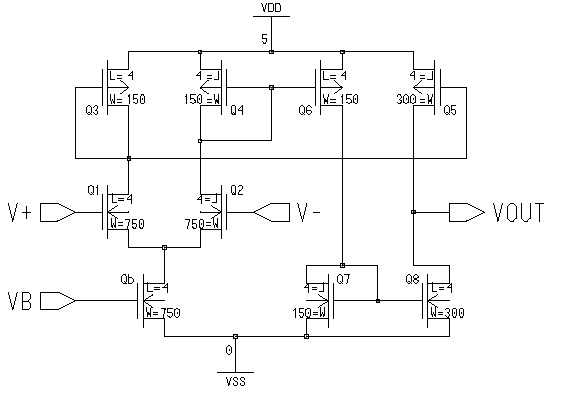 An Example MOS Op Amp Circuit
The user group meeting started on Monday when Pierluigi Daglio from STMicroelectronics gave an overview of previous years, dating back to 2006. I first met Pierluigi back in 2010 when he was on a panel that I moderated at DACon the topic – Hot and SPICEy: Users Review Different Flavors of SPICE and FastSPICE.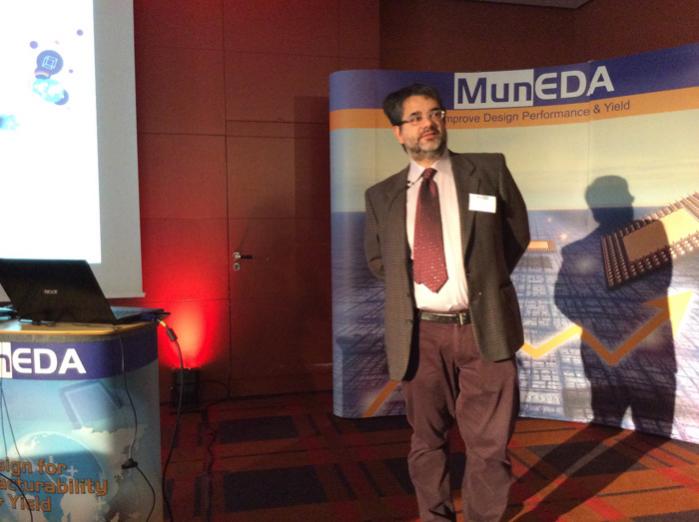 Pierluigi Daglio, STMicroelectronics
Related – An IO Design Optimization Flow for Reliability in 28 nm CMOS
Over the next two days we had 29 presentations, complete with Q&A to learn more about getting the best results out of transistor-level designs. Here's a quick list of presentation titles:
ICScape – Accelerate Design Closure
MunEDA – Statistical Verification and Analysis Tools
Lantiq – Sign-off flow for RF design with WiCkeD in a 65nm Technology
IPGEN – New layout generation techniques for variation sensitive analog circuits
MunEDA – Reliability & Robustness Based Design Using WiCkeD
STMicroelectronics – I/O Design Optimization Flow for Reliability In Advanced CMOS Nodes
Infineon – Reliability Aware Design of Relaxation Oscillator in Advanced CMOS Technology Nodes with WiCkeD
STMicroelectronics – IOs circuit optimization activities to enhance productivity, circuit robustness and improve existing reliability flow
Sapienza University Rome– Digital standard cell noise margin optimization, also considering aging effects with MunEDA WiCkeD and
Synopsys MOSRA tools (MANON)
Infineon – Safeguarding Hold time Margin for Internal Scan Chain in Multibit-Register Standard cells
Altera – Distributed Memory Design (MLAB) – design optimization and worst case analysis on memory cells, data paths and write pulse
generators with WiCkeD
MunEDA – Advances in Circuit Migration
Fraunhofer – Silicon Proof of the Intelligent Analog IP Design Flow using WiCkeD
MunEDA – Full-Custom Low Power Design Methodology with MunEDA WiCkeD
MunEDA – Ultra High Sigma (6+ Sigma) Analysis – High Sigma is not enough
STMicroelectronics – Corner Verification and Design Optimization in Smart Power & Non-Volatile Memory Technologies
University Frankfurt – FEATS – explorative automated topology synthesis with WiCkeD
Fraunhofer – Advanced measures for OpAmp optimization with WiCkeD
STMicroelectronics – Design validation and development of RF macrocells
ARP Microsystems – High-Voltage Automotive Analog IP Development for SOC using WiCkeD tools
Altera – Full-custom and Semi-custom Clock Trees Optimization using MunEDA WiCkeD – Clock Skew Matching, Clock Insertion Delay
and Duty-Cycle
STMicroelectronics – SMAC – Smart components and Smart Systems integration
Foundry partners included: STMicroelectronics, SMIC and HLMC. I had heard about the first two foundries, but HLMC located in Shanghai was new to me, and they offer 90 nm, 65 nm and 45 nm processes into markets like: standard CMOS, AMS, RF CMOS and NOR Flash.
Related – Debugging a 10 bit SAR ADS to Improve Yield
EDA partners were: ICScape, IPGen. We've blogged about ICScape on SemiWiki last year, and then IPGen is a small startup with IC layout generation technology plus services.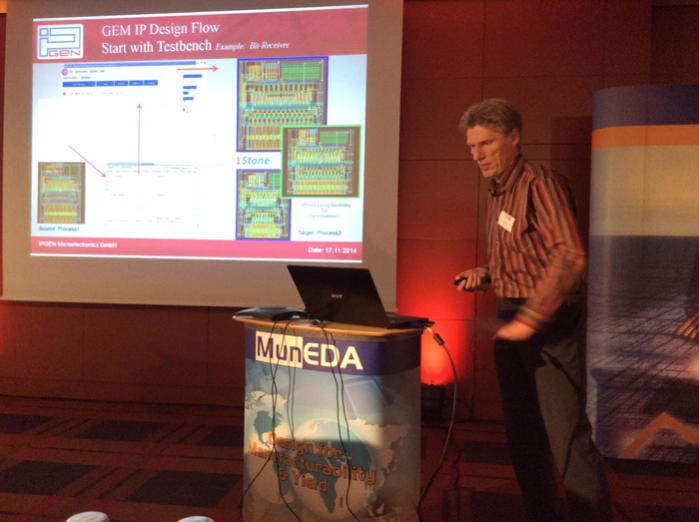 Reimund Wittman, CTO, IPGEN
Each of the presentations were made using PowerPoint, and then attendees had a hard-copy handout which will be followed up with an online version with video archives for registered users. We had plenty of time to network and socialize during coffee breaks, lunch and a fabulous dinner on Monday night at the Agustiner Brewery.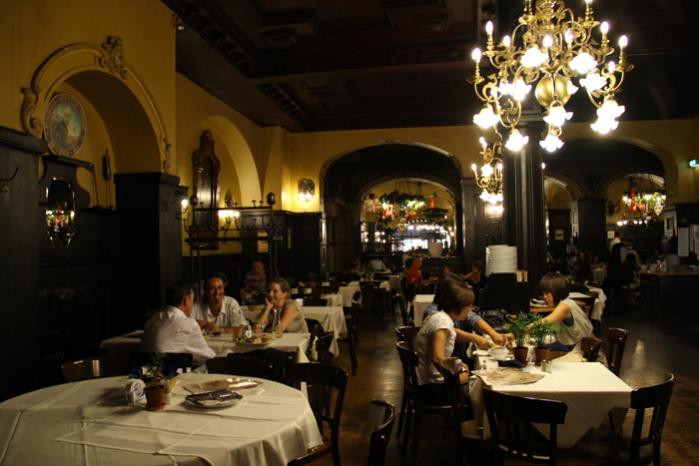 Agustiner Brewery
The most creative presentation had to be from the University Frankfurt, where they had an analog synthesis framework that included expert knowledge to produce a wide variety of circuit topologies. They connected their framework to the circuit sizing optimization in the MunEDA WiCkeD tool.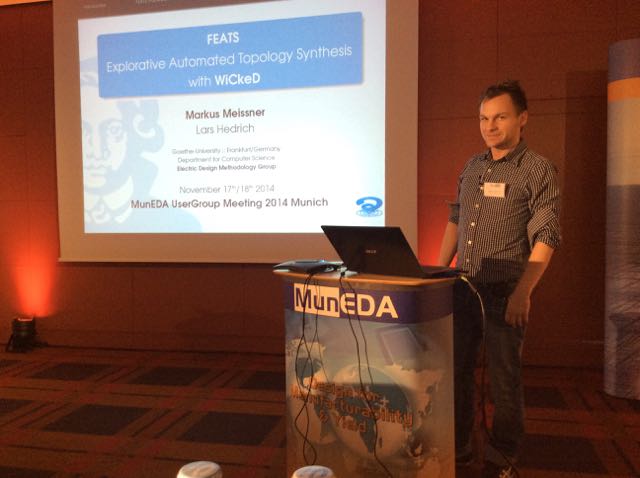 Markus Meissner, University Frankfurt
On the fast digital side was a paper from Altera about how they optimized the transistor sizes for clock trees used inside of their latest FPGA designs.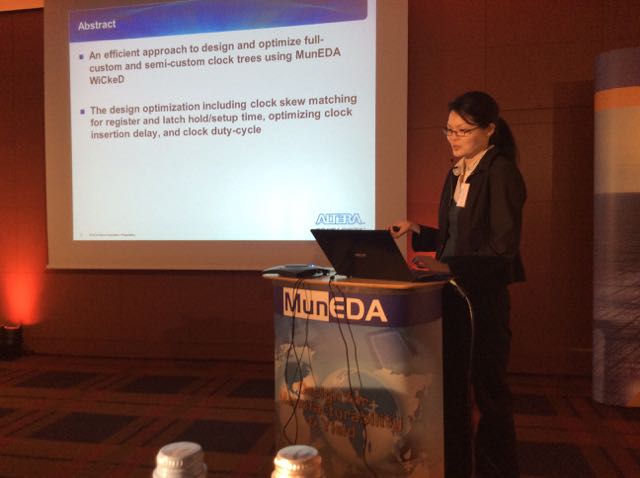 B.Y. Ng, Altera
Overall I learned that transistor-level IC design is alive and thriving, thanks to the University curriculum on AMS design techniques, commercial practice of circuit design, demand from foundries for libraries, and finally EDA tools that enable analysis and optimization.
Share this post via: