Analog IC designers can spend way too much time and effort re-using old, familiar, manual iteration methods for circuit design, just because that's the way it's always been done. Circuit optimization is an EDA approach that can automatically size all the transistors in a cell, by running SPICE simulations across PVT corners and process variations, to meet analog and mixed-signal design requirements. Sounds promising, right?
So which circuit optimizer should I consider using?
To answer that question there's a webinar coming up, hosted by MunEDA, an EDA company started back in 2001, and it's all about their circuit optimizer named WiCkeD. Inputs are a SPICE netlist along with design requirements, like: gain, bandwidth and power consumption. Outputs are a sized netlist that meets or exceed the design requirements.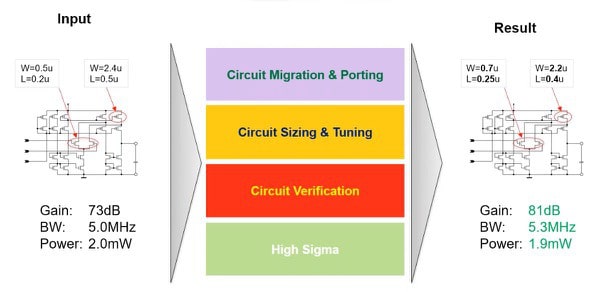 The secret sauce with WiCkeD is how it builds up a Machine Learning (ML) model to run a Design Of Experiments (DOE) to calculate the worst-case PVT corner, find the transistor geometry sensitivities, and even calculate the On Chip Variation (OCV) sensitivities. This approach creates and updates a non-linear, high-dimensional ML model from simulated data.
Having a ML model enables the tool to solve  the optimization challenge, then do a final verification by running a SPICE simulation. There are automated iterations until all requirements are met. Now that sounds much faster than the old manual iteration methods. Training the ML model is all automatic, and quite efficient.
Circuit designers will also learn:
Where to use circuit optimization
What types of circuits are good to optimize
How much value circuit optimization brings to the design flow
Engineers at STMicroelectronics have used the circuit optimization in WiCkeD, and MunEDA talks about their specific results in time savings and improvements in meeting requirements. Power Amplifier company Inplay Technologies showed circuit optimization results from the DAC 2018 conference.
Webinar Details
View the webinar replay by registering online.
About MunEDA
MunEDA provides leading EDA technology for analysis and optimization of yield and performance of analog, mixed-signal and digital designs. MunEDA's products and solutions enable customers to reduce the design times of their circuits and to maximize robustness and yield. MunEDA's solutions are in industrial use by leading semiconductor companies in the areas of communication, computer, memories, automotive, and consumer electronics. www.muneda.com.
Related Blogs
Share this post via: