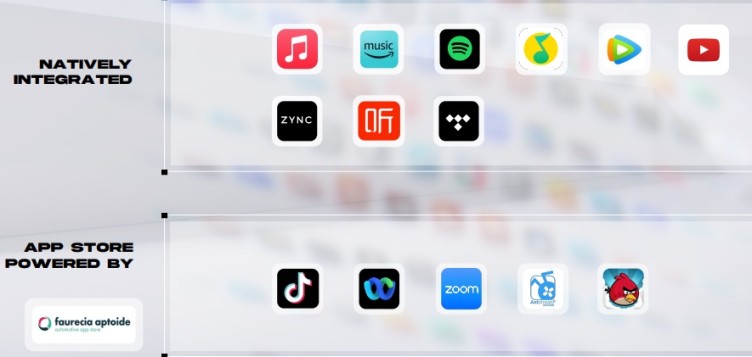 Thirteen years ago, General Motors announced the introduction of a voice-enabled integration of Facebook in its cars. The announcement reflected the irresistible urge to please consumers and lead the market.
Today, multiple car makers are introducing games, streaming video, and social media apps, the most prominent of which is TikTok – with a billion users across 150 countries, including 200M+ downloads in the U.S. alone. Automotive integration looks like a no-brainer – it is, but not in a good way.
Volkswagen and Mercedes are in the forefront of the movement, Volkswagen with its announced plans for its Harman Ignite app store and Mercedes with its Faurecia Aptoide-sourced app store. Both car companies would do well to look back to the original social media integrations of GM, Mercedes, and others – which included Twitter. It all sounded like a great idea at the time – Facebook and Twitter in the dash! – but very soon, as the British say, there was no joy.
It didn't take a rocket scientist to perceive that social media is ill-suited for automotive integration – with the possible exception of rearseat use by passengers. Car companies tried to create automated links from navigation apps to Twitter – for posts indicating departures and arrivals – or by emphasizing voice interaction, to no avail. It was soon clear that these apps simply didn't belong.
The problem is that social media apps demand attention. Their entire business models are built on distraction. They simply don't belong in cars.
TikTok has the added baggage of being a threat to privacy and national security in the eyes of many governments around the world. I'd argue connected cars are by definition a threat to privacy. Actually, based on the amount of CC-TV deployed around the world I'd say leaving your home is a threat to privacy.
TikTok appears to be a special case because of its ability to spread Chinese government propaganda and misinformation. In other words, it's not enough that it is distracting and invading privacy, it may also invade and alter users' political beliefs.
Car companies could not resist the Siren song of TikTok. They simply couldn't ignore those billion users and included TikTok in their app stores. If ever there were a "red flag" moment in in-car app deployment, this is it.
With governments around the world having either already banned TikTok or with plans to do so, perhaps auto makers will take a hint. The Washington Post details the breadth of the growing official rejection of TikTok.
India – initially banned in 2020, permanent ban in January 2021
U.S. – government agencies have 30 days to delete TikTok from government-issued devices; dozens of state-level bans
Canada – banned on government-issued phones
Taiwan – banned on government devices since last December, considering nationwide ban
European Union – banned on government/staff devices
Britain – banned on government devices
Australia – banned on government staff devices
Indonesia – temporary ban in 2018, later lifted
Pakistan – varous temporary bans
Afghanistan – banned in 2021 – but workarounds possible
As auto makers such as Volkswagen and Mercedes reconsider the wisdom of TikTok integration in cars, maybe they'll rethink some of the other crazy stuff – or at least confine it to the rearseat or limit access to when vehicles are parked or charging. Angry Birds? Really, Mercedes?
It's a good time to pause and rethink what we are putting into cars. Car makers have a history of wanting to integrate the latest and greatest tech in their cars, which explains the growing number of announcements regarding in-vehicle ChatGPT and Meta integrations. The good news is that these days, with over-the-air software update technology, apps can be removed as quickly as they can be deployed. Let's hope so.
Within a year of its launch of Facebook in its dashboards General Motors changed course and dropped the plan. I think we can expect a similar outcome in this case.
Also Read:
AAA Hypes Self-Driving Car Fears
Modern Automotive Electronics System Design Challenges and Solutions
Share this post via: