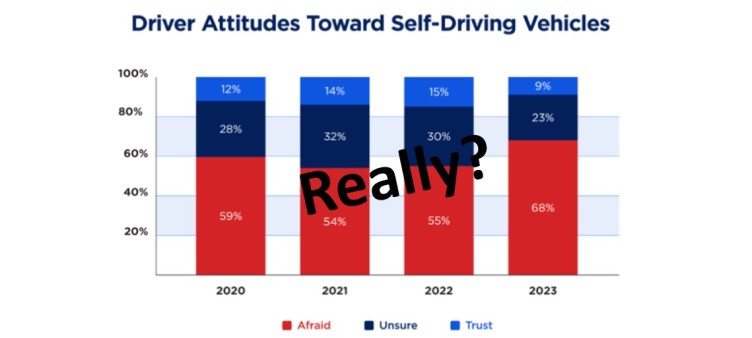 The AAA (U.S. auto club) must have AGHD (attention-getting deficit disorder). The headline from the organization's latest research is: "Fear of Self-Driving Cars is on the Rise." That should straighten things out, right?
The survey was conducted across a representative sample of U.S. households, according to the reported methodology. This was an effective way to enhance the "fear factor" by not focusing the survey specifically on the drivers themselves or whether they own vehicles or intend to buy a vehicle soon. The "fear" that the AAA is targeting is presumably some sort of widespread anxiety among the general population.
Fear is an effective emotion to grab the attention of the press and consumers. There isn't much else that turns our heads these days and all forms of media – broadcast, print, online – routinely turn to fear to increase ratings, viewers, and stimulate reactions: likes, shares, thumbs up.
Fear also has a deadening or muffling effect.  It is overwhelming and obscuring. Fear means different things to different people and fear isn't always the right word for how people really feel.
I just returned from the Mobile World Congress in Barcelona. Was I afraid of being pickpocketed or otherwise becoming a victim of some petty crime? Not really afraid. No. "Concerned" would be a better term or "aware" of my surroundings – as I would be in any urban environment. Those feelings would be slightly elevated due to Barcelona's reputation. Definitely not "afraid."
AAA could have performed a much more useful public service if it had surveyed specific consumer groups – which, of course, would have been more complicated and expensive. Car makers and the general public would probably appreciate an education as to how current car owners feel about self-driving cars or how likely car buying intenders feel.
Saying consumers, in general, are afraid of self-driving cars reminds me of an old Monty Python's Flying Circus animation of "killer cars" terrorizing London. The cars in the animation eat pedestrians – it seemed funny at the time.
By hyping the fear factor, though, AAA is missing the bigger picture. A more accurate description of the state of consumer attitudes toward cars generally and self-driving in particular would reflect intense curiosity, some concern, and, in some circles, broad-based enthusiasm.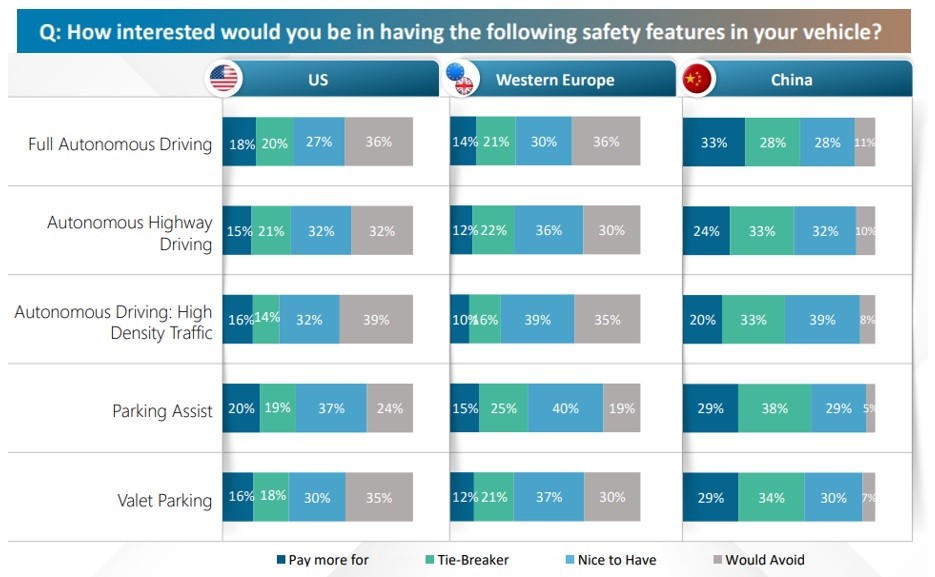 TechInsights has conducted this research and found skepticism on the decline and interest in self-driving technology on the rise. The latest study, conducted in 2022 by TechInsights, found that at least 20% of car owners in China would pay more for any automated driving or parking feature, a figure that falls to 10% in Western Europe and 15% in the U.S.
A third of customers in China would pay more for fully autonomous driving capabilities. This figure does not exceed 18% in the West. This is certainly not what one would describe as fear.
Chinese consumers are most interested in automated parking. U.S. and Western European customers are more likely to pay more for parking assistance, followed by fully autonomous driving.
Missing this more nuanced part of the story is the greatest failing of the AAA study. In fact, enthusiasm for and interest in self-driving is a major contributor to Tesla's ability to not only sell hundreds of thousands of cars equipped with its Autopilot technology (which still requires driver engagement), but has also fueled widespread consumer willingness to pay as much as $15,000 for so-called Full Self-Driving technology which is being blamed and investigated for crashes and mocked for its limitations.
In essence, AAA appears to be trying to stimulate fear rather than simply measure it. That, ultimately, is the weakness of the AAA study. Instead of lighting a candle, AAA has turned on the high beams blinding news consumers to the realities of the evolving driver assistance landscape. Consumers are actually quite interested in cars enhanced with driver assistance technology. Don't let the fear mongers at AAA fool you.
Also Read:
Modern Automotive Electronics System Design Challenges and Solutions
Maintaining Vehicles of the Future Using Deep Data Analytics
ASIL B Certification on an Industry-Class Root of Trust IP
Share this post via: