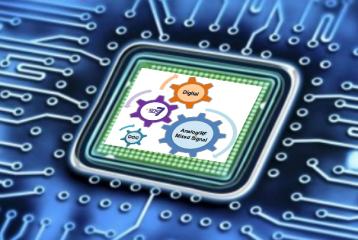 Design Management (DM) encompasses business decisions, strategies and processes that enable product innovations. It is the foundation for both effective collaboration and gaining competitive advantage in the industry. This also applies in the high-tech space we are in, as having a sound underlying SoC data management for SoC designs is key to a successful silicon roll-out and its subsequent product support.
Design environment – growth promotes challenges
Looking back, analog circuit was a dominant part of IC products until around the mid-eighties, when the introduction of logic synthesis and CMOS technologies facilitated further design tilt towards more digital circuits. With a recent slow down in the chip performance race and an industry inflection towards emerging applications such as IoT, automotive and 5G, the current design landscape is getting reversed again to have increased analog or mixed signal content. The following charts show demand trend in the shipped IC product indicating a richer analog/mixed signals circuits mix.


Consequently, the infrastructure for SoC design implementation and its related supports to mixed-signals/analog IP development have changed. Design environment heterogeneity is one of the primary challenges. It includes process technology (such as diverging process nodes used for analog block vs digital), IP (analog centric and packaging on top of digital IP) and EDA tools (multi-vendors as well as internally developed solutions). We could throw into the equation, potential communication voids as diverse design teams attempt to drive project forward under the constraints of geographical time difference and schedule crunch. It could lead to lack of visibility on the needed design collaterals and IPs across the company –trapped in the artificial silos.
A DM deployment brings efficiency into such an environment as it helps manage all aspects of the SoC design flow such as in dealing with multiple design processes and their associated collaterals (specification, RTL, schematic, layout, scripts, simulation results, etc). Designers do not need to take care of semantics related to file transfers (such as tar-ing or ftp-ing) across design sites. Moreover, DM is capable of finding differences between different versions of the text, schematics and layout.
Ownership, version control and security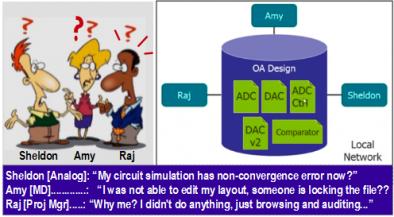 An agile development environment could enhance the SoC build process. One primary challenge in a multi-site, multi-team project is design data ownership issue. It has been key in ensuring a smooth project execution as deliverables and accountability can be measured and proper resource load balancing cultivates cohesiveness across the project teams.
DM solution could provide answers to frequently raise questions such as:
→ who made these design changes? who last checked-out the file?;
→ what happened to my last working edit? what is part of this release update?;
→ how come the simulation is failing now while it was OK last night? how is it possible that my timing is off with the same library?);
→ why is it taking longer to compile now?.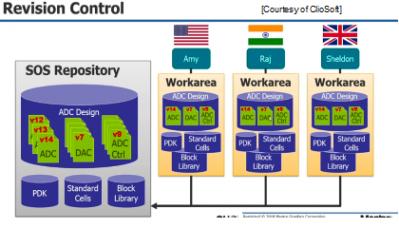 With more recent cloud enabled EDA solutions, design data may be scattered not only across multiple platforms such as Windows or Linux but also on the cloud. Supporting such a diverse design environment for seamless access while keeping an adequate level of security to many design data confidentiality is quite a daunting task.
DM integrated environment enables revision control, release management and user access tracking –simplifying both tapeout checklist process and subsequent ECO (Engineering Change Order) steps.
Targeted archiving and disk space usage
Driven by increased functionalities being accommodated by continuous technology shift, design specification are constantly revised and may necessitate a migration to new codes and tool solution. Hence, tools selection can change in a company over several product generations, accompanied by their own collateral formats.
To resolve this issue, a DM should be capable of capturing only the necessary tool and design data. Selective captures of design meta-data also prevents waste of disk space and provides better disk space utilization. In the end, a DM structured database enables taking design snapshots and allows labeling for easy reference. Data repository is backed-up efficiently and design handoffs between teams are seamlessly done.
ClioSoft and DM
ClioSoft SOS7 is the DM solution capable of delivering the previously described features. As the leading developer of SoC DM with over 250 global customers, ClioSoft SOS7 has been architected to meet the performance, security, scalability and optimal network storage requirements of the global design industry. On top of the outlined benefits, project management audit trail or certification conformance queries can be easily addressed through the SOS7 integrated platform with customer design environment.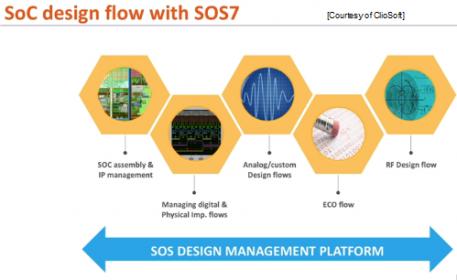 Similar to a honeycomb cells of a bee-hive, SOS7 DM integrated environment supports many forms of design development for analog, digital and mixed signal SoCs. It also provides socket-like, tight integration with many EDA implementation and analysis tools such as Cadence Virtuoso, Mentor Tanner, Synopsys Custom Designer, etc.
In summary, DM drives methodology across design organization including IT, design teams, program management and application/support teams. A robust, efficient and yet user-friendly DM platform is essential in ensuring successful adoption by all design data stakeholders. ClioSoft SOS7 seems to fit just the criteria.
For further info on ClioSoft SOS7, please check HERE.
Also Read
Managing Your Ballooning Network Storage
HCM Is More Than Data Management
Share this post via: