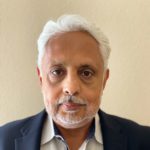 Srinath Anantharaman founded Cliosoft in 1997 and serves as the company's CEO.  He has over 40 years of software engineering and management experience in the EDA industry.  Srinath graduated with a Bachelor of Technology from IIT/Kanpur and MSEE from Washington University in St. Louis.
The last time we talked to you was 2017. Tell us a little bit about how the company has grown since then and how you've evolved your strategy.
The company has grown steadily and significantly over the last few years. Oddly, we have seen a big uptick in our business during the COVID lockdown. Our SOS family of design management solutions has become the backbone for design data collaboration for many of the largest semiconductor companies in the world. We have engineers spread all over the world from the US to Australia developing and supporting the software that these multinationals depend on to share data efficiently across their design centers and the cloud.
Our business mantra has really never changed. Develop the best product we can, support our customers at the highest level and treat each other with respect.  We never focus on revenue or growth. These are by-products that will come if we deliver on our fundamentals. Apparently, we are delivering.
Your business model and solutions have gone to the heart of some of the biggest challenges of IP reuse. What are the challenges to IP reuse that you are seeing?
IP reuse is the holy grail of design we have been talking about for a while. It promises to bring about the next significant leap in design team productivity, design cost savings, and reduced time-to-market.  Unfortunately, reality has not caught up with the vision. While there is ad hoc IP reuse within a team, it rarely crosses over to other business units and/or across the enterprise. IPs are often trapped in silos while companies continue to acquire and grow globally. There are many factors that limit IP reuse. There is some overhead to develop IPs for reuse and it requires good documentation to assist potential reuse. It must be easy and convenient for designers to find the right IP and gauge its quality. When reusing an IP, designers need the ability to get help with the IP if needed, report issues found, and be notified if there are updates. Effective IP reuse requires a change in mindset, perhaps enforced through a mandate, along with an IP-based design methodology and a good software infrastructure to enable it all. Cliosoft is trying to evangelize the benefits of IP reuse and provide the tools needed to help design teams make it a reality.
Consolidation seems constant in the EDA industry. First, where do you see opportunities for new efficiencies? And where do you see opportunities for startups with disruptive technology?
Indeed, we have seen several acquisitions in our customer base. On Semiconductor acquired Fairchild and Aptina, Microchip acquired Microsemi, Intel picked up eASIC and Soft Machines, Marvell bought Inphi, Skyworks acquired  Avnera and Synopsys has snapped up several IP vendors. We see this as a great opportunity. Most mid-to-large size companies are the result of several acquisitions, globally distributed with different cultures and expertise. To be more than the sum of its parts, engineers need to collaborate and share expertise across these boundaries.
Our SOS design management platform helps teams in different business units work together on exciting new projects. However, we saw a much bigger opportunity in providing a solution to help harness the power of all the intelligence and expertise spread across the enterprise. We introduced a new product called HUB, which as the name implies, lets people across the enterprise share their Intellectual Property and expertise with others. It enables problems to be solved quickly by crowdsourcing and designs to be completed faster without reinventing the wheel. I recently heard a talk from Erica Dhawan, the author of a book named 'Get Big Things Done – The power of Connectional Intelligence', where among other things, she talks about how difficult problems can be solved by leveraging the expertise of a broad network. Creative new solutions may come from unexpected sources looking at the problem from a different perspective. HUB was designed to do just that – provide a platform to enable the use of Connectional Intelligence within the enterprise by making it easy to share and reuse IP and expertise. Using HUB, an engineer in one business unit needing a silicon IP may find that it has already been developed by an acquired company. They can now quickly access the IP and leverage not only the expertise of the authors, but other users in the enterprise who may have integrated that IP into their designs. All the interaction is recorded in HUB and becomes a knowledge base that future users of the IP can leverage.
Does the rise and popularity of RISC-V make design management any more difficult for companies? Put another way, how do Cliosoft solutions help those companies who are embracing RISC-V IP?
From a design management perspective, our SOS design management platform helps design teams manage their RISC-V IP and designs exactly the same as any other IP and design. However, given the open-source nature of RISC-V and the fact that any user can collaborate and extend the ISA with new instructions and innovate the micro-architecture of the RISC-V processors, our HUB IP management platform helps manage and track this collaboration. HUB provides IP traceability for RISC-V IPs along with their knowledge base to help proliferate the evolution, reuse and integration of RISC-V IP.
Tell us a little bit about improvements you've made to the SOS platform since we last talked.
SOS is a very mature platform with well over 300 organizations using the software. As teams and projects have become larger, our focus has been to improve performance and scalability. We have seen an increase in IP based design methodologies and so we have added features to lubricate this design flow. Since SOS is primarily used in IC design flows, with a large number of large binary files, optimizing the use of network storage has been a key differentiator. We are working on some new capabilities to improve storage optimization even more.
The other trend we have seen is that design teams may have multiple flows. A team using Cadence Virtuoso may also use Keysight ADS for designing some RF components. Some architects may use Mathworks Matlab and project leads may manage specifications and other documentation using Microsoft Office. We work with a variety of vendors so that engineers can invoke SOS revision control features directly from their preferred tools and all the design data and documentation is managed by SOS. Another trend is a result of acquisitions. A company using Cadence Virtuoso may acquire other companies that use Synopsys Custom Compiler or Siemens Tanner. Since SOS is integrated and production tested with all these flows, the company can use the same design management solutions for all the flows.
How do you see the rise of cloud services affecting your business?
Frankly, it has not affected our business in any significant way. Whether engineers are working in their private cloud or using rented cloud services, they are using our solutions in the same way. We have expertise with Amazon AWS, Google GCP and Microsoft Azure. Since we have a globally distributed workforce, we use the cloud and of course use our own software in the cloud to manage our software development.
Many startups use the Cadence Cloud-Hosted Design Solution. Our applications engineers have a great working relationship with the engineers managing the hosted solution at Cadence. Since the Cadence engineers are very familiar with our solution, they help onboard a new company. This almost eliminates the need for us to set up a new startup that is often low on CAD expertise and resources. We can't thank the Cadence hosted solution engineers enough.
The competitive landscape has changed a little bit around Cliosoft. What's your take on the impact of those changes for users of IP management solutions?
Cliosoft has always been focused on meeting the data collaboration needs of design engineers. Our competition has changed in that their focus has become diluted with acquisitions or interest in entirely different domains. So we are now the only vendor left whose sole focus is on helping semiconductor companies manage their crown jewels – their IP and design data. Customers trust that we will be laser focused on solving their problems and this has given us further credibility. We have seen a steady migration of customers moving to our solutions.
In recent years, we've seen a big increase in the number of large, vertically integrated companies that design their own SoCs. Apple, Google, Facebook, Amazon, to name a few. Have they embraced commercial IP management solutions, or do they roll their own solutions simply because they can?
The large semiconductor companies still have the largest design teams and the bulk of our focus. The companies you mentioned clearly have the software expertise to build any solutions they want. However, software for managing IC design data and IP reuse is very specialized and not their area of expertise. Some of them already use our solutions.
As you embark on your 24th year in business, what's your vision for how IP use and reuse will evolve in the coming years and how Cliosoft can address any challenges there?
We continue to see a vigorous growth of new startups. Many of these will get acquired and we will see more consolidation. As design teams will be required to move faster to accommodate shrinking market windows, I expect that upper management will push to make reuse of existing IP a reality and try to purchase third party IP when necessary. Tracking all this reuse information and managing dependency trees will be of paramount importance both for design integrity and quality, as well as avoiding any legal or financial jeopardy with third party IP vendors. Our HUB solution is well positioned to address these needs and we have seen a growing interest especially with large multinationals. We expect to learn more from these engagements and further enhance the product to meet these challenges.
Also Read:
CEO Interview: Rich Weber of Semifore, Inc.
CEO Interview: Dr. Rick Shen of eMemory
CEO Interview: Kush Gulati of Omni Design Technologies
Share this post via: