'Tis the season, a time when a lot of companies summarize the year, send out holiday greetings and generally wind down until after the New Year. That's not the case at Cliosoft.  Their marketing machine has been in full gear with lots of new, useful and compelling content. I'll provide a round-up of what's happening. You can close the year with Cliosoft – eBooks, videos and a fun holiday contest.
eBooks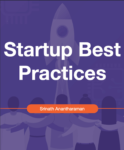 eBooks aren't something you see every day from an EDA vendor.  Cliosoft has two published, including one in Chinese as well as English, with more on the way. The first one is Startup Best Practices. The eBook is written by Srinath Anantharaman, the CEO and founder of Cliosoft. This is a short eBook that hits some very important fundamental points. Here is the table of contents:
INTRODUCTION
WHAT ARE 'BEST PRACTICES'?
WHY ADOPT BEST PRACTICES FROM THE START?
ARE DESIGN MANAGEMENT AND OTHER COLLABORATION TOOLS NEEDED?
KEEP IT SIMPLE
IT CONSIDERATIONS
CONCLUSION
This is a great read if you're starting to build a design infrastructure or if you're considering an upgrade to your existing flow. If you are in one of these situations, there is a sentence in the introduction that I think is worth repeating here.
"This eBook makes the case that adopting best practices and methodology early will lay the foundation to create a design team that is built to last."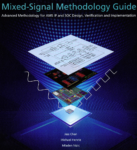 The next eBook is one chapter from a book called Design Methodology Guide, Advanced Methodology for AMS IP and SOC Design, Verification and Implementation. The chapter is entitled Data Management for Mixed-Signal Designs, and it's authored by Michael Henrie and Srinath Anantharaman. Michael Henrie is the director of software engineering at Cliosoft. The chapter goes into a lot of detail. It begins with a discussion of the current mixed-signal design environment and traditional team design techniques and their pitfalls.  There is then a discussion of design management system requirements and how to manage projects with such a system in place. The impact a design management system has on global collaboration, analog design workflows, ECOs and release tracking are discussed.
Techniques to administer rules, roles, access and permission as well as how to reuse IP and PDKs across projects are also touched on. A lot of detail and examples are offered. I'm sure there's something in this eBook for everyone.
There are two more eBooks in the works now, with more in development. The next titles treat the ever-popular topic of moving to the cloud:
Best Practices for Deploying Design Management on Amazon AWS
Using Cliosoft SOS Design Management Platform in the Cloud
You can get your copy of Cliosoft's eBooks here.
Videos
There are quite a few videos available on the Cliosoft website as well. The titles there include:
Designing on AWS
The New Trend in IP Traceability That IP Developers and Design Managers Rely On
Network Storage Optimization for IP
Challenges in IP reuse
Visualizing Differences in Analog Design
What's in Your IP
The videos are a combination of webinar replays and "chalk talks". The content covers a lot of very relevant topics.
I'll focus on the content of one video, The New Trend in IP Traceability presented by Karim Khalfan, director of applications engineering at Cliosoft. I originally covered this webinar on SemiWiki here. Karim begins by discussing why IP traceability is important. Some key benefits include:
Increased visibility
Improved quality
Reduced risk
The standards that demand reliability and how IP traceability addresses these requirements are also discussed (e.g., ISO26262 and MIL-STD-882). Karim then sets up a series of live demonstration scenarios that illustrate the challenges of several stakeholders and how IP traceability helps. The webinar concludes with a Q&A session with questions from the original live audience. Karim manages to get through all this content in under 30 minutes. This one is definitely worth your time. You can access all Cliosoft's videos here.
Holiday Contest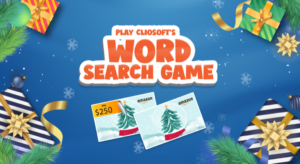 This one is a lot of fun. If you're not quick, it can become torture so give it a try!  You have to spot a series of words in a "sea of letters" while working against the clock. It's definitely worth the effort because you are entered in a chance to win a $250 Amazon gift card if you play. There will be drawings every Friday until December 25, so have a big cup of coffee and check it out. You can enter the game from a link at the top of the Cliosoft home page.  So that's how you can close the year with Cliosoft – eBooks, videos and a fun holiday contest.
Happy Holidays to all!
Also Read
The History and Physics of Cliosoft's Academic Program!
A tour of Cliosoft's participation at DAC 2020 with Simon Rance
How to Grow with Poise and Grace, a Tale of Scalability from ClioSoft
Share this post via: