It's been awhile since I really looked at what Cliosoft has to offer in the EDA tool space, so at the 58th DAC I stopped by their exhibit booth on Tuesday to visit with Karim Khalfan, VP of Application Engineering, and Simon Rance, VP of Marketing. Their booth had all of the hot market segments listed: Automotive, 5G, IoT, AI, Foundries.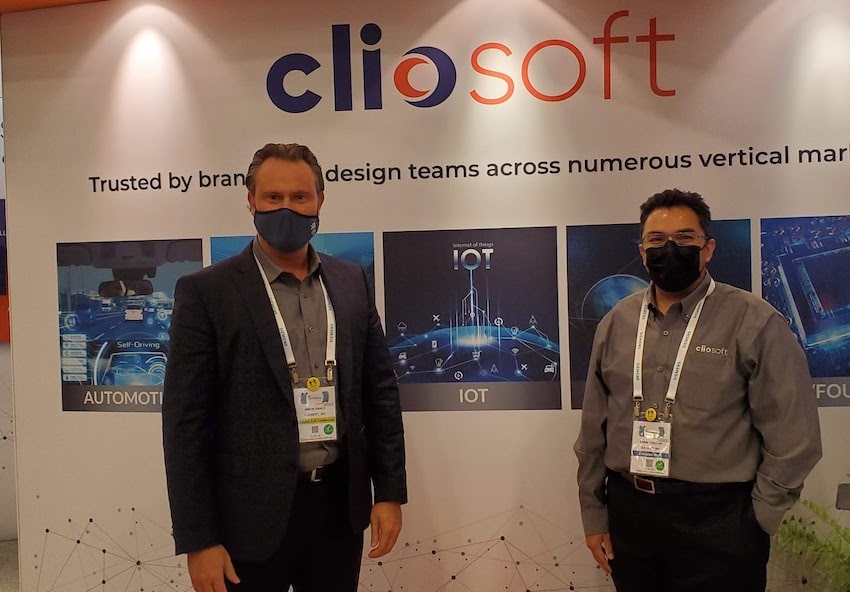 History
The founding of Cliosoft goes back to their founding in 1997, and has grown into a worldwide organization, with  350+ customers, providing IC design and data management for semiconductor design companies. Some of their tier one enterprise customers include: On Semi, Cadence, TSMC, Marvel, MediaTek. Other notable clients that design high-tech electronic products are: Google, Qualcomm, Microsoft, AMD, Boeing.
Since EDA users mix and match tools from multiple vendors, Cliosoft is already part of all the well-known partner programs:  Siemens EDA, Synopsys, Cadence, MathWorks, Keysight, Silvaco.
EDA Products
There are three major EDA products from Cliosoft that will interest IC design teams:
SOS – design and data management (File, text, binary), runs in the background or interactive and batch tool use
HUB – IP management and re-use system
VDD – schematic and layout comparison tools (cosmetic changes vs net list changes)
The SOS product is used in several areas: helping your team manage design data, provide revision control for all IP blocks being used, and performing releases on an IP or entire IC design. With SOS multiple engineers can collaborate on a project, sharing data safely between different geographies, allowing clear terms for handing off – like between schematic and layout designers. Everyone on the team knows when changes to any IP have happened. Architects can quickly re-use IP blocks, knowing that they have the most recent version, and at any time review the history of IP versions.
IC designs contain many files, both text and binary formats, so with SOS you save all of your design data in repositories, which can be centralized or distributed, both methods are supported. Enterprise design centers tend to use distributed approaches with referencing to the golden source.
With the SOS storage approach you are saving on disk space, because a user creates a new project without having to make physical copies all of the time which duplicates storage, instead SOS uses a symbolic link in their work area which creates a much smaller footprint than a physical copy. This approach is also faster to create a new work area, and it's kind of unique, being used since 2001, so well proven over the past two decades. SOS also supports the local work area model too, but about 95% of customers use symbolic links instead.
In the SOS architecture  there's a main depository for you IC design, along with remote caching servers. Remote geographies don't have to wait a long time in order to see all of the latest updates.
For projects using the OpenAccess database, there are multiple views for each cell:
Schematic view
Layout view
Extracted view
Symbol view
All of these cell views get packaged together, and are always in synch, so the engineers are operating at an abstract level with packages.
The HUB product is used to quickly reference and re-use IP blocks across multiple projects inside of any company. With HUB your management knows exactly where every IP block is being used, and tracks 3rd party IP along with internally re-used IP.
Beyond just check in and check out of IP cells, team members will also be using tagging to move a design block from the logic design to the  layout group. You can even use your existing bug tracking tools, like: Jira, Trac, Bugzilla and Fusion forge.
SOS and HUB tools can both be used on AWS, Google, and the Azure cloud platforms. Each team decides how much cloud and on-premise work is done, and the hybrid approach is a popular design management trend. Cliosoft is also collaborating with Microsoft in the newly announced Rapid Assured Microelectronics Prototypes (RAMP) program, where the design data and IP management flows work in Microsoft Azure.
The final tool is called VDD – Visual Design Diff, and it compares schematics or layouts, flat or hierarchical, to show all of the subtle changes in a highlighted form. This capability is useful for tracking the progress of schematics and layout, so management can determine the percentage of cells that are done, and the percentage remaining. The VDD tool is built into the Cadence environment, so a user can quickly tell how many cell views are completed. Anyone on the team can look at the cell labels to understand the progress.
For Cadence Virtuoso users, they never really have to look at SOS or use command line options, instead they just use the familiar Library Manager. All of the Cadence IP group uses Cliosoft for data management. Likewise, users of Synopsys Custom Compiler also use SOS as a built in set of features.
To protect your IP from being moved to the wrong geography, a team sets up access control restrictions, for example a mil-aerospace contractor could require security clearance to even view an IP.
HUB works with many data manages systems: git, subversion, SOS, Perforce, NAS/SAN (store IPs anywhere). For finding the right IP, you just use a catalog with searching and comparing features, and it even shows differences between similar IPs, all inside of a web-based GUI. You can even find out how many designs a the specific IP  has been used on, in order to lower your risks.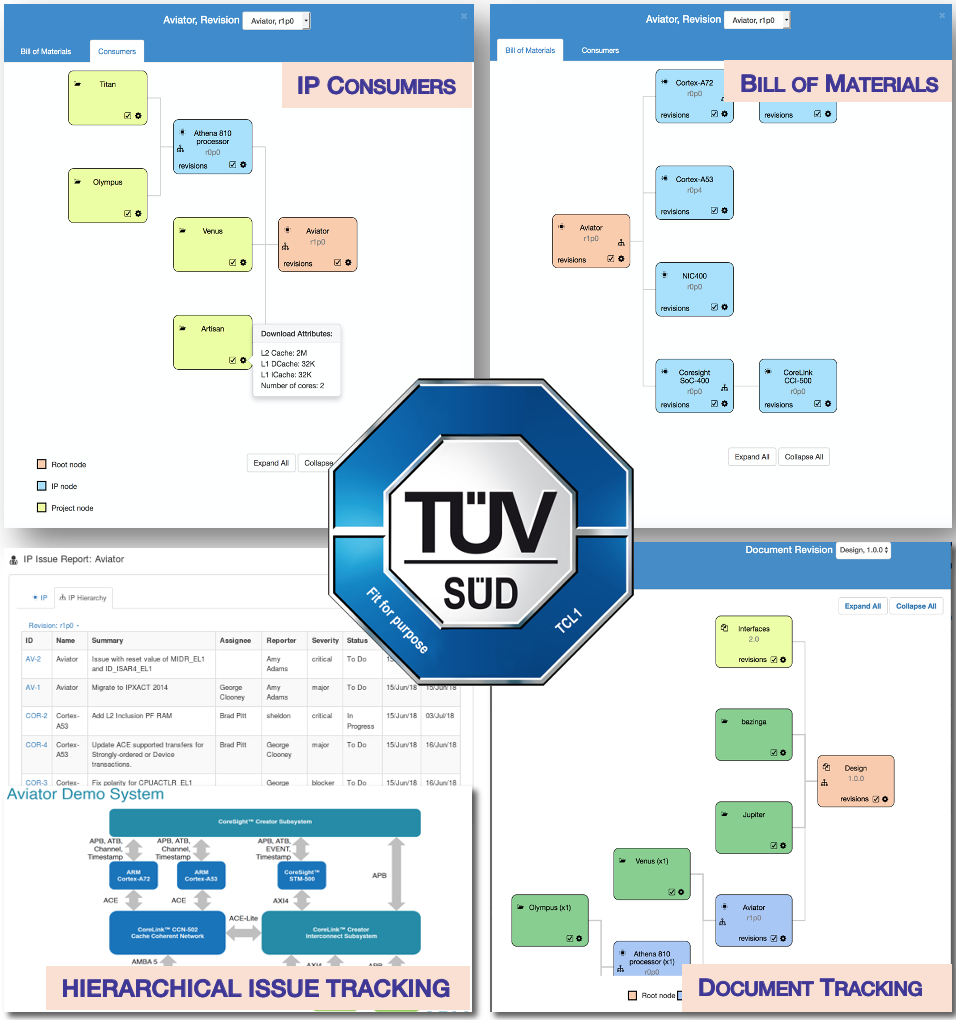 There's hierarchical visibility, so you know who is using each IP block, and where inside the hierarchy it is placed. Users can see a bill of materials for all sub-blocks inside of an IP.  You can even track all documentation per IP block.
With Cliosoft tools there are plenty of 3rd party software integrations, as the HUB tool connects to Design Management, Bug Tracking, Documents (Confluence, Google Docs, Dropbox, Box), EDA tools (Virtuoso, PLM tools, in-house tools), and Issue tracking (Jira, Bugzilla).
Users have quick access to an IP catalog for reuse, while management has oversight on how IP is being used, and the tools provide IP traceability so IP audits can be performed. Your company gets to define the process by which a new IP block can be used, for example by first requiring that there's legal approval, management approval, and a signed license agreement.
Summary
My impression from Cliosoft is that after 20 years serving the IC design and data management market, they've figured out how to integrate their tool features into your existing IC design flow providing revision control, design release and derivative management. Their customer list looks impressive, so give them a call, or contact Bob Slee from EDA Direct to learn more.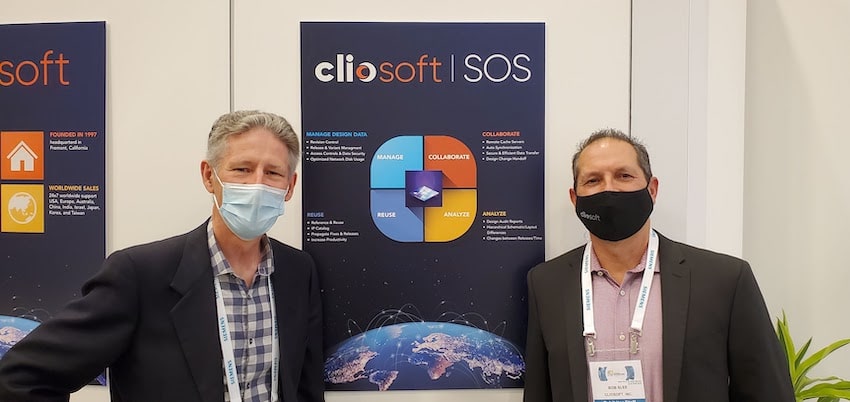 Related Blogs
Share this post via: