The semiconductor industry is expected to grow at a reasonable pace in 2015 and beyond, with the biggest market being compute applications followed by wireless and consumer applications. The highest growth, however, is expected to be in application-specific products for devices such as smartphones, wearables, memories, and SSDs. In addition, the industrial electronics segment also also expected to grow significantly, with the Internet of Things (IoT) dominating the market.
From a design standpoint, a common factor is the increased use of RF design modules. The need for faster connections and greater network capacity for wireless technologies like LTE, Wi-Fi and IoT is driving the demand for more complex radio circuit designs. In fact, IoT is predicted to grow at a phenomenal pace, with over 30 billion devices predicted to be connected to the Internet by 2018.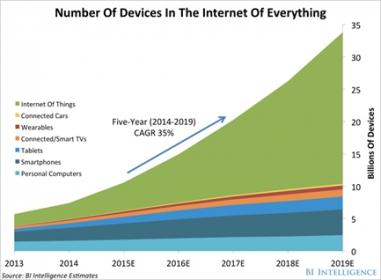 Number of devices connected to the Internet
(Source: BI Intelligence)
Needless to say, with the increased usage of RF modules, RF designers are being sought after by an increasing number of companies. RF design teams that typically have been used to working in isolation are now being thrust into the limelight and must collaborate efficiently with different design groups, such as the digital and analog teams. The RF aspect of a design adds a more complex set of challenges as it is essential that the integrity of the communication path be maintained. So the RF teams now need to work more closely with the physical implementation and other teams to ensure that, for example, the noise due to discrete logic is taken care of properly.
From a design management standpoint, increased RF and mixed-signal designs make it important for all engineers to follow some essential design methodologies such as revision control to streamline the complex flows and design schedules. More importantly, ensuring that everyone adheres to revision control enables designers to revert back, as needed, in the event design mistakes are made, as well as to manage and tag the various handoff releases made to the different teams.
For example, to ensure proper integration of the RF and analog IPs in the SoC, it is important to shield it from the digital logic and to resolve all the noise issues. Since there are several methods to resolve these issues—such as proper frequency allocation, etc.—having a revision control system in place enables reversion to previously saved versions if efforts to reduce noise do not work as anticipated.
Whether a team is comprised of multiple designers under one roof or globally-dispersed members, it is useful for design companies to use only one tool for design configuration management. That tool should manage, among other things, revision control and release management for all types of designs—digital, analog, RF and mixed-signal.
From a design manager's viewpoint, it is easier to track all changes made during the project and any open issues against a release when all design engineers manage all the design data through one design configuration system. As the design ecosystem changes to allow greater interoperability between the different tools used by analog, RF, and digital designers, a common design management platform adhering to all types of designs helps avoid unnecessary problems and potential slips in the design schedule.
ClioSoft's SOS design management platform is the only such platform that provides a cohesive design environment for RF, analog, digital and mixed-signal design. Its tight integration with tools from EDA vendors such as Cadence Design Systems®, Keysight Technologies, Mentor Graphics and Synopsys® makes it easy for designers to adopt and use SOS for managing design data.
ClioSoft recently held a webinar to show RF designers using the Advanced Design System (ADS) tool from Keysight Technologies how to use the SOS platform integration within ADS. ClioSoft's Director of Application Engineering, Karim Khalfan, walked the attendees through the SOS interface for the ADS design environment.
Karim explained how to set up SOS tool as add-on for Keysight ADS
Karim began by explaining how to set up the SOS data and IP management tool as an add-on for ADS. He also elaborated on the key features of SOS within the ADS environment, such as revision control, data recovery, side-by-side comparisons and more. You can view a 30-minute recording of the webinar by clicking here.
There are several challenges while integrating analog and RF modules with the digital portions in an SoC: noise, verification, modeling, process variations, etc. In addition, from a design management standpoint, there are several challenges to managing the design handoffs for complex design flows, tracking open issues and managing the different revisions of designs being used in the SoC. Having an underlying design data management tool to manage the intricacies of complex design flows amongst all design engineers located at all sites reduces the inefficiencies and mitigates the risks considerably, enabling design teams to be more productive.
Share this post via: