The 5G technology market is huge with incredible growth opportunities for various players within the ecosystem. As a leading cellular IP provider, CEVA has been staying on top of the opportunity by offering solutions that enable customers to bring differentiated products to the marketplace. Earlier this year, SemiWiki posted a blog about CEVA's PentaG2 5G NR IP Platform, the PentaG2 being a follow-on offering to CEVA's successful first generation PentaG IP Platform. The PentaG2 platform's target is the 5G user equipment segment of the 5G market and PentaG2 has been enabling customers to develop products rapidly and cost effectively.
But what about the infrastructure segment of the 5G market opportunity? This segment is also huge and lucrative and is attracting a slew of established and new players seeking a slice of the opportunity pie. CEVA recently launched their PentaG-RAN Platform IP to address the infrastructure segment of the 5G market. This industry-first scalable and flexible platform combines powerful DSPs, 5G hardware accelerators and other specialized components required for optimizing modem processing chains. The PentaG-RAN platform also lowers the barriers for entry for new players who want to serve the Open-RAN base station and equipment markets.
If system companies had their druthers, they would implement an ASIC for optimal differentiation of their solutions. Of course, developing an ASIC has gotten challenging in many ways due to design complexities, supply chain disaggregation, costs, availability of technical talent, etc., And, if you are a new player, you may not have in-house seasoned ASIC implementation teams to count on.
What if the PentaG-RAN Platform IP would help overcome the above challenges? Would system companies take the ASIC route and get freedom from the captivity of chipset suppliers? Would chiplet suppliers take advantage of the platform to quickly implement product variants for different segments/customers? What if along with the Platform IP, integration services are available to implement the ASIC? This is the backdrop and context for this blog about the PentaG-RAN announcement from CEVA.
5G RAN Market Opportunity and the Challenge
The infrastructure market covers base stations and radio configurations from small cells to Massive MIMO deployments. According to Gartner, the RAN semiconductor market is expected to grow from $5.5B in 2022 to $7.4B in 2026. Significant Open-RAN architecture penetration is expected around 2025 with Massive MIMO radio being the biggest volume opportunity. New OEMs being attracted by the Open-RAN architecture are desiring to replace cost and power inefficient FPGA-based and COTS platform based implementations. At the same time, they get intimidated just thinking of the ASIC development challenges, given the PHY and radio domains are highly complex to begin with. The scarcity of design and architecture expertise for 5G baseband processing justifiably adds to this apprehension. To top these concerns, the diverse workloads in 5G physical layer require complex and heterogeneous L1 subsystems and optimal hardware/software partitioning.
CEVA's PentaG-RAN Offering
PentaG-RAN is a heterogeneous baseband compute platform that provides a complete licensable L1 PHY solution with optimal hardware/software partitioning. It addresses the requirements of both the Radio end and the DU/baseband end of the 5G market. The PentaG-RAN platform can also be used as an add-on to COTS CPU-based solutions to run vRAN inline acceleration tasks.
The platform includes high-performance DSPs and 5G hardware accelerators and delivers up to 10x reduction in power and area compared to FPGA and COTS CPU-based alternative solutions.
The Figure below highlights the various CEVA IP blocks that make up a Massive MIMO Beamformer Tile.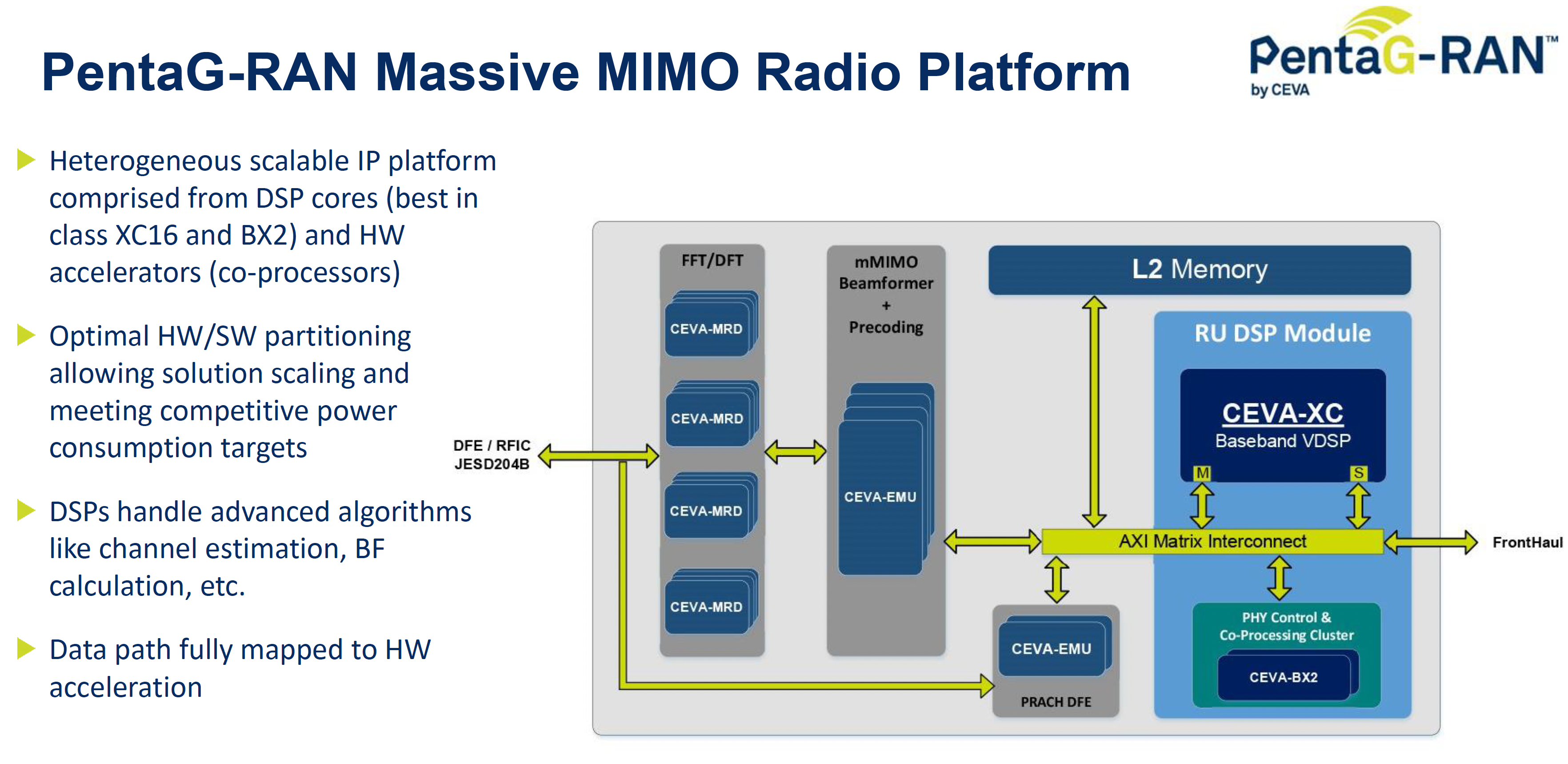 The PentaG-RAN platform makes it easier for customers to implement a MIMO beamformer SoC by integrating the included baseband beamformer tile with their own front-haul design.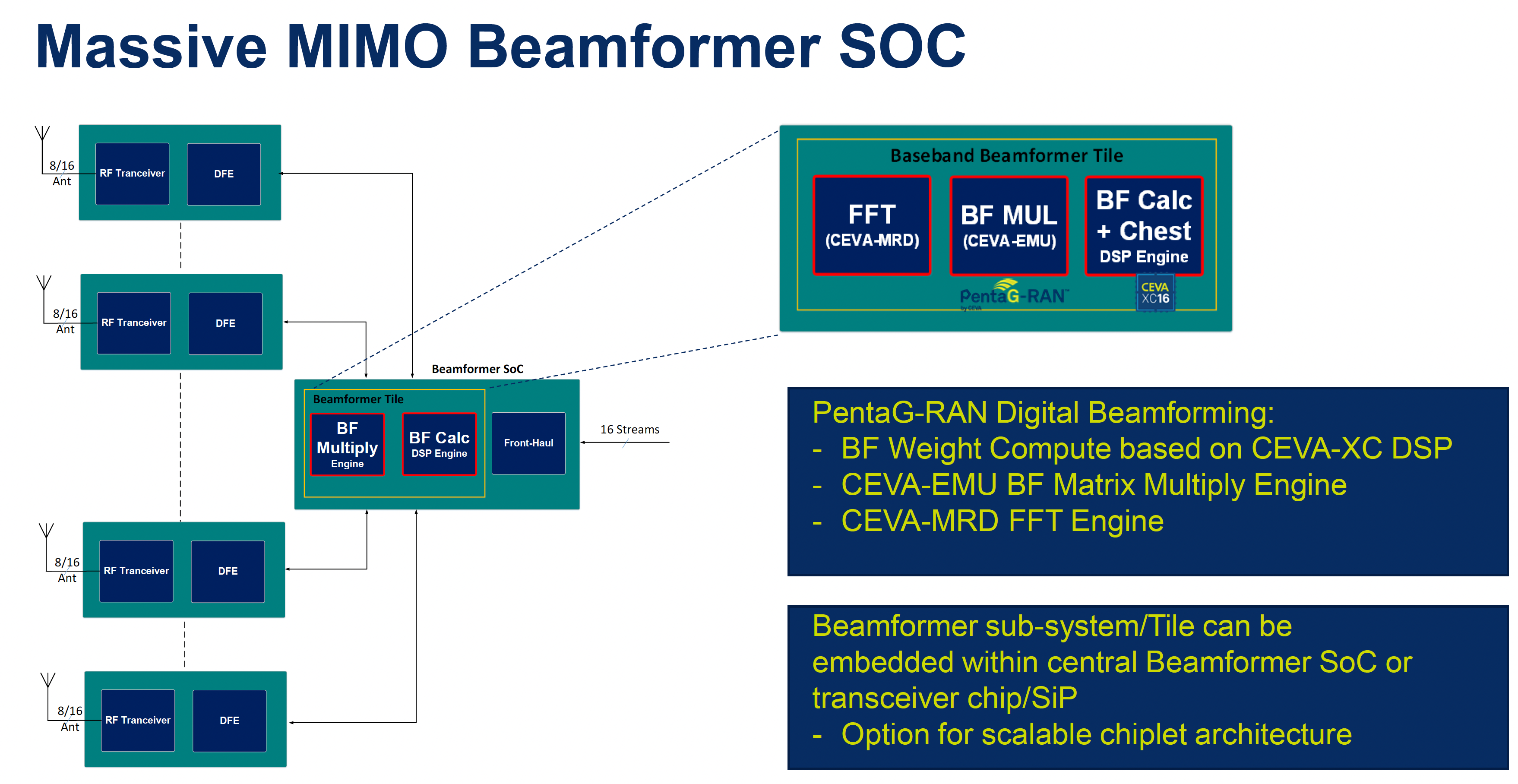 The Figure below shows how the platform supports the DU end for Small Cell and vRAN designs.
Productivity Tool/Virtual Platform Simulator
As with the PentaG2 platform, the PentaG-RAN deliverables include a System-C simulation environment for architecture definition, modeling, debugging and fast prototyping. The PentaG-RAN SoC simulator supports all CEVA IP and interfaces with MATLAB platform for algorithmic development. A PentaG-RAN based system can also be emulated on a FPGA platform for final verification.
To learn more details, visit the PentaG-RAN product page.
CEVA's 5G Co-Creation Offering
Through its Intrinsix team, CEVA offers SoC design services for those customers who would like to customize the platform IP to build a highly differentiated SoC. The Intrinsix team is well versed in mapping customer use cases to the PentaG-RAN platform. The team can work on hardware architecture spec, solution dimensioning, interconnect definition, process node selection, and software architecture. In essence, customers can engage CEVA for full-service ASIC engagement from architecture to GDS.
PentaG-RAN Availability
PentaG-RAN will be available for general licensing in 4Q 2022.
Also Read:
LIDAR-based SLAM, What's New in Autonomous Navigation
Spatial Audio: Overcoming Its Unique Challenges to Provide A Complete Solution
Share this post via: