Like it or not, the surveillance market is growing, at a CAGR approaching 10%. Big brother concerns sometimes cloud the picture but overlook the much larger practical yet less hype-worthy applications for surveillance. Home and industrial security, enhanced traffic flow management, monitoring for fire and other fast-growing threats. In support of crime scene investigations and in bodycams. What is common to all these applications is that they must be deployable at volume, low power, sometimes portable, always connected. Supporting ever-increasing resolution while intelligently filtering data upload to only significant activity, for review by human monitors .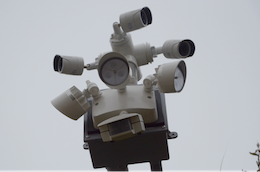 Profile of a state-of-art surveillance platform
Start with the basics. A surveillance camera can no longer afford to stream a full video channel. The communication overhead and cost would simply be too high. Video must be cleaned up through image signal processing (ISP). Then run through object detection to filter out all but significant frames for upload (a person, a possible fire, an emergency vehicle). Now multiply this basic framework to support several cameras. Some perhaps pointed in different directions, some providing a stereo view through 2 image sensors. Some may be fisheyes, supporting a 360o image. These might be complemented by other types of sensors such as motion and perhaps range detectors.
Processing each image view depends on strong ISP functionality, for noise reduction, dynamic range optimization, de-warping for fisheye views, and much more. Then image recognition through inferencing on one or more trained networks. However these independent views become much more powerful when combined through sensor fusion. The views from 2 stereo sensors together can provide a depth assessment. Motion or range input can further enhance those approximations. Detection across multiple sensors provides path information for a moving object. All this detection demands an advanced platform to simultaneously process object detection and fusion from multiple sensors inputs.
Novatek Microelectronics Corp recently released their NT98530 multi-sensor IP Camera SoC targeting surveillance, retail, smart city, and transportation applications. This SoC is a good example of a platform targeting just these goals. It supports 8 mega pixels at 60 frames/sec while simultaneously performing advanced object recognition on each frame. All in an SoC providing almost all the electronics required by that multi-sensor platform, at a unit cost which will support wide deployment at low power.
CEVA SensPro2 inside
CEVA is well known for their DSP-based solutions for computer vision, audio, wireless and AI and have been working together with Novatek for almost ten years now. SensPro2 builds on the earlier SensPro Gen-1, increasing performance across a range of neural net benchmarks by up to a factor of 2. Computer vision and SLAM benchmarks improve by as much as 5X. There are even better improvements in speech and radar processing. All continue to be supported by rich software libraries and tools for mapping standard networks onto the neural net platform. Novatek deployed their NT98530 on top of SensPro2. claiming it delivers superior real-time performance for computer vision, AI-based analytics and multi-sensing sensor fusion at the edge, for a powerful, flexible edge AI camera solution which customers can mold to their requirements.
CEVA sensor fusion IPs are already deployed in a wide range of OEM products, from smart TVs to fixed wireless access devices, robot vacuums and VR/AR headgear. You can learn more in this press release with Novatek and this product page.
Also Read:
CEVA's LE Audio/Auracast Solution
CEVA Accelerates 5G Infrastructure Rollout with Industry's First Baseband Platform IP for 5G RAN ASICs
Share this post via: