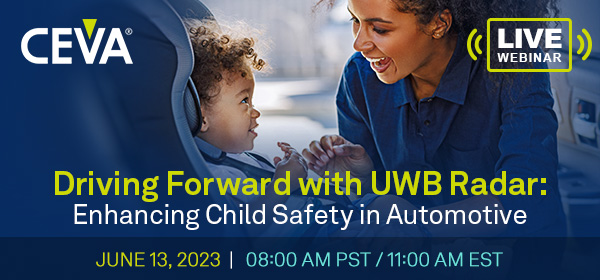 The rapid advancement of UWB (Ultra-Wideband) wireless technology has garnered significant attention and interest, thanks to its adoption by leading smartphone brands and its versatile range of applications. Within the automotive industry, UWB has already emerged as the preferred choice for Digital Keys in the premium segment. Moreover, the integration of UWB anchor points in modern vehicles presents a cost-effective platform for implementing advanced in-cabin radar capabilities, particularly for Child Presence Detection (CPD). This webinar aims to provide valuable insights into UWB technology, its functionality, and the role it plays in improving child safety in automotive environments.
UWB Technology and Ecosystem
To comprehend the potential of UWB radar in automotive applications, it is essential to understand the underlying technology and the ecosystem surrounding it. The UWB Alliance, CCC (Car Connectivity Consortium), and FiRa (Fine Ranging) are key players in promoting UWB technology. The UWB Alliance fosters collaboration and innovation among industry leaders, driving the development and adoption of UWB solutions across various sectors. CCC focuses on standardizing the implementation of UWB technology in vehicles, ensuring interoperability and seamless integration with other connected car technologies. FiRa, on the other hand, is dedicated to advancing UWB's precise positioning capabilities, enabling enhanced location-based services.
How UWB Radar Works
UWB radar leverages the unique characteristics of ultra-wideband signals to enable accurate and reliable detection and ranging. UWB signals consist of extremely short pulses with a wide frequency spectrum, allowing for high-resolution sensing. By transmitting these pulses and analyzing the reflections, UWB radar can identify and locate objects with exceptional precision. This technology excels in differentiating between closely spaced objects and can operate effectively in challenging environments with high levels of interference.
CEVA's UWB and Radar Solutions
CEVA, a leading provider of wireless connectivity and smart sensing technologies, offers cutting-edge UWB and radar solutions for automotive applications. During the webinar, participants will gain insights into CEVA's UWB technology, which provides secure and accurate positioning for digital key solutions. CEVA's radar solutions leverage UWB technology to enable advanced in-cabin features such as Child Presence Detection. By integrating UWB radar into vehicles, automakers can enhance child safety by detecting the presence of a child within the car. Additionally, UWB technology enables new features based on gesture recognition, such as opening the trunk with a simple hand gesture.
Target Audience
This webinar is designed to benefit system engineers, SoC (System-on-Chip) designers, and product managers who are involved in UWB device development and are interested in incorporating radar capabilities into their products. Professionals from diverse industries, including automotive, industrial, consumer electronics, and others, will find this webinar valuable for understanding the potential applications of UWB radar and its role in enhancing safety and convenience in their respective domains.
Conclusion
As UWB wireless technology gains traction across various industries, its implementation in the automotive sector holds immense potential, particularly in improving child safety. The integration of UWB anchor points in modern vehicles creates a cost-effective platform for deploying advanced in-cabin radar systems, enabling features like Child Presence Detection. This webinar offers a comprehensive overview of UWB technology and its ecosystem, provides insights into the working principles of UWB radar, and showcases CEVA's UWB and radar solutions for automotive applications. By attending this webinar, participants will gain valuable knowledge and perspectives on leveraging UWB radar to enhance child safety and drive innovation in the automotive industry.
Also Read:
DSP Innovation Promises to Boost Virtual RAN Efficiency
All-In-One Edge Surveillance Gains Traction
CEVA's LE Audio/Auracast Solution
CEVA Accelerates 5G Infrastructure Rollout with Industry's First Baseband Platform IP for 5G RAN ASICs
Share this post via: