These last days have been full of Apple related stories; maybe it's time to discuss a new topic? Like for example Samsung, direct competitor for Apple in the smartphone market, and take a look at the company move toward more vertical integration. Everybody working in the SC industry knows that Samsung is ranked #2 behind Intel, even if the two companies SC products mix are pretty different. When Intel revenue is essentially coming from processor, Samsung SC revenue is coming from 3 families: DRAM, NAND and System LSI. As you can see from the Quarter by Quarter revenues from the last four years, System LSI revenues are drastically growing, both in value and, even more important, in percentage of overall SC sales. "System LSI" sounds almost obsolete as a name for a product line, but when you realize it represents products like Exynox (Application Processors) or CMC221S (2G/3G/4G Baseband GSM/WCDMA/LTE), in direct competition with, for example, Qualcomm MSM8960 integrated Application Processor, Texas Instruments OMAP5, or Apple A6, you then consider the System LSI name more respectfully…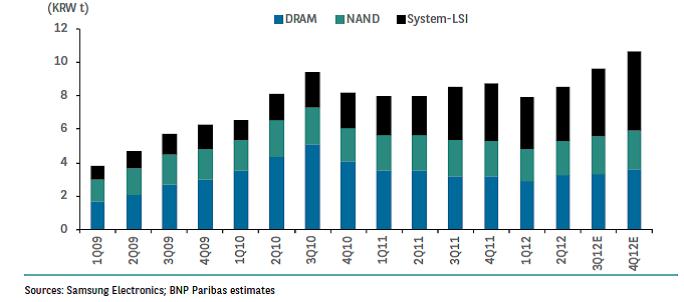 If you look at the Bill Of Material (BOM) for a smartphone, you can see that there will always be DRAM, NAND Flash and an Application Processor plus a Baseband Processor (or an integrated AP + BB). You can imagine that Samsung top management has made this analysis some time ago, when they decided to heavily invest in developing top class smartphones, considering that manufacturing the high value above mentioned SC content was a good way to keep the value inside the company, which is the definition of the vertical integration: try to develop (and manufacture if it make economic sense) as much as possible of the various parts of a system, and the system itself.
Let's focus on these non-memory semiconductors: Application Processor and Baseband processor, as these two are the heart of a smartphone and both part of System LSI. Samsung is not part of the handful pioneers of the wireless industry, like Nokia, Ericsson, RIM or Panasonic, and Samsung SC has entered the wireless chip segment more recently than the Qualcomm, TI or ST-Ericsson. This position can be seen as a challenge, but it also gives the new comer a competitive advantage. The company can select very quickly the winning solution, ARM IP core for the application processor, and CEVA DSP IP core for the baseband processor, when the pioneers have made some experimentation at the early days, sometime going to a dead end.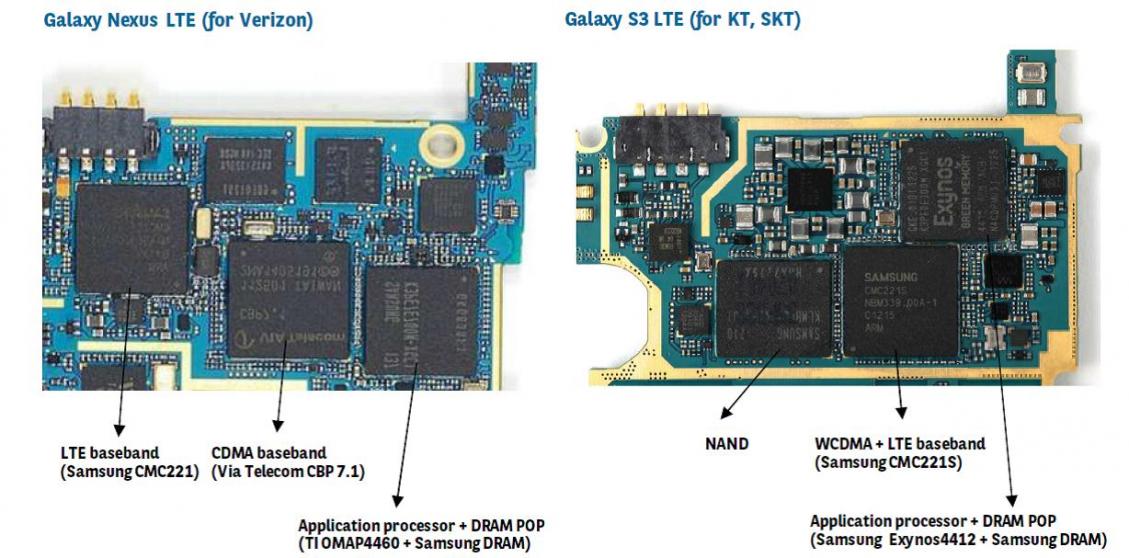 When Samsung (OEM) builds smartphone, the company can select the chips which best fit the need for a specific product, or even a specific market for the same product. We have a good example with the Galaxy Nexus LTE, using TIOMAP 4460 AP, Samsung CMC221 LTE Baseband and VIA Telecom CBP 7.1 CDMA Baseband, to be compared with the Galaxy S3 LTE supporting Korean operators, integrating Samsung devices for both the AP and the Baseband. In this case, both products integrates Baseband developed around CEVA DSP IP, as VIA Telecom also licenses CEVA products.

But the road for a complete vertical integration is long, and certainly passes by compromises, as Samsung (OEM) does not necessarily integrate Samsung SC products. We have a good example with these three variant of the Galaxy S3, in Korea, Europe and US. The Korean product, as above noticed, is 100% Samsung for the AP and the Baseband, when the product sold in Europe integrates a Baseband from Intel Wireless (Infineon for those who remember). By the way, in both cases, the Baseband also rely on a CEVA DSP IP core for the processing, as Intel Wireless licensee CEVA as well. The Galaxy S3 sold in the US is based on a Qualcomm MSM8960, integrated 2/3/4G Baseband and Application processor. This is strength for Qualcomm as Samsung are one of the biggest revenue drivers for the company today. It also represents a significant threat to Qualcomm as Samsung is going toward more vertical integration…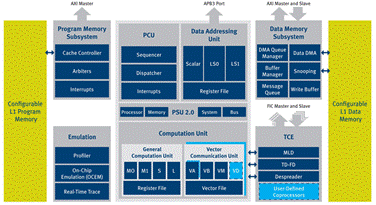 This vertical integration strategy represent a huge opportunity for CEVA: from a DSP perspective, Samsung exclusively use CEVA DSPs for their LTE designs, so this represents a very strong LTE driver for CEVA. Interesting to notice, many of CEVA's other customers supply chips into Samsung handsets today, including Broadcom, Intel, ST-Ericsson, Spreadtrum and VIA telecom. A rough estimation (from CEVA) is that CEVA ships in more than 50% of all Samsung handsets today and that market share continues to grow, as Samsung tend to use non-Qualcomm Baseband solution. This did not happen by chance: CEVA has been a long time partner and is the DSP inside Samsung's LTE roadmaps, as we can see from this press release from 2010 that Samsung has been using CEVA for its LTE development. That's why, when Samsung is going further in vertical integration, as well as gaining market share in the smartphone segment (the market segment where most of the profit of the overall handset market are made), Qualcomm could cry, Apple displace the fight in the legal field… and a much smaller but successful IP company, CEVA DSP, will laugh!
By Eric Esteve from IPnest
Share this post via: