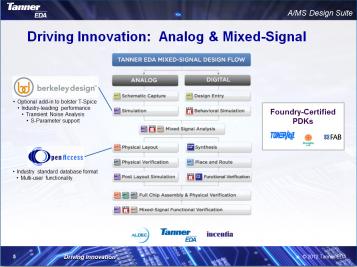 It is always nice to see when an EDA company grows organically, versus inorganically by acquiring friends and foes. It is also nice to see when an EDA company invests in the fabless semiconductor ecosystem because, as we know, we are all in this together.
Tanner EDA celebrated its 25th anniversary this year by adding 149 new customers which brings the grand total of active customers to more than 1,200 which is an amazing number if you think about it. You can read more about Tanner EDA HEREor visit their website HERE.
"This year marked our concerted effort to advance from interoperability to tighter integration so that we can continue to deliver greater capability to our analog and mixed-signal customers," said Greg Lebsack, president of Tanner EDA.
Tanner's product line grew this year with new features and functionality added to HiPer Silicon in version 15.23 to tools such as T-Spice, S-Edit and HiPer DevGen, Tanner EDA's layout acceleration tool. Additionally, new ecosystem partners were announced:
Tanner and Berkeley Design Automation announced the Tanner Analog FastSPICEsolution, an add-on to Tanner EDA's front end and full flow A/MS design suites. Analog FastSPICE brings Berkeley Design Automation's Analog FastSPICE platform to Tanner EDA customers, delivering foundry-certified nanometer SPICE accuracy at speeds 5x-10x faster than any other simulator on a single core as well as an additional 2x-4x performance uptick with multithreading.
"The availability of Analog FastSPICE as an add-on to Tanner EDA's analog and mixed-signal design tools brings great benefit to Tanner EDA's customers," said Ravi Subramanian, president and CEO of Berkeley Design Automation. "Analog/ RF designers can realize the benefits of Tanner EDA's full-flow analog design suite that is now bolstered by Analog FastSPICE, allowing verification of very complex analog/ RF circuits with nanometer SPICE-accurate results."
The HiPer Simulation A/MS solution, which offers T-Spice analog design capture and simulation together with Aldec's Riviera-PRO™ mixed language digital simulator, allows both analog and digital designers to seamlessly resolve A/MS verification problems from one cohesive integrated platform.
"The synergies we have with Tanner EDA span both technology and business," said Dr. Stanley Hyduke, president and CEO for Aldec. "Both companies have delivered top-notch products and relentless customer service for the last 20 plus years and this collaborative A/MS solution will prove again why both Aldec and Tanner EDA continue to see growth and innovation in our respective areas of expertise."
And a partnership with Australian Semiconductor Technology Corporation (ASTC).
"Tanner EDA tools, flows and partnership enable the ASTC A/MS Design Services operation to offer new, lower cost, design solutions to a new range of global customers and ASIC segments. Previously cost-prohibitive A/MS ASIC product ideas have now become feasible and profitable propositions both for our customers and for ASTC A/MS Design Services," says Jay Yantchev, CEO of ASTC.
All in all, a great year for Tanner EDA!
Tanner EDA provides a complete line of software solutionsthat drive innovation for the design, layout and verification of analog and mixed-signal (A/MS) integrated circuits (ICs) and MEMS. Customersare creating breakthrough applications in areas such as power management, displays and imaging, automotive, consumer electronics, life sciences, and RF devices. A low learning curve, high interoperability, and a powerful user interface improve design team productivity and enable a low total cost of ownership (TCO). Capability and performance are matched by low support requirements and high support capability as well as an ecosystem of partners that bring advanced capabilities to AMS designs.
FREE 30 day Evaluation Trial Software

Share this post via: