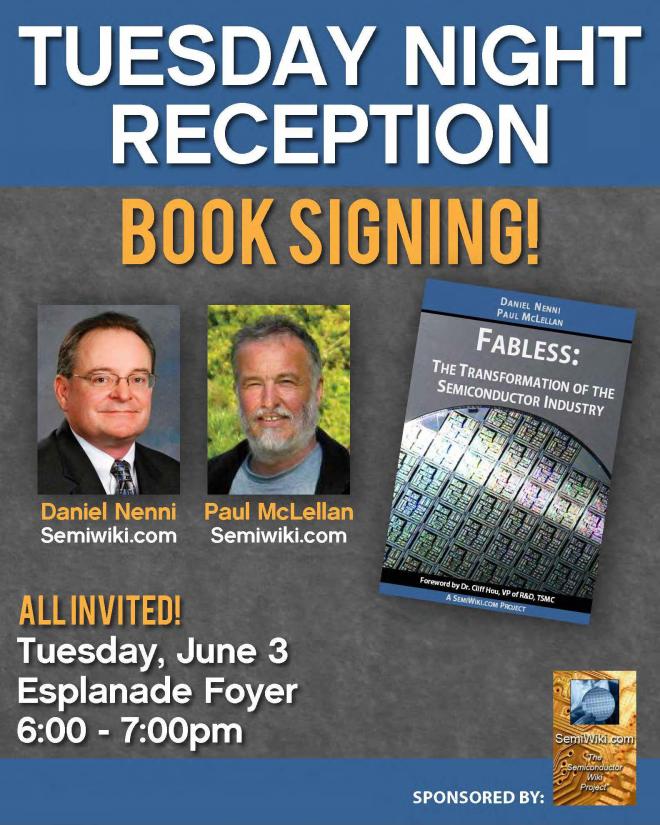 The generosity of the fabless semiconductor ecosystem never ceases to amaze me. Paul McLellan and I wrote a book for the greater good and now key members of our industry will make sure that 1,500 people at this year's Design Automation Conference will get copies. As a special thank you to all of our supporters SemiWiki will be hosting the Networking Reception on Tuesday night at 6pm in the Esplanade Foyer. There will be food, beverages, BOOKS, and entertainment.
First I would like to thank eSilicon. Not only did they collaborate on the ASIC chapter, they will be giving away 1,000 copies of the book! You can find them at booth #512.
eSilicon, a leading independent semiconductor design and manufacturing solutions provider, delivers custom ICs and custom IP to OEMs, independent device manufacturers (IDMs), fabless semiconductor companies (FSCs) and wafer foundries through a fast, flexible, lower-risk path to volume production. eSilicon serves a wide variety of markets including the communications, computer, consumer, industrial products and medical segments.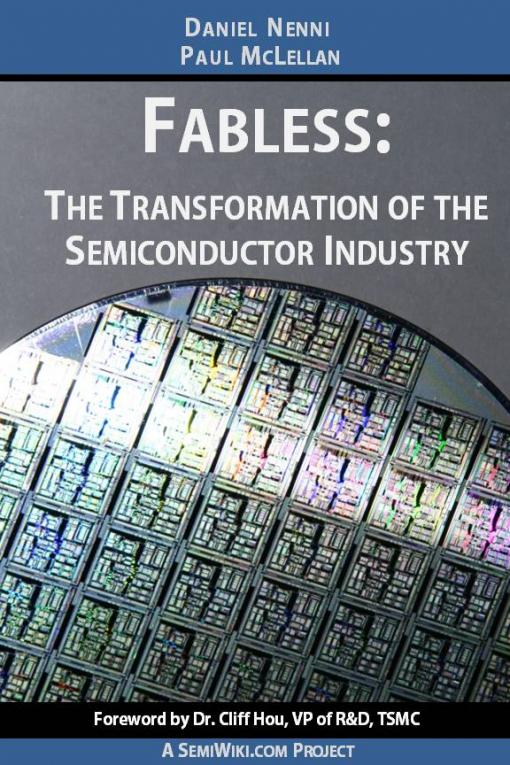 Next I would like to thank Atrenta. Atrenta was one of the first companies to work with SemiWiki, they collaborated on the book and will be giving away copies at booth #1993.
Atrenta's SpyGlass Predictive Analyzer® significantly improves design efficiency for the world's leading semiconductor and consumer electronics companies. Patented solutions provide early design insight into the demanding performance, power and area requirements of the complex system on chips (SoCs) fueling today's consumer electronics revolution. More than two hundred forty companies and thousands of design engineers worldwide rely on SpyGlass to reduce risk and cost before traditional EDA tools are deployed. And with the addition of BugScopeâ"¢, verification efficiency is also enhanced, allowing engineers and managers to find the fastest and least expensive path to silicon for complex SoCs. SpyGlass from Atrenta: Insight. Efficiency. Confidence. Visit.

Solido has also been a big SemiWiki supporter since the beginning, they collaborated on the book and will be giving away copies in booth #933.

Solido Design Automation Inc. provides fast, accurate variation analysis and design software for custom IC's so that our customers can achieve maximum yield and performance in their designs. Solido's product, Variation Designer, boosts simulator efficiency by dramatically reducing number of simulations for PVT, 3- to high-sigma Monte Carlo and variation debug while increasing design coverage. Variation Designer is being used by top semiconductor companies and is qualified by TSMC and GLOBALFOUNDRIES to design memory, standard cell, custom digital and analog/RF IC's at leading design nodes. The privately held company is venture capital funded and has offices in California, Asia, Europe and Canada.
Tanner EDA celebrated its 25[SUP]th[/SUP] Anniversary with SemiWiki last year, they collaborated on the book and will be giving away copies in booth #1701.
Tanner EDA provides a complete line of EDA software solutions that drive innovation for the design, layout and verification of analog and mixed-signal (A/MS) integrated circuits (ICs) and MEMS. Customers are creating breakthrough applications in areas such as power management, displays and imaging, automotive, consumer electronics, life sciences, and RF devices. Founded in 1988, Tanner EDA solutions deliver just the right mixture of features, functionality and usability. The company has shipped over 33,000 licenses of its software to more than 5,000 customers in 67 countries.

Share this post via: