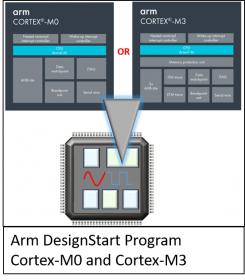 Sometimes the hardest thing about bringing a new idea to fruition is overcoming the inertia to get started with a proof-of-concept. You must be able to put together enough parts of the solution to prove to those controlling budgets that an idea has merit and is worth taking to the next level. It's a bit of a chick-vs-egg scenario as you can't get funding to do the proof-of-concept without a proof-of-concept to get the funding. At this point, many good internet-of-things (IoT) applications die for lack of finding a way out of this catch-22 scenario.
Arm and Mentor have come up with a winning proposal to help entrepreneurs whether they be individuals in their home office, in small or medium sized enterprises or even in large corporations. It's something Arm calls their DesignStart program. The DesignStart program is meant to be a simple, fast, low-risk route to using Arm's industry-leading IP with no upfront fee. To compliment their IP, Arm has teamed up with Mentor, a Siemens business, to offer designers a limited-time free access license to Tanner EDA tools to overcome the cost barrier of acquiring EDA tools. Arm is also offering approved design partners training and support for SoC development.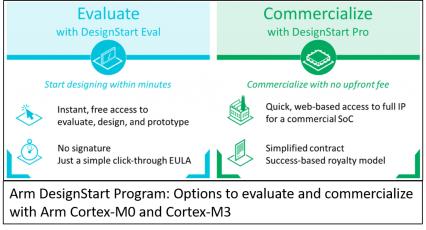 The DesignStart program comes in two flavors, DesignStart Eval and DesignStart Pro. DesignStart Eval is for anyone. Users can instantly get free, click-through access to Arm Cortex-M0 and the Cortex-M3 processors as well as Arm subsystem IP. The cores and IP can be configured or modified including the ability to add your own IP and peripherals. The resulting design can then be prototyped on an FPGA giving designers a fast way to design, simulate and prototype their proof-of-concept. Forum-based support is provided giving designers access to others who have gone down the same path.
When it comes time to commercialize your idea, Arm is providing their DesignStart Pro option. This option is for companies looking to develop their own chip. Companies register on the DesignStart website, sign and return a contract with no upfront fees and a simple success-based royalty once the chip goes into production and then start work. DesignStart Pro also includes a verified subsystem, enhanced design services and the mbed OS platform.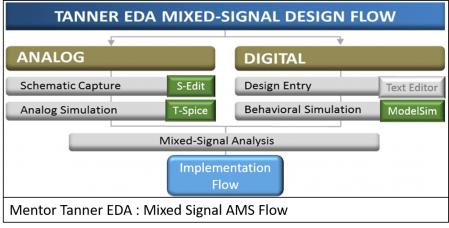 As mentioned, Mentor provides designers with their Tanner EDA tools to enable designers to do design capture and simulation of their proof-of-concept SoC. This is done through a free 30-day evaluation license of the Tanner AMS flow with S-Edit schematic capture, and T-Spice and ModelSim simulators. These tools enable the designers to create a demonstration of how their design concept will work which can then be used as the proof-of-concept needed to gain funding for implementing and finalizing their idea.
Arm is providing both the Arm Cortex-M0 and Cortex-M3 processors along with their IP subsystems. The Cortex-M0 is a 32-bit processor with exceptionally small silicon area, low power and minimal code footprint. This processor is exceptionally good for Internet-of-Things (IoT) edge devices.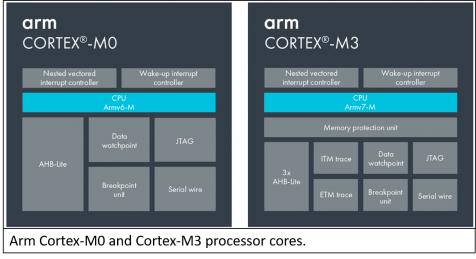 Conversely, designers can also choose to use the Cortex-M3 processor which is an industry-leading 32-bit processor for smart embedded applications. The Cortex-M3 is a high-performance processor used in microcontrollers, automotive applications, industrial control systems and wireless networking and sensors. The Cortex-M3 is especially well suited for IoT gateway devices.
Designers using the DesignStart Pro option also get the Corex-M Design Kit (CMSDK) which provides an example system, a selection of either Arm AMBA or APB infrastructure components and many other key system IP components. DesignStart Eval makes available a subset of the CMSDK capabilities.
A nice feature of both DesignStart programs is they provide the required CAD views and documentation necessary to use either the Arm Cortex-M0 or Cortex-M3 cores in the Tanner EDA flow. This is crucial for entrepreneurs who don't have the help of a corporate CAD team to put a design flow together with verified IP for their proof-of-concept. DesignStart makes available the libraries to quickly assemble and configure designs in the Tanner S-Edit schematic capture tool and enables debugging of design interfaces between cores, peripherals and sensors using the mixed-mode simulation capabilities of Mentor's Tanner T-Spice and ModelSim simulators.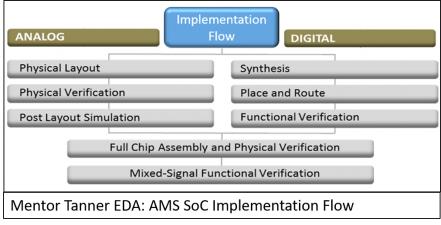 Once funding is secured, the next step is to implement the layout of the design and then fabricate it. This requires that designers purchase the Mentor tools to complete the design giving them access to Mentor's synthesis, placement, routing and verification tools. Once the design is completed and verified it can then be taped out to the designer's chosen foundry. To speed up the implementation phase, Arm DesignStart also provides free access to a comprehensive library of physical IP.
So, if you have an idea and need a little help to get the ball rolling, you might want to check out the Arm DesignStart program and Mentor Tanner EDA tools. There is a white paper and a webinar that are available to get you going (see links below). You might find that they are exactly what you need to get your idea through the proof-of-concept stage and to get your ball rolling downhill to make the next big IoT application a reality.
See Also:
Arm/Mentor White Paper: "Fast SoC Proof-of-Concept with ARM DesignStart"
Arm/Mentor Webinar: "The Fastest Lowest-Cost Route to Developing Mixed Signal SoCs"
Arm DesignStart Program
Mentor Tanner EDA Tools
Share this post via: