With the industry abuzz about the Apple purchase of a Maxim Integrated fab as a potential R&D facility for MEMS design, it begs the question: is creating a MEMS device that easy?
MEMS technology is approaching the same fork in the road where digital design encountered LSI four decades earlier. Handcrafting microstructures is still possible, but the demands of integration and test for mainstream devices in expanding volumes requires a better EDA flow that comprehends digital, analog, and MEMS domains. For MEMS to move out of Ph. D. minds and boutique fabs into the realm of device designers needs proven IP and tools facilitating mass customization.
The parallels to the early days of ARM processors are striking. ARM spent its first years developing early core variants before discovering that customization by its customers was harder than first thought. Attention turned to EDA tools and integration techniques, reducing the barriers to successful design over time.
Boutique shops don't necessarily want MEMS to be easier. For high precision, lower volume devices, investment in processes and techniques is significant. This adds up to higher margins. Many firms offer design services under NRE to customize MEMS products for sale as turnkey devices, backed by the same expertise and process as standard product. It is a viable model where the requirements are tough, the knowledge required is scarce, and the stakes are high – particularly in safety-critical systems.
Another model for MEMS is emerging, rooted in the "Trillion Sensors" and IoT thinking and the infiltration of multiple sensors into everyday consumer devices. These sensors are simpler, cheaper, and turn more quickly with a shorter device lifecycle. MEMS design is starting to look more like ARM-based microcontroller design, using mixed signal elements on mature processes with proven IP blocks to create basic parts.
A few months ago, we broke news from another firm trying to standardize a MEMS IP library and EDA flow, targeting easier CMOS integration. Now, Mentor Graphics is touting a similar strategy built around their Tanner EDA design tools and a set of MEMS primitives. Tanner's depth of experience in analog tools and SPICE netlists comes to the front in this approach.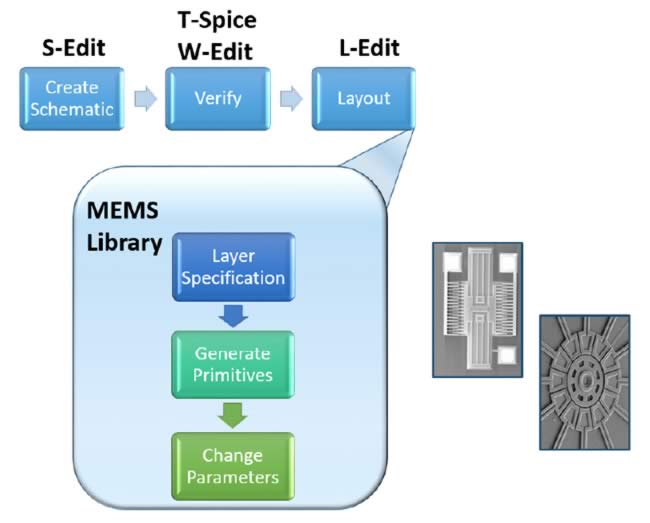 In a new white paper, Mentor describes how the combination of Tanner tools – S-Edit, T-Spice, W-Edit, and L-Edit – combine with a parameterized MEMS primitive library allowing designs to be created, verified, and tailored to design rules and fab processes quickly.
There is the irresistible cliché of not recreating the wheel, and that is clearly behind the idea that Mentor and at least one other MEMS vendor are pursuing. One unanswered question that leaps out at me is how good the MEMS IP in these libraries is. Mentor describes the breadth of IP in a table, indicates parameters exist, and says user-defined primitives can be added, but shares little about actual performance. (Ever had a bad A/D experience?)


At this stage of the game, and for the class of MEMS devices in the low- to mid-range, "jellybean" primitives are probably OK. Differences between the Mentor MEMS IP library and other MEMS IP libraries on specific elements may be far less important than the available elements and the ability to construct and verify designs quickly. The Mentor white paper includes a discussion on completing the process, performing layout versus schematic checks and making sure the design can be fabricated without problems.
For more information, follow this to the complete Mentor white paper:
Creating a MEMS Device: How to Get Started?
One thing is for sure. If Apple gets into the MEMS business, and other mobile and IoT device vendors follow, the lucrative mainstream sensor business may soon look a lot different. It will be interesting to see if a MEMS IP ecosystem emerges from EDA vendors, separating libraries from tools a bit and allowing customers to pull best-in-class strategies together. For now, early adopters looking to try their own MEMS designs may be able to pick up tools like these from Mentor and get moving. If successful, mass customization of MEMS may not be far behind.
Share this post via: