One of the more exciting design start market segments that we track is Artificial Intelligence related ASICs. With NVIDIA making billions upon billions of dollars repurposing GPUs as AI engines in the cloud, the Application Specific Integrated Circuit business was sure to follow. Google now has its Tensor Processing Unit, Intel has its Nervana chip (they acquired Nervana), and a new start-up Groq (former Google TPU people) will have a chip out early next year. The billion dollar question is: Who is really behind the implementations of these AI chips? If you look at the LinkedIn profiles you will know for sure who it isn't.
The answer of course is the ASIC business model and TSMC.
Case in point: eSilicon Tapes Out Deep Learning ASIC
The press release is really about FinFETs, custom IP, and advanced 2.5D packaging but the big mystery here is: Who is the chip for? Notice the quotes are all about packaging and IP because TSMC and eSilicon cannot reveal customers:
"This design pushed the technology envelope and contains many firsts for eSilicon," said Ajay Lalwani, vice president, global manufacturing operations at eSilicon. "It is one of the industry's largest chips and 2.5D packages, and eSilicon's first production device utilizing TSMC's 2.5D CoWoS packaging technology."
"TSMC's CoWoS packaging technology is targeted for the kind of demanding deep learning applications addressed by this design," said Dr. BJ Woo, TSMC Vice President of Business Development. "This advanced packaging solution enables the high-performance and integration needed to achieve eSilicon's design goals."
From what I understand, all of the chips mentioned above were taped-out by ASIC companies and manufactured at TSMC. It will be interesting to see what happens to the Nervana silicon now that they are owned by Intel. As we all now know, moving silicon from TSMC to Intel is much easier said than done.
The CEO of Nervana is Naveen Rao, a very high visibility semiconductor executive. Naveen started his career as a design and verification engineer before switching to a PhD in Neuroscience and co-founding Nervana in 2014. Intel purchased Nervana two years later for $400M and Naveen now leads AI products at Intel and has published some very interesting blogs on being acquired and what the future holds for Nervana.
You should also check out the LA Times article on Naveen:
Intel wiped out in mobile. Can this guy help it catch the AI wave?
Rao sees a way to surpass Nvidia with chips designed not for computer games, but specifically for neural networks. He'll have to integrate them into the rest of Intel's business. Artificial intelligence chips won't work on their own. For a time, they'll be tied into Intel's CPUs at cloud data centers around the world, where Intel CPUs still dominate — often in concert with Nvidia chips…

Groq is even more interesting since 8 of the first 10 members of the Google TPU team are founders, which is the ultimate chip "do over" scenario, unless of course Google lawyers come after you. If you don't know what Groq means check the Urban Dictionary. I already know because I was referred to as Groq after starting SemiWiki, but not in a good way.
If you check the Groq website you will get this stealthy screenshot: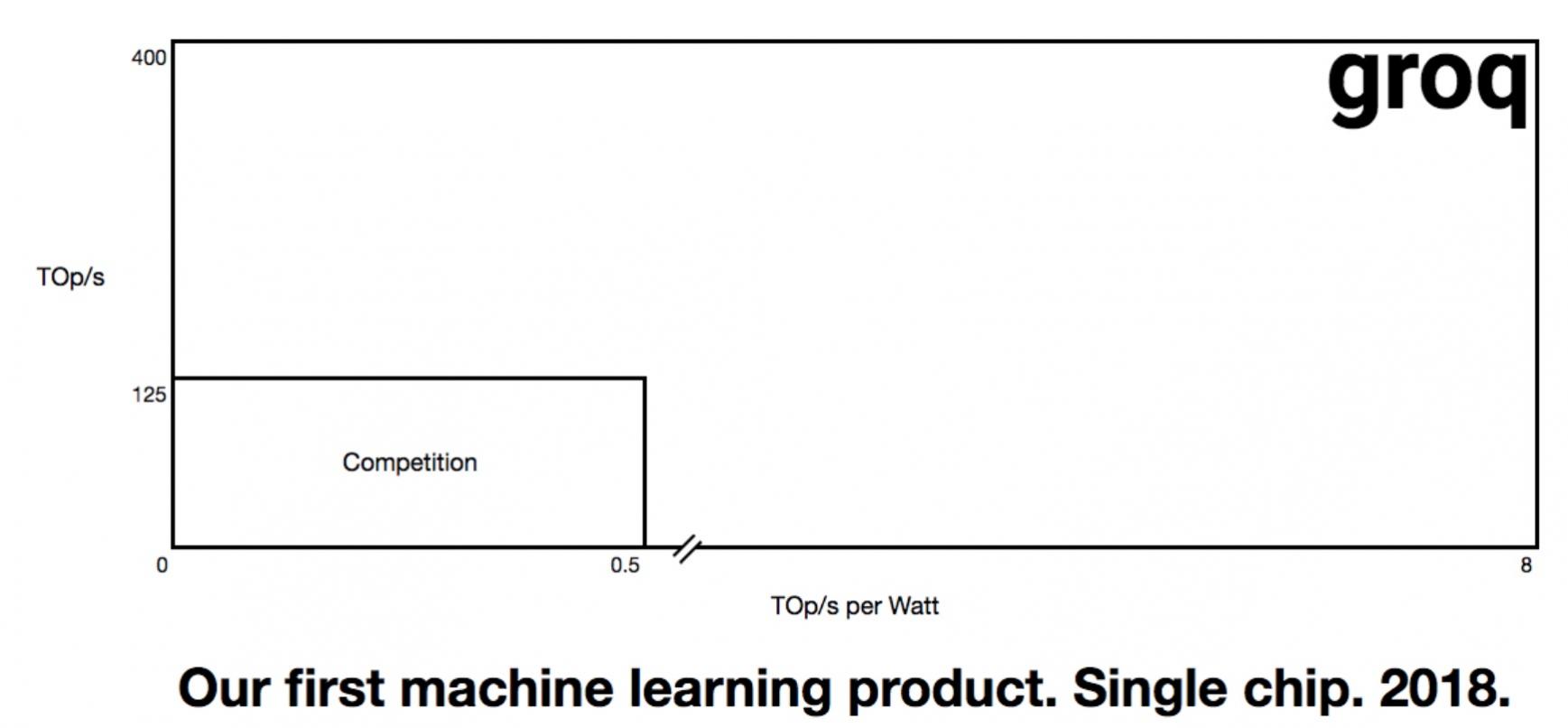 But if you Google Groq + Semiconductor you will get quite a bit of information so stealthy they are not. The big ASIC tip-off here is that while at Google they taped out their first TPU in just over a year and the Groq chip will be out in less than two years with only $10M in funding.
So please, let's all give a round of applause to the ASIC business model and give credit where credit is due, absolutely.

Also Read:
Deep Learning and Cloud Computing Make 7nm Real
Share this post via: