Production of electronic equipment is continuing healthy growth. China, the world's largest producer of electronics, had a three-month-average increase of 14% in October 2017 versus a year ago. Year-to-date through October, China's electronic production has gained 13.8% compared to 10.0% for the year 2016, putting China on track for the highest annual growth in six years. U.S. three-month-average electronics production in September 2017 increased 4.1% from a year ago. Year-to-date, U.S. electronics production is up 5%, the strongest growth in 11 years. The European Union (EU) does not release electronics production numbers, but overall EU three-month-average industrial production was up 4.2% in September versus a year ago, the highest rate in over six years.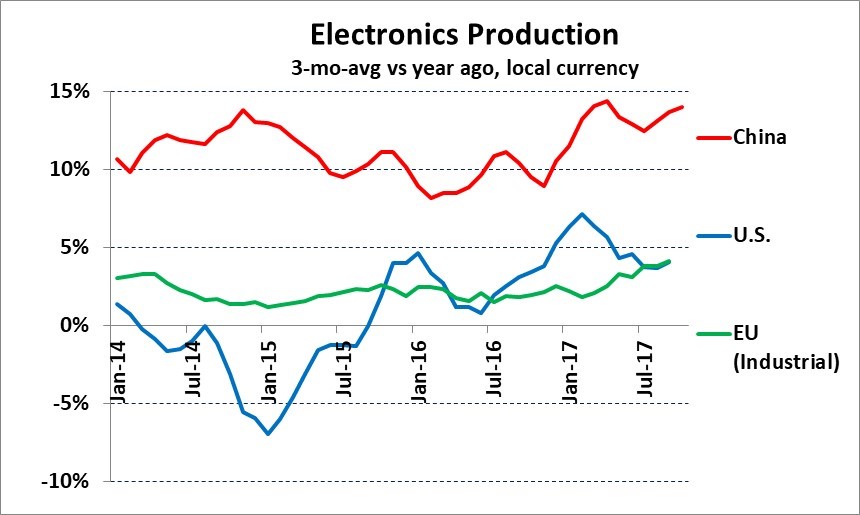 The significance of China, the U.S. and the EU in global electronics is shown by electronics exports and imports. Year 2016 data from the United Nations Comtrade database pegs China's electronic exports at $544 billion in 2016, accounting for 32% of global electronics exports. The EU accounted for 23% and the U.S. was 8%. The EU was the largest importer of electronics in 2016, accounting for 23%. The EU was followed by China at 20% and the U.S. at 17%. Other Asia in the trade data below consists of Singapore, South Korea, Taiwan, Japan and Malaysia. These countries accounted for 26% of electronics exports and equaled the U.S. with 17% of imports.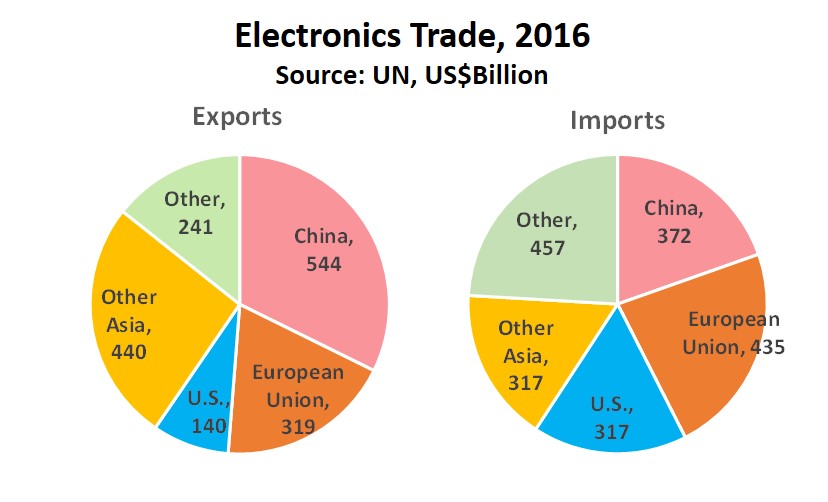 China leads all major Asian nations in electronics production gains with September year-to-date growth of 13.9%, up from 10% for year 2016. Thailand has bounced back strongly, with a September year-to-date electronic export increase of 13% compared to a 3% decline in 2016. Vietnam continues to be a significant emerging electronics producer, with September year-to-date up 12%, slowing from a robust 16% in 2016. India's electronics production was up 9% year-to-date, an improvement from 2% in 2016. Long-time electronics producing countries in Asia are lagging the growth rate of the emerging countries. Year-to-date South Korea was up 3%, Malaysia was up 2.5% and Japan was up 1.8%. Japan electronics production in 2017 is headed toward is first annual positive change since 2006, eleven years ago. Taiwan is continuing declining electronics production, down 5.6% year-to-date.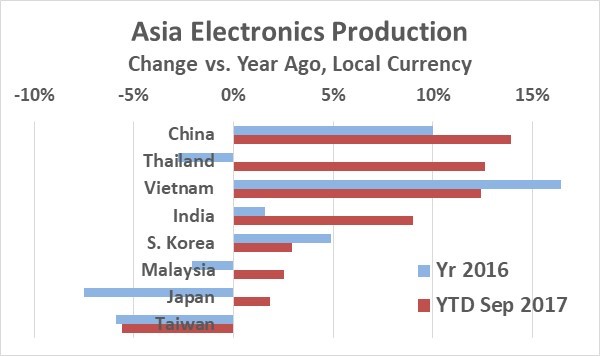 The global semiconductor market is headed for 2017 growth close to 20%. Our Semiconductor Intelligence September forecast was 18.5%. Although much of the increase is due to rising memory prices, it is a good sign that solid gains in electronics production are also supporting the semiconductor market surge.
Share this post via: