I say finally because it was a long time coming… almost ten years to be exact. I started doing business development work for both Solido and Berkeley Design Automation about ten years ago and have been trying to put them together ever since. The synergy was obvious, like peanut butter and jelly. In fact, this is my third time being acquired by Mentor (Tanner EDA, Berkeley Design Automation, and now Solido) and I think there are more to come and I will tell you why.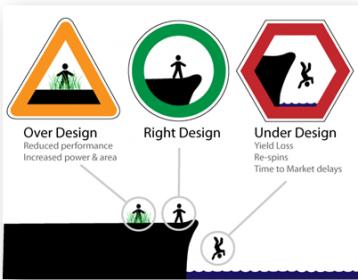 (My alltime favorite Solido graphic)
The significance of this acquisition is twofold: Clearly Siemens continues to invest in EDA and Solido gives Mentor an inside advantage in the AMS fight against Cadence and Synopsys.
When Siemens bought Mentor in 2016 there were some doubters, including myself, that were not convinced Siemens had good intentions when it came to the IC design part of Mentor. A chat with Chuck Grindstaff (Executive Chairman of Siemens PLM Software) at DAC convinced me otherwise but other doubters still linger. Well linger no more, Mentor (a Siemens Business) is clearly in EDA to win EDA, absolutely.
Solido CEO Amit Gupta will report to Ravi Subramanian, vice president and general manager of Mentor's IC Verification Solutions Division. Ravi was the CEO of Berkeley Design Automation and has been steadily rising through the ranks of Mentor. Having traveled with both Amit and Ravi I can tell you that they were very involved CEO's with more customer experience than any other EDA CEO I have worked with. Solido will stay intact in Saskatoon, in fact I would be surprised if Mentor didn't expand there since the cost of operations is much lower than Silicon Valley or even Wilsonville.
Solido has become an invaluable partner helping our customers address the impact of variability to improve IC performance, power, area, and yield," said Amit Gupta, founder, president and CEO of Solido Design Automation." Combining our technology portfolio with Mentor's outstanding IC capabilities and market reach will allow us to provide world-class solutions to the semiconductor industry on an even larger scale. We are also excited to contribute to Siemen's broader digitalization strategy with our applied machine learning for engineering technology portfolio and expertise."
"The combination of Solido and Mentor's leading analog-mixed-signal circuit verification products creates the industry's most powerful portfolio of solutions for addressing today's IC circuit verification challenges", said Ravi Subramanian, vice president and general manager of Mentor's IC verification solutions division. "Solido joins Mentor at an exciting time. Having a power house like Siemens entering EDA is proving to be a true game changer for us."
And before you ask how much Mentor paid for Solido please remember that I am under Solido NDA so my lips are uncharacteristically sealed. I can tell you this, however, Mentor wasn't the only one interested in Solido but clearly Mentor (a Siemens Business) is now bigger than all of the other EDA vendors combined so EDA acquisitions is a whole different ball game, and yes there will be more so stay tuned to SemiWiki because we actually know stuff.
Why is this bad news for Synopsys and Cadence? Having spent ten years in the trenches with Solido I can tell you that the Variation Designer software is a critical part of the foundation IP verification flow and that will open many doors for Mentor. If you look at the Solido customer base you will see not only the top semiconductor companies (including he who must not be named) but also the foundries, which I can tell you from personal experience is where electronics REALLY begins. The same goes for Solido, they now have the Siemens worldwide reach.
Another interesting note, Solido has always been SPICE simulator agnostic and I'm sure they will continue to be but there will definitely be a Mentor SPICE bias and some secret simulator sauce is sure to be baked in there sometime soon, my opinion.
Bottom line: One of my favorite acquisition catchphrases is a "1+1=3" valuation. In this case it is more like 1+1=5.
Share this post via: