It's rare that we find a truly Indian-based company operating globally in the semiconductor space. Although the 'gold rush' towards IP development in the last decade initiated many IP start-ups in India, today we rarely find Indian IP company names which are shining in the global arena. The story of services companies is different, but a true product company is rare in India. A great product company needs real fundamental expertise to develop products and an inspirational leadership to strategise and execute in all aspects that can benefit customers across the world.
Although I already had a very good impression of SmartDV Technologies, headquartered in Bangalore, my actual insight about the breadth and depth of this company came into light when I read their last press releaseabout their new VIPs and subsequently had a few interactions with Harish Poojary, VP of worldwide sales and business development at SmartDV.
SmartDV was started in Bangalore, India in 2008 by a few highly talented and experienced individuals in complex ASIC design and verification domain. That was the right time when IP integration into large complex SoCs had picked up momentum. Deepak Kumar Tala, the Founder & CEO of the company had a great vision to grab this opportunity to automate verification through the use of VIP (Verification IP) and save enormous time spent in verifying complex SoCs. SmartDV management team feels proud of remaining ahead of the game by delivering a VIP for a protocol as soon as its final specification is released or even before that; a great strategy to help customers hitting the bull's-eye during a smallwindow of opportunity in the SoC market.
SmartDV has a large portfolio of over 75 high-quality standard and custom protocol VIP products that work well with coverage driven verification flow. Each VIP comes with complete compliance test suite, comprehensive functional coverage model, and a rich set of customization and protocol checks to speed up the verification of designs. SmartDV VIPs are two to four times faster to compile and simulate compared to those offered by the competition. The test cases, coverage models and sequence libraries delivered with the VIP can be easily modified according to the customer environment to speed up the verification of SOCs at the customer end. The VIP portfolio is available in UVM, SystemVerilog, VMM, OVM, VERA, Verilog, Specman e, SystemC, or any other non-standard native environment of customer choice. No wrappers are added, thus enhancing the performance and simplifying debugging. The portfolio includes MIPI, Networking and SoC, Automotive and Serial Bus, and Storage VIPs, Memory models and Design IPs. Look at their product portfolio at their website here.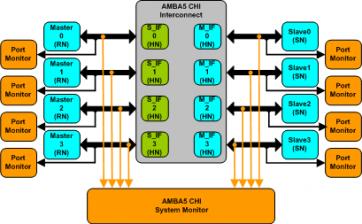 Above is an example of their recently released Networking and SoC VIP. The AMBA5 CHI VIP provides a smart and easy way to verify the ARM AMBA5 CHI component of an SoC. The AMBA5 CHI VIP is fully compliant with standard AMBA5 CHI specification and is supported natively in SV, UVM, OVM, VMM, Verilog, VERA, SystemC, Specman E, and any other language of customer choice. Similarly there are other VIPs, Design IPs, and memory models such as DDR4 and LPDDR4 that are conceived to be better than those available in the market.
What makes SmartDV so successful? Well, it's the overall strategy, execution and operational excellence. However a couple of key points that emanate and significantly contribute in the success of SmartDV are – i) SmartDV's own language and compiler technology that automated VIP development thereby enabling faster VIP development, ii) an automated development flow from specification to final product including documentation, and iii) a highly talented and experienced team that produces high quality products. The net result is "high quality products in short time with a smaller team size" said Deepak Kumar Tala. In fact, there were occasions when use of SmartDV VIPs exposed bugs in already taped-out chips; those bugs had passed the tape-out with VIPs supplied by other vendors.
As the engineering team continued developing their portfolio of IP products, business grew over the years without any marketing/sales efforts. In January 2014, SmartDV opened its office in San Diego, CA (USA)under the leadership of Harish Poojary. The strategy was to reach out to customers with better support, develop long term partnership, and profit from broader market opportunities. Today SmartDV has 80+ customers worldwide. They have plans to further expand in Japan and Taiwan. They are also working on automating memory models and simulation acceleration of VIP's development.
SmartDV's customers include top semiconductor companies in wireless, automotive, storage, memory and networking domains. Many of them have taped-out chips using SmartDV VIPs and are very impressed with the results.
SmartDV is exhibiting in DAC 2015. Visit their booth #514 to see the latest and greatest from this company.
Share this post via: