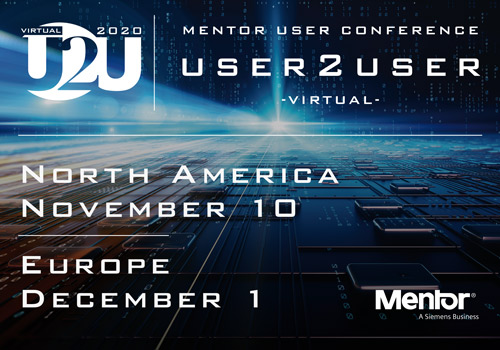 Now that we have gone virtual, life has never been easier, for me anyway. There are literally events every day beamed into my living room. The question is which should I attend? The answer is I should attend the ones with the most customer-based content, which is what User2User is all about. I will miss attending this one live as it was in my backyard at one of my favorite locations and included some great food and camaraderie.
You for sure don't want to miss industry legend Malcom Penn's talk on "What's in Store for the Chip Industry in 2021?". Malcom and I do not always see eye to eye so this should be a spirited one for sure. I'm in the trenches and he is in the officers' club so to speak.
Take a look at the agenda, put it on your calendar, and I will see you there. Work from home casual attire is recommended and since this is an international event cocktail hour is any hour so stock up the minibar and let's enjoy the virtual day, absolutely.
User2User North America Info Sheet
Join the Mentor user community virtually at User2User for North America (November 10) and Europe (December 1).
For over 30 years, User2User has provided a forum for sharing best practices and discovering new techniques for tackling EDA's biggest design challenges. This one-day virtual conference not only includes innovative keynotes from industry leaders, but a host of technical sessions as well as a chance to network with colleagues and industry peers. Thousands of engineers attend U2U events around the globe to hear how their peers are achieving design excellence with Mentor tools and to gain insight on the latest Mentor products.
The technical content at U2U is driven by Mentor tool users. Listen to your peers share their experiences and the solutions they employ when designing, developing, and deploying high-quality products across these domains:
IC Design, Physical Verification, Circuit Verification and DFM
Analog/Mixed-Signal Verification
Functional Verification
HW-Assisted Verification and Validation
Design-for-Test, Bring-up and Yield
High-Density Advanced Packaging Design and Verification
Custom/Analog Design, MEMS and Silicon Photonics
High-Level Synthesis and RTL Power Estimation/Optimization
PCB System Design
Who Should Attend
Electronic design engineers and their managers interested in exploring innovative products and solutions that help engineers to solve design challenges in the increasingly complex worlds of board and chip design.
What to Expect
Fascinating keynote presentations from EDA industry leaders
Leading-edge technical presentations from your peers and colleagues.
The U2U Exchange, a product expo and hub for face-to-face interaction with Mentor experts.
Interact with our partners to see their innovative solutions using Mentor tools
Networking opportunities throughout the day offer you ample time to connect
Agenda Highlights
"Variation-Aware Design Verification of Standard Cells using Solido Variation Designer" – Rajnish Garg, STMicroelectronics
"Characterization of a Fuse-Array using Tessent SiliconInsight" – Hanene Jammoussi, Intel
"Winning the Race to UVM and RTL Debug" – Jagannath Panduranga Rao, Microsoft
"GLOBALFOUNDRIES and Mentor Partnering to Provide HLS Solutions for AI & Edge Applications" –
Pratik Rajput, GLOBALFOUNDRIES
"Adopting Best Practices in Printed Circuit Design Layout" – Stephen Chavez, Collins Aerospace
"What's in Store for the Chip Industry in 2021?" – Malcolm Penn, Future Horizons
Also Read:
ASIC and FPGA Design and Verification Trends 2020
Siemens is the True Catalyst for Secure and Trusted Digital Transformation
Arm Design Reviews add Mentor for Verification Review
Share this post via: