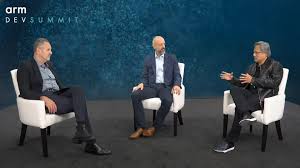 Before founding SemiWiki I competed with Arm on many different levels throughout my career and I have had various business dealings with them since. SemiWiki also published the definitive book on Arm: "Mobile Unleashed" which goes deep into the history of Arm and the top SoC companies (Qualcomm, Apple, and Samsung).
In my expert opinion the Softbank acquisition of Arm was disruptive but in the end a fizzle for the semiconductor industry. Softbank made significant investments in Arm but was not able to properly monetize them under such a diverse corporate umbrella.
To be clear, Arm is a legend on the edge, always has been and always will be, but artificial intelligence and the HPC (cloud) market is critical in moving semiconductors forward. Unfortunately, after more than 10 years and billions of dollars invested Arm is not a player in the HPC market and AI on the edge  and cloud must be tightly coupled which brings us to the Nvidia acquisition.
NVIDIA to Acquire Arm for $40 Billion, Creating World's Premier Computing Company for the Age of AI
I also know Nvidia quite well and have a huge amount of respect for Jensen Huang, in fact, I would never bet against him and his team. The Nvidia – Arm acquisition would definitely be disruptive and it could have a huge upside for the semiconductor industry so it is definitely worth further discussion.
Here are the talking points I have gathered thus far:
1.  Does the transaction make sense?
For Nvidia, who is using stock that is at near record multiple valuation, it's a way to expand beyond graphics and AI into general purpose computing without spending much real money. Given that, the $40B price tag is closer to $27B in real money.
Nvidia has already made double digit penetration into the data center. The obvious next step would be displacing more of the Intel-dominated infrastructure.
Success at building an ARM-based general purpose server is a possible path. Many have tried, e.g. Calxeda, AMCC, Qualcomm, et al, with no success so far.
IT professionals will resist a change from Intel or from an Intel/AMD infrastructure so the path to software compatibility is not that clear.
It does, however, give Nvidia a way to move from special purpose AI/ML HPC to take over more of the I/O processing that now front ends the Nvidia servers with Intel/AMD.
Most users would like to see more competition for Intel.
AMD's recent processing advantages through TSMC is a start but the world would like an additional player.
Another potential advantage is the relationship building that it creates for Nvidia in a host of application areas dominated by ARM (especially mobile communications which is 40% of semiconductor revenue).
Since usage data may be embargoed from Nvidia access, the insights provided by ARM to Nvidia are probably limited.
2. Will the transaction make it through anti-trust restrictions?
Estimates range from 50%-80% probability.
There's no legitimate way to stop it but there are political reasons (China).
For Europe, they lose yet another hope of being a driver for the worldwide semiconductor industry but the U.S. is only modestly more distasteful than Japan as an owner of ARM.
For the UK, the same is true but they also have a set of commitments from Softbank, e.g. hire an additional about 2500 employees in the UK within five years of the Softbank acquisition of ARM; keep the headquarters in the UK; etc. Nvidia is clearly willing to honor these commitments.
For China, it's probably more useful as a leverage point than as a blocked transaction. Negotiations for approval can resolve the Allen Wu CEO controversy and give increased autonomy to ARM China.
While China is totally dedicated to RISC-V standardization at the expense of ARM, they need to support existing designs that are ARM-based and to leave open a choice for applications where the RISC-V product and infrastructure is just not robust enough.
For the U.S., politics can interfere but, if this goes through the normal process in the FTC, it's hard to see how it is turned down.
On the positive side, the trigger point for anti-trust restrictions is, if either the individual or combined entities, exceeds 40% market share in the defined area of competition. Politics affects the definition of defined area.
If the defined area is general purpose computing, Nvidia/ARM are far behind the competition so approval would enhance competition.
If the defined area is graphics chips, then the transaction raises a very modest flag for the ARM MALI graphics IP family. Nvidia would likely be willing to spin MALI off if necessary, removing that flag.
On the negative side for the transaction, the FTC normally listens to customers (not competitors). Apple, Qualcomm, Broadcom, etc. are unified in opposing the transaction.
This will probably require some pledges (with teeth) from Nvidia to sustain the independence and openness. They say they are willing to do this.
Assuming Nvidia complies, the advantage of the acquisition is diminished.
Additionally, Nvidia is perceived to be the opposite of ARM in terms of openness. That should add to the emotion of discussions with the FTC.
3. If the transaction goes through, how does the semiconductor industry change in the future?
Unless Nvidia successfully develops an ARM-based general purpose Intel compatible server, the answer is "not that much".
ARM's growth has been somewhat stunted since the Softbank acquisition and Nvidia probably can't do much to restart the growth that ARM once had.
In addition, key SoC customers like Qualcomm, Samsung, MediaTek, et al may be increasingly skeptical of new ARM based designs and will try to find ways to use RISC-V.
Meanwhile, China's path forward to ultimately increasing RISC-V penetration is unchanged and will be part of the national strategy for semiconductor independence.
Nvidia adds $2B of revenue (with no COGS but lots of R&D expense) and visibility as another potentially challenger for the leading non-memory semiconductor company in terms of revenue.
Bottom line: Given the pace of semiconductor acquisitions and the race for HPC supremacy I expect to see many more transactions in the near future but probably not as disruptive as this one. Nvidia is an AI pioneer (chips and ecosystem) and an active player in the HPC market. Arm dominates edge computing and has mastered the customer centric business model that will grandfather Nvidia AI into thousands of companies around the world.
Saying this acquisition has a 1+1=3 value proposition is an understatement, absolutely.
Share this post via: