ASIC prototyping from multiple vendors using FPGA boards was popular at DAC again this year in Austin, Texas. I stopped by the Tektronix booth for a few minutes to meet with Dave Orecchio to get an update.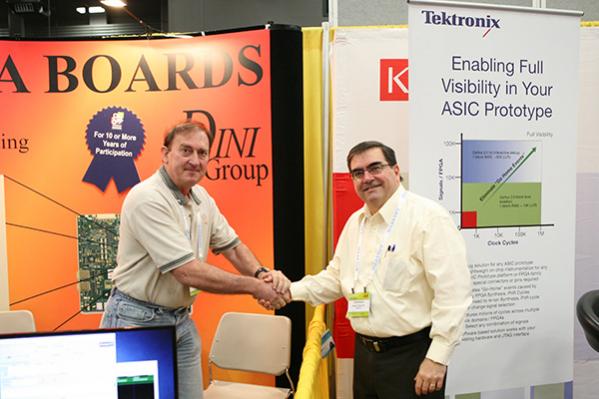 Dave Orecchio (right), Tektronix

The Tektronix booth was located next door to the DINI Group, and the software from Tektronix runs on the DINI boards, so it made for a good photo op because the companies are working together with common customers.
Q: What is Tektronix showing at DAC this year?
We're showing software called Certus that allows full visibility in ASIC protoypes (Hardi – SNPS, home, DINI)
Q: What makes Certus unique?
Well, it's a software only solution for SoC designers that want to prototype, and it works with any hardware.
Q: How would Certus help an SoC designer?
It provides full visibility for bring up and debug of design issues.
Q: How popular is the Certus software?
3 of the top 10 semi suppliers are active users, with many more evaluating.
Q: What are the trends that you see at DAC this year?
At DAC we see that new prospects are debugging with ASIC prototyping and they see Tektronix as an improvement to their design and debug process.
Q: How does Tektronix work with DINI Group?
We've partnered with the DINI group on their activities, next door at DAC this year. The dynamic duo, ASIC prototype hw from DINI and debug sw from Tektronix.
Further Reading

View from the top: Brad Quinton

Is debugging a task, or a continuous process?
*lang: en_US

Share this post via: