5G Wireless, Network Acceleration, Data centers, Machine Learning, Compression, Encryption fueling the Growth

Building on its increasing momentum, Achronix Semiconductor Corporation held a ribbon-cutting ceremony on Tuesday, April 25, with the presence of Santa Clara's Mayor Lisa Gillmor, customers, and partners, employees and company executives. President & CEO Robert Blake addressed the attendees with details on the company's roots, from its founding in 2004 to its move from New York to the Valley in 2006. He thanked the investors and the employees for their continuing support and dedication in getting them to the current state of fast growth, exceeding $100 Million in revenue, reaching 700% growth year-over-year, achieving profitability and prompting an increase in talent search to develop and support their growing customer base.
He highlighted the evolution from the 80's glue logic integration to ASIC prototyping to the current state-of-the-art implementation efficiencies replacing in certain cases CPUs, GPUs, and ASICs in Data Acceleration, Machine Learning, Artificial Intelligence applications. Blake stressed the importance and the contribution to their success by their partners in the Semiconductor, EDA, Packaging, IP, Test, Manufacturing, in addition to their customers and employees. He was followed by Santa Clara's Mayor Lisa Gillmor who expressed her delight to see Achronix grow amid Santa Clara, a city rapidly becoming Silicon Valley's technology center of the world. She reminded the audience that a testament to Achronix success was the 2017 Americas ACE Awards selection of Achronix as Company of the Year.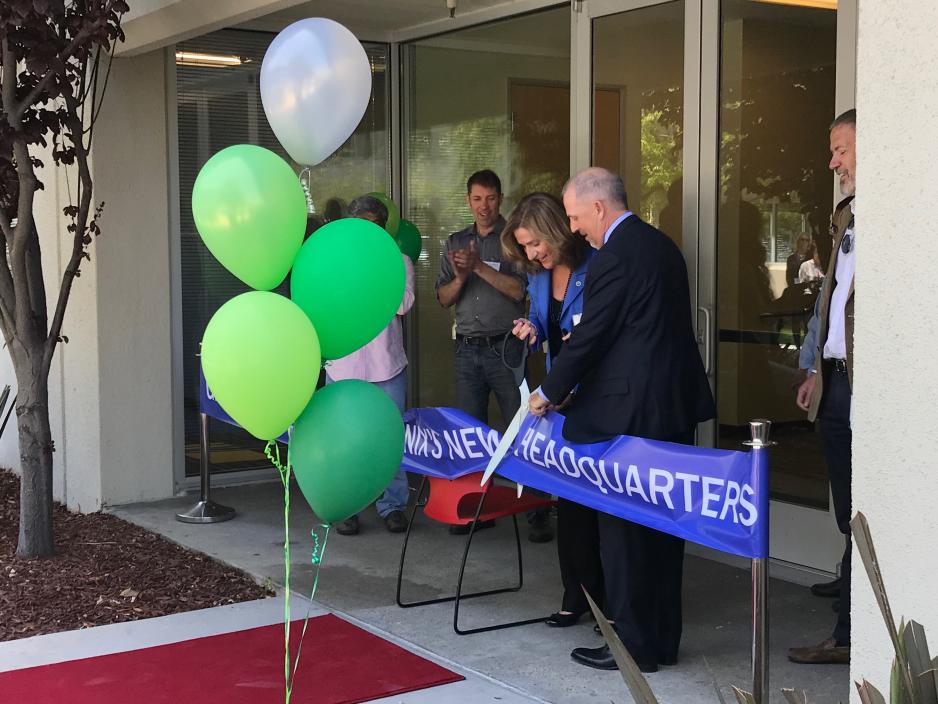 Santa Clara Mayor Lisa Gillmor and Robert Blake, Achronix CEO inaugurating the new Achronix headquarters
The new HQ facilities will occupy 25,000 square feet and house from 75-80 employees out of about 100 worldwide and is located at 2903 Bunker Hill Lane, Santa Clara right by the Santa Clara Convention Center and Levi's Stadium. Achronix has a Research and Development and Design Center presence in Bangalore, India and other sales offices and representation in the US, Europe, and China.
Achronix offers both FPGA and embedded FPGA leading technologies with its Speedster® FPGA family and its Speedcore™ eFPGA IP solutions, respectively. These offerings are in high demand in the high-growth market of hardware accelerators designed to offload CPU data processing and supercharge system performance for applications such as 5G wireless, AI/ML, high-performance computing (HPC), data centers, and automotive stressed Steve Mensor, Achronix VP of Marketing. Speedster® 22i FPGAs support up to 1 million effective Look-Up-Tables (LUTs) and 86 Mbit of embedded RAM built o Intel's 22nm FinFET process. Speedster22i HD devices include embedded hard IP for communication applications including 10G/40G/100G Ethernet, 100G Interlaken, PCIe Gen3 x8 and DDR3 ×72. Additionally, Speedster22i FPGAs have up to sixty-four (64) lanes of 10.375 Gbps SerDes and up to 996 high-speed general purpose I/O.
Achronix also provides accelerator boards and design tools. The Achronix PCIe Accelerator-6D board is the industry's highest memory bandwidth, FPGA-based PCIe add-in card for high-speed acceleration applications. On the card is the Speedster22i HD1000 FPGA, which connects six independent DDR3 memory controllers allowing for up to 192 GB of memory and 690 Gbps of memory bandwidth. The ACE tools work with industry-standard synthesis tools, easing the mapping of user designs into Achronix.
Achronix is currently developing its next-generation FPGAs based on TSMC's 7nm process node, capable of up to 5 Million LUTs and a core frequency of 750 MHz. The ACE tools will be extended to address Machine Learning (ML), AI, search, compression and encryption solutions and use cases.
About Achronix Semiconductor Corporation
Achronix is a privately held, fabless semiconductor corporation based in Santa Clara, California. The Company developed its FPGA technology which is the basis of the Speedster22i FPGAs and Speedcore eFPGA technology. All Achronix FPGA products are supported by its ACE design tools that include integrated support for Synopsys (NASDAQ:SNPS) Synplify Pro. The company has sales offices and representatives in the United States, Europe, and China, and has a research and design office in Bangalore, India.
Share this post via: