For those not familiar with Fierce Technology, this firm offers a one stop place for news, analysis and education in the areas of telecom, wireless, sensors and all related electronics markets. They organize popular events such as the 5G Blitz Week, Sensors Innovation Week series, Sensors Converge and many more. These events facilitate the exchange of critical information among industry professionals, with the intended goal of accelerating the advancement of the industry as a whole.
Fierce Technology hosted their annual "5G Blitz Week: Spring Edition" as a virtual event in March. The topics covered included fixed wireless access (FWA), Open RAN, Private Networks, open core and more and related opportunities, applications and deployment challenges. The 4-day event was packed with interesting talks and panel discussions on 5G evolution and the roadmap to 6G. One such discussion was a panel session titled "5G Core – Building An Open, Multi-Vendor Ecosystem," with participants representing Achronix, Google, HCL, Meta and Red Hat.
The discussion was moderated by Dave Bolan, Research Director at the Dell'Oro Group. The session started with an opening keynote by Ersilia Manzo, Director, Global 5G Solutions at Google. The panelists were Nick Ilyadis, senior director of product planning at Achronix, Parviz Yegani, VP CTO, Office Industry Software Division at HCL, Xinli Hou, Connectivity Technology & Ecosystem Manager at Meta and Fatih Nar, Chief Architect Telco Solutions at Red Hat. Fatih also delivered a closing keynote.
It is appropriate to present a couple of slides from Fatih's closing keynote before synthesizing the panel discussion.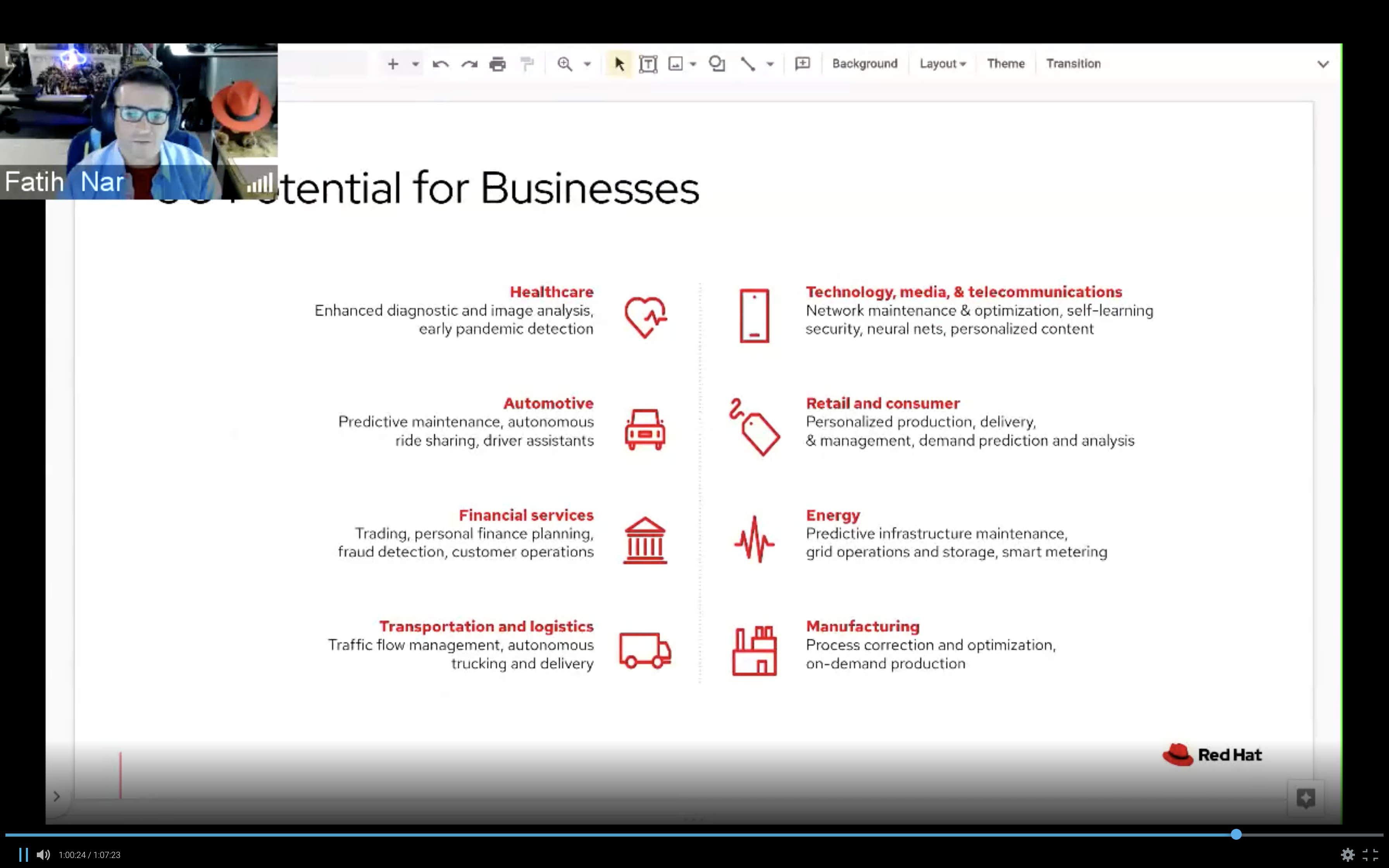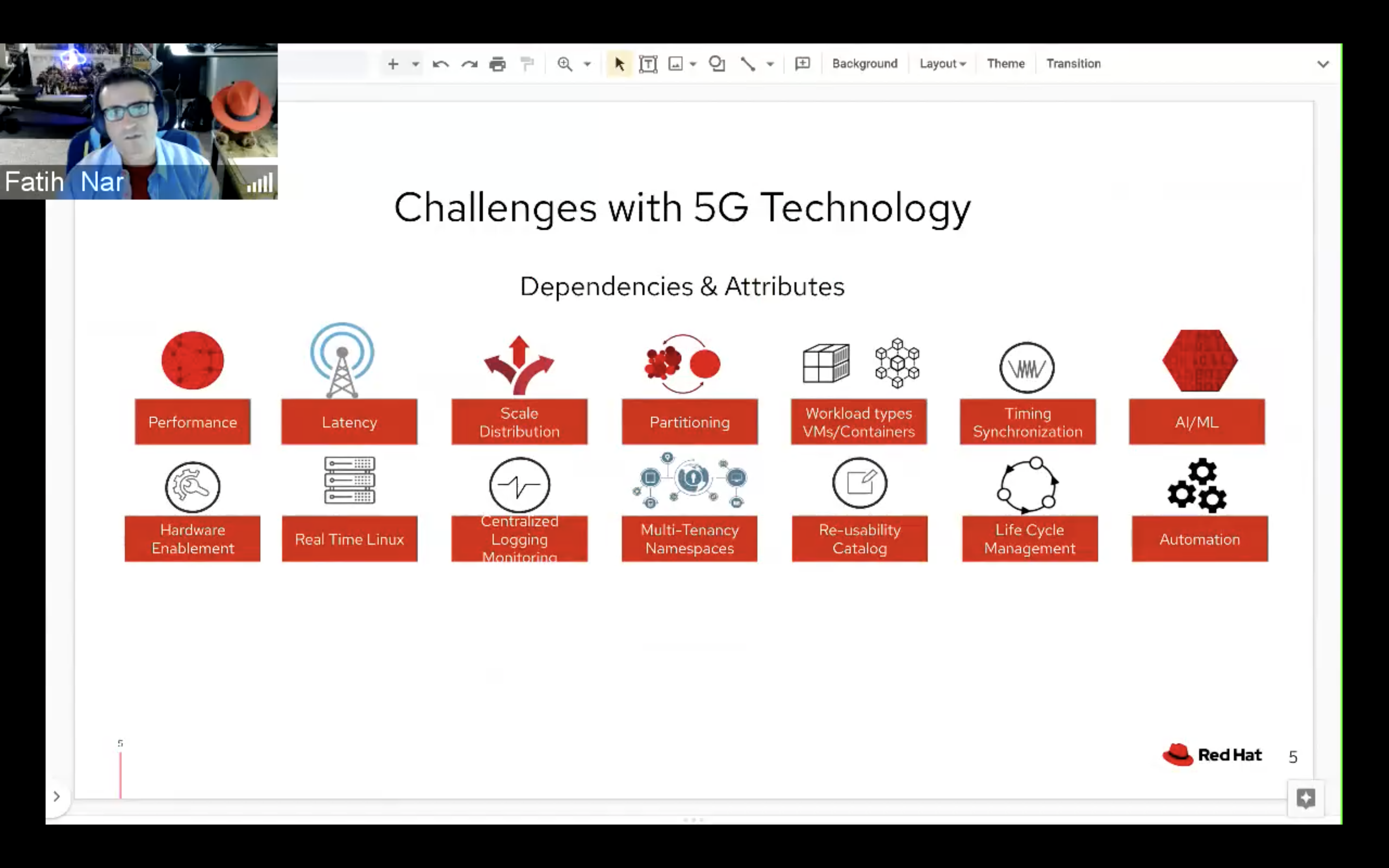 In the age of open-source, open architecture, open ASIC, etc., organizations such as the Telecom Infra Project (TIP) have been working toward accelerating the development and deployment of open standards. The question is, will an open core ecosystem become a reality for communications service providers (CSPs)? What is needed from the different players within the ecosystem? These are some of the questions that this panel session addressed. The following are excerpts from that panel session. You can listen to the entire panel session on-demand, by registering at Fierce Technology. 
Google – Ersilia Manzo (opening keynote)
Over the last decade or so, the relationship between telcos and vendors has changed. The focus has shifted from "what to build" to "how to build." The telco industry has been moving toward a cloud-native deployment and evolving to a service delivery platform, eliminating the boundaries between network and services. Elements that were shipped with the network functions such as the orchestrator and operating systems are no longer integrated but are delegated to the cloud-native platform. Cloud-native networking offers the benefits of agility, flexibility and cost-efficiencies to CSPs and is expected to become the dominant approach in the future.
With the open-standard based approach and the resulting disaggregation, more parties have to get involved to build the network. In the past, the industry relied on interoperability of finished products. Now, the industry needs co-development and cooperation between the parties that are building the networks.
Google believes there are three main elements that are critical to the success of the cloud-native, multi-vendor 5G network.
Standards: These are no longer just documents that are produced over months or years by industry organizations. Now, standards include code releases such as Kubernetes and PDKs that help accelerate services deployment and shorten validation cycles.
Contributions: Process of fixing and contributing code back as a community is key.
Partnerships: Must truly involve cooperation and co-development.
Achronix – Nick Ilyadis
The demand for high performance at low latencies without compromising on power has led to the use of heterogenous compute platforms to support many of today's applications. A heterogeneous compute platform is a data processing unit (DPU) that may include a combination of CPUs, GPUs, ASICs, and FPGAs. The DPU is essentially an offload engine for the main CPU, to do hardware acceleration of data processing. As the 5G Core is deployed, and the standards evolve, there is going to be the need to offload the CPU and accelerate 5G Core. These offload engines will allow 5G Core to scale to higher capacities without the cost and burden of building more and more server installations.
Achronix's products are data accelerators with their current high-end FPGAs supporting multiple 400G ports, PCI-e Gen5, 4 Terabits of memory bandwidth, Machine Learning Inference and more. These capabilities enable field-level adaptability and extensibility for the 5G Core as the standards and customization requirements evolve. Incorporating reprogrammable hardware within a 5G Core implementation is a great way to accelerate deployment of open core, 5G infrastructure in a multi-vendor ecosystem. For more details, you can download a recently published whitepaper titled "Enabling the Next Generation of 5G Platforms."
HCL – Parviz Yegani
There are many use cases/scenarios to handle in a multi-vendor, multi-technology, multi-domain 5G environment. The domains include the Radio Access Network, the Transport Network and the 5G Core Network. A good solution should be able to support this requirement and allow any vendor to be able to plug-in their offering into the platform.
HCL is working on Augmented Network Automation (ANA), which is an evolution of the next generation of Self Organized Network (SON). This network management platform enables proactive network management which is key to the success of 5G Core adoption and deployment. ANA facilitates and allows for inclusion of various software solutions from 5G Radio vendors, RAN vendors, and network management vendors. A key feature of the ANA platform is its unified management console and is centered around comprehensive data visibility.
Meta – Xinli Hou
While Meta is not a 5G vendor or service provider, they do drive the advancement of connectivity through their involvement in projects such as the Telecom Infra Project (TIP). Compared to the wireless market of the past, the 5G market place is attractive to many varied use cases, thereby fragmenting the market. This necessitates customizing the solutions as per the use case.  The Open Core Network initiative within the TIP effort is focusing on what can be done to enable faster adoption of Open Core, Cloud Native, 5G by more service providers serving these fragmented market segments.
Red Hat – Fatih Nar
Zero touch provisioning is a hot topic these days. A key aspect of zero touch provisioning is ensuring security and trust. A Zero Trust architecture should be foundational to 5G. Red Hat is deeply involved in how Zero Trust can be implemented with Open Core, 5G solutions in a multi-vendor environment.
The 3rd Generation Partnership Project (3GPP) as a telecom body, focuses on standards that dictate how mobile applications work with each other. But defining applications' scalability and maintainability falls on the shoulders of the vendors. Red Hat works with vendors on implementing scalability, to manage costs depending on the traffic demands.
Also Read:
Benefits of a 2D Network On Chip for FPGAs
5G Requires Rethinking Deployment Strategies
Integrated 2D NoC vs a Soft Implemented 2D NoC
Share this post via: