By its very definition, machine learning (ML) hardware requires flexibility. In turn, each ML application has its own fine grain requirements. Specific hardware implementations that include specialized processing elements are often desirable for machine learning chips. At the top of the priority list is parallel processing. However, to make effective use of parallel processing units, memory and network architecture are critical. There has been an explosion of different approaches to ML hardware, including dedicated processor arrays, FPGA based solutions, etc. Early on it became clear that FPGAs had a lot to offer, but their use was limited by the requirement to move data on and off chip.
Embedded FPGAs offer a way to connect all the storage and computational elements of a full programmable ML solution inside of a single die. Achronix has been working on solutions for embedded FPGAs that are specifically tailored for ML SOCs. By properly choosing processing elements and memory configurations, dramatic improvements to logic utilization and throughput can be realized. These advantages become important in cloud applications, and even more so when the target is a mobile device.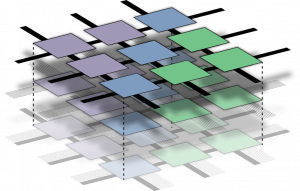 Achronix is offering a webinar to show how embedded FPGA can become the fabric for optimized machine learning solutions. The presenter will be Achronix Senior Director Mike Fitton, who has over 25 years of experience in system architecture, algorithm development and semiconductor design in wireless, network and ML.
The webinar will show how bringing programmable hardware into an SOC design can allow fine tuning of applications and data transfer. The webinar promises to include real benchmark data showing the value of embedded FPGA versus other approaches.
The webinar will be on Thursday August 29th at 10AM PDT. This should be an interesting and informative look at significantly better ways to implement ML for data center, edge, mobile, IoT and other areas where ML is proving useful.

About Achronix Semiconductor Corporation
Achronix Semiconductor Corporation is a privately held, fabless semiconductor corporation based in Santa Clara, California and offers high-performance FPGA and embedded FPGA (eFPGA) solutions. Achronix's history is one of pushing the boundaries in the high-performance FPGA market. Achronix offerings include programmable FPGA fabrics, discrete high-performance and high-density FPGAs with hardwired system-level blocks, datacenter and HPC hardware accelerator boards, and best-in-class EDA software supporting all Achronix products. The company has sales offices and representatives in the United States, Europe, and China, and has a research and design office in Bangalore, India
Share this post via: