Podcast EP145: How Achronix Drives Industry Innovation with Robert Blake
Dan is joined by Robert Blake, Chief Executive Officer of Achronix Semiconductor. He has worked in the semiconductor industry for over 25 years. Prior to Achronix he was the Chief Executive Officer of Octasic Semiconductor based in Montreal, Canada. Robert also worked at Altera, LSI Logic and Fairchild.
Robert explains how Achronix helps their customers innovate, both with dedicated FPGA products and embedded FPGA IP. The embedded FPGA IP has been used to manufacture over 15 millions cores.
Areas of focus for Achronix to drive innovation include computation efficiency, data transport, connectivity and interface. The current environment that is trending toward heterogeneous compute is also discussed, along with a future assessment of the industry and Achronix.
The views, thoughts, and opinions expressed in these podcasts belong solely to the speaker, and not to the speaker's employer, organization, committee or any other group or individual.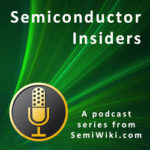 Share this post via:
---