In the ever-evolving world of Conversational AI and Automatic Speech Recognition (ASR), an upcoming LinkedIn Live webinar is set to redefine the speech-to-text industry. Achronix Semiconductor Corporation is teaming up with Myrtle.ai to bring you a webinar on October 24, 2023, at 8:30am PST.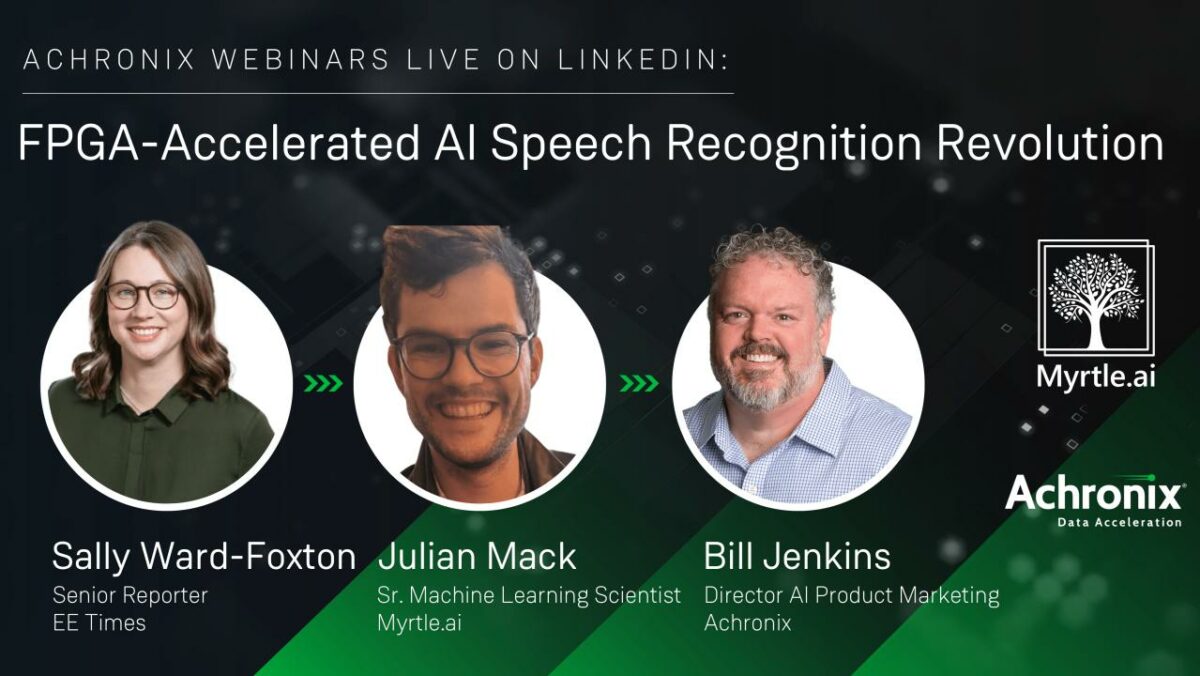 Moderated by EE Times' Sr. Reporter, Sally Ward-Foxton, the webinar will explore a revolutionary ASR solution that promises to change the acceleration game in Conversational AI. Achronix, a leader in high-performance FPGAs and embedded FPGA (eFPGA) IP, and Myrtle.ai, a company known for optimizing low-latency machine learning (ML) inference for real-time applications, are teaming up to present a technology that's highly relevant in today's tech landscape.
At the core of this event lies a real-time streaming speech-to-text solution based on Achronix's Speedster7t FPGA. Imagine the power to convert spoken language into text in over 1,000 concurrent real-time streams with remarkable accuracy and speed. This isn't just about innovative technology; it's about the practical applications and the potential impact on your business. If you're part of a team that relies on fast, accurate speech-to-text conversion, this webinar is tailor-made for you.
One of the key takeaways from this event is understanding how this ASR solution can significantly reduce operational expenses (OpEx) and capital expenses (CapEx) while maintaining top-tier performance. Bill Jenkins, the Director of AI Product Marketing at Achronix, highlights that it can reduce costs by up to 90% compared to traditional CPU/GPU-based server solutions. In times where efficiency and cost-effectiveness are paramount, this is knowledge that can transform your decision-making processes.
Beyond the impressive cost savings, the webinar is your opportunity to explore the fascinating capabilities of FPGAs. The Achronix Speedster7t FPGA has unique features like a 2D network on chip (NoC) and ML processor (MLP) arrays. These features have been leveraged to create an ASR product significantly more optimized than anything available today. The extremely low latency of these FPGAs makes them ideal for real-time workloads, and this event will unveil how this low-latency technology can supercharge your business's operations.
Moreover, this ASR solution is not just about performance; it's also about flexibility. It's compatible with major deep learning frameworks like PyTorch and offers re-trainability for multiple languages and specialties. If your business has specific needs or requirements, this solution can be customized to suit your objectives, making it a perfect fit for a wide range of industry-specific applications.
So why should you attend this webinar? In addition to unveiling the technology itself, it's an opportunity to hear from experts in the CAI field. Bill Jenkins, an expert in Achronix-FPGA-powered ASR solutions, and Julian Mack, a Senior Machine Learning Scientist at Myrtle.ai, will guide you through this groundbreaking ASR solution with Sally Ward-Foxton's moderation of the conversation and take on the current CAI landscape.
It's a unique opportunity to discover the technology that will reshape how industries process speech data. Mark your calendars and attend this webinar on October 24th at 8:30am PST; it's your ticket to a future where technology meets innovation.
Also Read:
Scaling LLMs with FPGA acceleration for generative AI
400 GbE SmartNIC IP sets up FPGA-based traffic management
Share this post via: