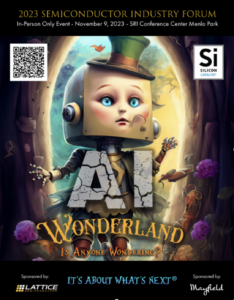 Regardless of where you grew up you probably know the story of Alice in Wonderland. The story is over 100 years old, but holds up to the present day, thanks in part to some magic from Disney. It evokes visions of a place that elicits admiration and wonder, to create a place of magical charm. In the context of AI, it takes on a more relevant meaning as a place of great opportunity and potentially serious concerns. This year's Silicon Catalyst Semiconductor Industry Forum used this theme to illuminate the impact AI will have on our world. It was a very popular event. The venue was even been moved to a larger space to accommodate the anticipated interest. The live, in-person event was Thursday, November 9, 2023 from 5pm – 8pm Pacific Time in Menlo Park, CA. The event sold out and a replay link will be coming. Let's examine what was discussed and who was there to fully understand how Silicon Catalyst welcomes you to our AI wonderland.
About the Event
The Silicon Catalyst Semiconductor Industry Forum was launched in 2018 with a charter to enable a town-hall like event to discuss the broad impact of semiconductors on our world, beyond the traditional focus on technology, financial reviews and industry business forecasts.
Silicon Catalyst has delivered some memorable Semiconductor Industry Forum events since 2018. You can read about last year's event, Welcome to the Danger Zone here.
I spoke with Richard Curtin, Managing Partner at Silicon Catalyst recently about the latest event – why the topic, and where he expected the discussion to go. What follows are some of his thoughts.
"The past few decades of semiconductor innovation have spanned many links in the value chain, covering manufacturing, design automation, global supply chain development and scaling. These breakthroughs have resulted in unprecedented growth areas for semiconductor applications, further enabling new business creation and delivering great economic returns for stakeholders and societal benefits for the world's population. The impact of these innovations on our society is truly remarkable, especially now with the widespread application of AI to all aspects of our daily life and the world's industries.
But as we've seen and experienced in 2023, in the context of AI, it takes on a more relevant meaning as a place of great opportunity, but also potentially serious concerns. To this point, check out the coverage of the developing AI-angst, as documented in the recent broadcasts: 60 Minutes episode and also Real Time with Bill Mahr .
In my personal opinion, the real question to be addressed: are we the proverbial frog in the pot of water?"
Event Details
This year, the topic was AI – its impact on industry, our world and overall innovation. The potential risks of AI deployment and government intervention are relevant to the discussion as well.  Here is a summary of the items that were discussed. This is just a start, there will be more.
What are the AI technologies that will create new business models and industries?
What are the implications to semiconductor industry success for incumbents & startups?
How do we address the power-hungry AI hyper-scalers' impact on our energy resources?
What impact will potential government and industry regulations have on innovation?
Who Presented?
The main event was a spirited panel discussion on the topics above with a group of high-profile executives. The panelists shared their thoughts on how best to address some key questions that arise as we look to navigate the years ahead in our new AI wonderland. There was also a live Q&A with the audience.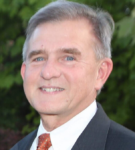 The panel was moderated by David French – CEO of SigmaSense and a Silicon Catalyst Board Member. Mr. French's career spans a broad set of experiences in virtually all aspects of research, design, manufacturing, marketing, and business management within the semiconductor industry. He has recently become CEO of SigmaSense,  a company developing breakthrough software-defined sensing technology.
The panelists were: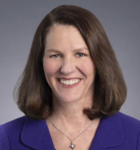 Deirdre Hanford – Chief Security Officer, Corp Staff, Synopsys; CHIPS Act Department of Commerce Industrial Advisory Committee. Deirdre leads efforts to drive industry awareness and enablement for secure design from software to silicon to support business in EDA, IP, and Software Integrity. Ms. Hanford previously served as co-general manager of Synopsys' Design Group. She has held a number of positions at Synopsys since joining the company in 1987, including leadership roles in general management, customer engagement, applications engineering, sales, and marketing.
Moshe Gavrielov – Former CEO of Xilinx; Board member of TSMC and NXP. Mr. Gavrielov served as President and CEO of Xilinx, Inc. from January 2008 to January 2018. Prior to that, he served at Cadence Design Systems as Executive Vice President and General Manager of the verification division. He also held a variety of executive management positions at LSI Logic and engineering management positions in National Semiconductor and Digital Equipment Corporation. Since 2019, Mr. Gavrielov has served on the board of TSMC, and as of May 2023 he joined the NXP board of directors.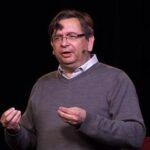 Ivo Bolsens – Senior Vice President, Head Corporate Research and Advanced Development, AMD. Previously he was Senior Vice President and Chief Technology Officer (CTO) at Xilinx. The research of his team led to the industry-leading adoption of 2.5D advanced packaging technology in Xilinx products. Bolsens came to Xilinx in June 2001 from the Belgium-based research center IMEC, where he was Vice President of information and communication systems. His research included the development of knowledge-based verification for VLSI circuits, design of digital signal processing applications, and wireless communication terminals.
To Learn More
The live event was held at the SRI Conference Center in Menlo Park, CA on Thursday, November 9, 2023, from 5pm – 8pm Pacific Time.  The agenda included a reception, networking, and Q&A with the panelists. If you missed the event, a replay link is available here. And that's how Silicon Catalyst welcomes you to our AI wonderland.
Share this post via: