Silicon Catalyst is the world's only incubator focused exclusively on semiconductor solutions. This unique position puts the organization in the center of many new technology innovations. Recently, a Semiconductor Startups Contest was announced in collaboration with Arm. You can learn more about the details of the contest here.  Entrants to the contest represented the most interesting emerging applications using Arm technologies, including quantum computing, consumer products, massively parallel AI, cryptography and wireless communications. Silicon Catalyst recently announced the winners of the contest. The winning companies are located in Ireland, Germany and Scotland, emphasizing the global footprint of Silicon Catalyst. Let's take a look at the winners of the Silicon Catalyst/Arm Silicon Startups Contest.
The Contest
Arm is both a Silicon Catalyst Strategic Partner and an In-Kind Partner, so the company was a natural fit for this contest. Winners receive valuable commercial, technical and marketing support from Arm and Silicon Catalyst.
The overall top winner receives Arm credit worth $150,000. In addition, all winners receive:
Access to the full Arm Flexible Access for Startups program, which includes:

No cost, easy access to an extensive SoC design portfolio including a wide range of Cortex processors, Mali graphics, Corstone reference systems, CoreLink and CoreSight system IP
Free tools, training, and support
$0 license fee to produce prototypes

Cost-free Arm Design Check-in Review with Arm's experienced support team
Entry to the invitation-only Arm ecosystem event and be featured, along with the networking and connecting with Arm's broad portfolio of silicon, OEM and software partners
Investor pitch review and preparation support by Silicon Catalyst, and an opportunity to present to the Silicon Catalyst Angels group and their investment syndication network
Quite a list of very useful swag. And the winners are…
Top Winner – Equal1

Based in Ireland, Equal1 is a pioneering silicon quantum computing company dedicated to making the technology affordable and accessible. Equal1's pioneering Quantum System-on-a-Chip (QSoC) processors, now in their third generation, integrate entire quantum computing systems onto a single chip, merging millions of qubits, control systems, and real-time error correction capabilities.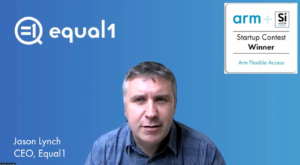 The company is one of the top patent holders in quantum silicon and is indeed opening a path to the future of quantum computing.
To learn more about Equal1 you can view a short video from the CEO and CTO here.
Runner Up – SpiNNcloud
Based in Germany, SpiNNcloud delivers a unique solution combining deep learning, symbolic AI, and neuromorphic computing. The company's platform delivers a real-time, low-latency, and energy-efficient cognitive AI capability that leverages cutting-edge research from the Human Brain Project. By combining statistical AI and neuromorphic computing in a massively-parallel scale with world-class energy efficiency and real-time response, brain-like capabilities can be enabled. The company aims to deliver Large-Scale AI in Real-time.
SpiNNcloud's system is the only real-time AI cloud with brain inspiration, powering instantaneous robotics control, sensing, prediction and insights, resulting in enabling the most intelligent and capable robots, and the most effective cognitive services.
Runner-Up – weeteq

Based in Scotland, weeteq is pioneering a new approach to circuit design that defines a new technology category of 'circuit-level machine learning'. Called Ultra Edge®, it enables circuit-level, sensor-independent, predictive performance planning and unsupervised performance improvement for every closed-loop control system.
The company is developing embedded software, silicon, modules and enterprise software, allowing other technology manufacturers to seamlessly integrate Ultra Edge® into their solutions. weeteq holds four patents to protect the technology.
To Learn More
You can learn more about the contest and the winners here. And that's a look at the winners of the Silicon Catalyst/Arm Silicon Startups Contest.
Share this post via: