FPGAs have played an important role in the growth of key markets, including networking, storage, mobile devices, etc. They offer a unique set of capabilities that ASICs, CPUs and GPUs find hard to match. FPGAs are wire-speed, programmable integrated circuits that accelerate data and applications.  The ability to reprogram the devices, even once they are deployed in an application, provides optimal flexibility while still yielding best-in-class performance efficiencies.  Some of the leading applications in these fast-changing markets include AI/ML for data center, edge compute, Industry 4.0 and intelligence for automotive, video compression, storage- and network-based acceleration, security and virtualization.  FPGAs are poised to be instrumental in the successful deployment of these applications.  Achronix Speedster7t provides the fastest interfaces in the market for an FPGA with PCI-e Gen 5, 400GbE and GDDR6.  Connecting all of the internal functional blocks, like machine learning processors (MLP),
general purpose DSPs, FPGA fabric as well as the external I/O is Achronix's groundbreaking network on chip (NoC) which exceeds 20Tbps of bi-directional bandwidth.   Unlike other FPGA vendors, Achronix goes one step further and provides its technology as IP for integration into custom ASICs.   With this in mind the industry research firm of Frost & Sullivan has looked at the players in the FPGA market and has awarded Achronix with their 2020 Best Practices Award for FPGA for the Data Center Industry.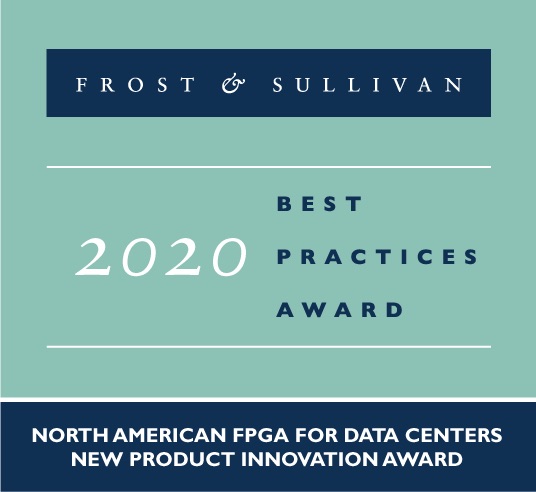 Frost & Sullivan has a well-defined methodology for assessing companies and their technology for their level of innovation. The Frost & Sullivan best practices research paper on Achronix outlines the criteria and process for this assessment. It comes down to more than just what is in the product; it includes how the company works with customers and the internal processes to ensure the best results. Frost & Sullivan breaks it down into two main areas, New Product Attributes and Customer Impact.
New Product Attributes includes matching customer needs, reliability, quality, positioning and design. Customer Impact covers price/performance value, customer purchase experience, customer ownership experience, customer service experience and brand equity. Frost & Sullivan has in-house expertise and also uses external industry experts to vet their rankings.
Achronix scored high because of many factors. The Frost & Sullivan paper provides background on the growth of Achronix and a summary of Achronix's Speedster7t architecture. Achronix offers both discrete FPGA devices and  embedded FPGA (eFPGA) intellectual property used for the development of custom ASICs and/or chiplets.   Achronix offers a 2D network on chip (NoC) that frees up the FPGA fabric resources by providing point to point high speed data transfers within the FPGA fabric and to memory, network and serial interfaces. Speedster7t also comes with PCIe Gen5, 400Gb Ethernet and GDDR6 interfaces for high speed data operations. Frost & Sullivan  highlights the dedicated arithmetic units in the FPGA fabric that support AI/ML operations. These Machine Learning Processors (MLP) are useful for programming the massively parallel operations that are needed in AI/ML processing.
Frost & Sullivan also looked at corporate culture and processes to rank Achronix. All of the peripheral interfaces undergo rigorous qualification prior to inclusion in their products. They have adopted state of the art IP that offers the highest performance and quality. Achronix also has built their development environment using industry standard tools. This means that new customers will already be familiar with the flow. Achronix has also pioneered 24/7 support through an online support system that makes it easy for customers to get any needed answers.
Achronix partners with customers, sharing their product roadmap to get early feedback. Also, eFPGA customers get expert help on configuring resources to ensure their applications will work optimally and integrate with the other SoC components. These steps help ensure first time silicon success and future-proofing so customer products will have long product lifetimes.
These fast changing markets like 5G, Automotive, Edge Compute and Data Center and their associated applications such as AI/ML, video compression and storage- and network-based acceleration, security and virtualization combine to make exciting opportunities for FPGA-based designs. Achronix has spent the time to deliver innovations that set them apart from the other players. Frost & Sullivan offers comparative rankings of several FPGA vendors in their report. The full report is available for download at the Achronix website. It offers a good overview of the FPGA market and interesting specifics about Achronix and the Achronix Speedster7t.
Share this post via: