One of the key growth areas for the semiconductor ecosystem is IP which of course includes IP related EDA software. In May of 2017 design management/collaboration expert (one of my personal favorite EDA companies) ClioSoft announced designHUB[SUP]®[/SUP] for IP management and re-use. Using designHUB, semiconductor companies can easily investigate, evaluate, and integrate internally and externally created IP across geographical company lines:
"There is a paradigm shift occurring within the IP ecosystem regarding IP usage, development and data sharing," said Srinath Anantharaman, founder and CEO of ClioSoft. "Current products in the market today address IP reuse by web-based cataloging. By using the concept of crowdsourcing, designHUB bridges the gap between the IP developer and the IP user all within a single platform and extends the definition of IP to include SoC sub-systems, documents, ideas, scripts, flows etc. Design related information from various sources is seamlessly integrated into designHUB along with a rich set of reports to provide the relevant information to the designer and management community. Design reuse can now be a reality within a company." May 2, 2017.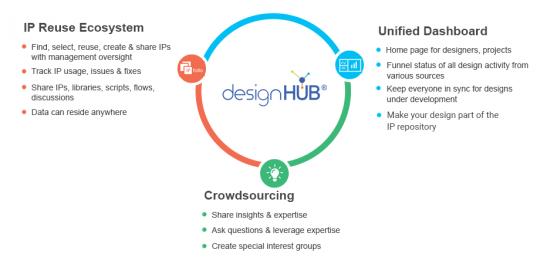 Approaching the two year anniversary, designHUB is now a driving force with ClioSoft customers who just announced record new contracts in 2018:
"There is not just one reuse solution that fits all companies," said Srinath Anantharaman, founder and CEO of ClioSoft. "Every company has unique requirements, and each company looks for enterprise-class solutions that are configurable for their needs, easy to use, have a low maintenance overhead, a rich set of features, can scale to meet their future needs and be easily adopted within the company. The designHUB ecosystem addresses these needs and continues to be positively received by design team's year after year."
designHUB is based on crowdsourcing and leveraging the intelligence of employees within an enterprise. This implies that you can easily create interest/discussion groups within an enterprise wherein you can pose a problem and others can provide you with either a solution or an alternative. All discussions are saved as part of a knowledgebase and can be leveraged by others in the future. Here are the three other things you should know about designHUB:
[LIST=1]
Traceability:

designHUB redefines the notion of IPs to include semiconductor IPs, documents, flows, scripts etc. It tracks all types of IPs along with their variants and provides detailed reports on where it has been used, what are the open issues against the IP . It also provides notifications as needed if you are following the IPs.
Project Dashboard:

It enables design teams to set up their own dashboard and upload all project collateral to ensure all designers are on the same page. Project leaders can define their schedules and send either broadcast messages or message individual team members.
Independent of Data Management:

designHUB comes equipped with a well defined API which enables it to be integrated with any data management system. Currently it supports SOS, GIT, Subversion and Perforce. As a result, it can easily serve as a conduit for IPs, and provides design teams the flexibility of downloading IPs from one data management system and use it another data management system.

About ClioSoft
ClioSoft is the pioneer and leading developer of enterprise system-on-chip (SoC) design configuration and enterprise IP management solutions for the semiconductor industry. The company provides two unique platforms that enable SoC design management and IP reuse. The SOS7 platform is the only design management solution for multi-site design collaboration for all types of designs – analog, digital, RF and mixed-signal and the designHUB platform provides a collaborative IP reuse ecosystem for enterprises. ClioSoft customers include the top 20 semiconductor companies worldwide. The company is headquartered in Fremont, CA with sales offices and distributors in the United States, United Kingdom, Europe, Israel, India, China, Taiwan, Korea and Japan.