Today's profound statement: "don't fall in love with your tools, figure out the biz process change first." Mixed-signal SoC designers are having ample challenges with their design process and are in need of design management, but don't want another tool to do it.
If an analog and mixed-signal (AMS) designer could work in a vacuum, with just one tool, from start to finish, most would probably be very happy campers. However, in today's environment with IP and design expertise coming from all parts of the globe, that's not reality. Collaboration is the name of the game. Unfortunately, most tools that excel at AMS design don't do so well at collaboration, or at least at making critical parts of collaboration visible to others on the team.
For instance, can you quickly tell what design changes have been checked in this week? Or since yesterday, when things were working and now they're not? What layout did we run DRC against? Did a change in the SoC design cause a schematic revision, or vice versa? A design tool is made to tell you where a design is at, but it might leave a big mystery as to how it got there – especially if someone else made the changes, things can get really mixed up.
A design management tool, on the other hand, would help answer those questions. Changes would be tracked, revisions tagged based on verification criteria, and interrelationships highlighted so everyone could see what was needed next. So, we have this AMS design tool we really like, and now I'm saying you need to move to something else to solve the design management problems? Not exactly.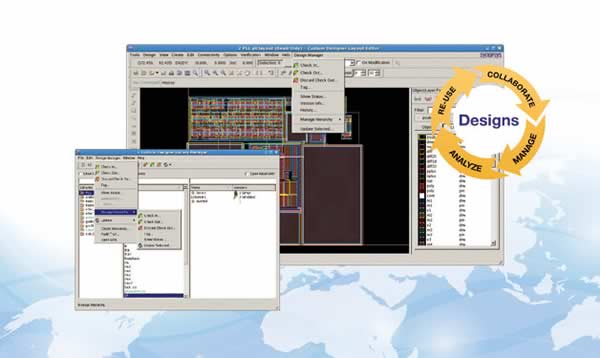 In the ClioSoft model of design management, everything happens in the native design environment – you just get additional menu options to access what you need, instead of having to step out of your favorite AMS tool. ClioSoft has handled the job of integrating the design tool UX and data with the design management platform.
In a webinar coming on August 24, ClioSoft will show how they've integrated the design management functions of SOS with Synopsys Custom Compiler. Registration is here:
Design management for analog & mixed-signal SoCs
Of course, Synopsys isn't the only mixed-signal design environment ClioSoft supports, but the examples shown with Custom Compiler should easily translate to others. It should be worthwhile to see how the overall process with design management added works.
Also Read
10 challenges in IP design collaboration
Enterprise design management engineered for SoCs
Managing and reusing IP in a build-borrow-buy era
Share this post via: