Non-volatile memory is used in a wide variety of consumer and industrial applications and comes in an array of architectures like Serial Flash and CBRAM (Conductive Bridging RAM). I caught up with Shane Hollmer by phone this week to gain some insight into a recent acquisition of Atmel's serial flash components, and how that affected their EDA tool flow for IC data management.



Shane Hollmer is a co-founder of Adesto Technologies and currently serves as their Vice President of Engineering. Mr. Hollmer has more than 19 years of experience in the semiconductor memory industry including engineering and engineering management positions at Advanced Micro Devices, Emosyn, Silicon Storage Technology, and Monolithic Power Systems. Mr. Hollmer earned a B.S. degree in Electrical Engineering and Computer Sciences from the University of California, Berkeley and a MBA from San Jose State University. Shane holds more than 50 patents the areas of non-volatile memory development and mixed-signal design.
Atmel Serial Flash


Q: Why did Adesto acquire the serial flash products from Atmel?
A: Adesto is establishing itself as a leader in next generation memory solutions. Atmel's serial flash brought excellent products and technology, established customers and expanded world wide operations. These are difficult for a startup company even one with great technology such as Adesto.
Q: What are the end-markets for serial flash?
A: There are hundreds or thousands but the biggest is our bios in PCs, mobile devices, and set top boxes. Every PC, phone, iPad, printer, washing machine, etc. will have a serial flash in it.
Data Management Tools
Q: What are the data management issues on your IC projects?
A: Primarily revision control. Have many products and each product can have up to 10 revisions. On top of this, active projects are revised daily by engineers.
Looking at differences between revisions, both schematics and layout. Very valuable for debug and for our design methodology.
Historical management and QandR. Being able to quickly match a product in the field to the correct design revision.
Migrating Data Management Tools
Q: Why migrate from DesignSync?
A: We had no experience with DesignSync and it was difficult to get support. We strongly felt we would be better off long-term to switch to a known good solution and one where we were sure we would get the needed support.
Q: What attracted you to use SOS from ClioSoft?
A: Both previous experience and the excellent customer support. Reasonable pricing also a factor.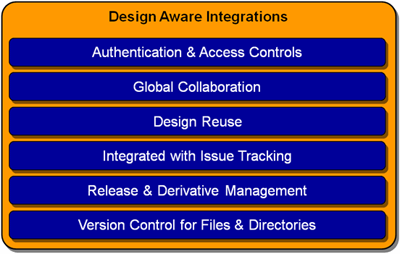 Q: How has Data Management migration worked for you?
A: Very well. The ClioSoft technical team helped us migrate over 50GB of project data. We were up and running with migrated data within a couple of days.
Q: What was support like?
A: The support from ClioSoft was superb. An AE stopped by to try the conversion script on one of our projects. Scripts were then debugged and transferred. Our AE provided steps to do the conversion. An answer to a question is always just a phone call away.
Q: What did conversion depend on?
A: Conversion time was dependent on the size of the SYNC project. Conversion time was roughly between 1hrs to 10 hrs.
Q: How do you know if the conversion was correct?
A: After conversion is completed, the LVS check of layout data base vs schematic data base is correct.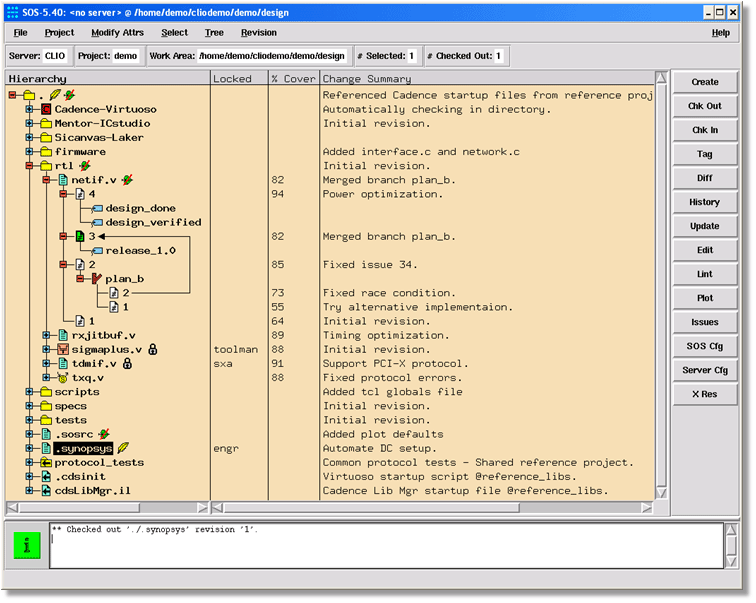 Other Features
Q: Did you use other ClioSoft features?
A: Yes, one neat feature of SOS is the DIFF function. This would allow one to see the changes between 2 different revisions of a schematic or layout, automatically.
Summary
Adesto is growing their NVM business through both acquisitions and internal product development in a fast-paced marketplace. They keep track of their design revisions and manage the IC design process using tools from ClioSoft like SOS for Data Management and Visual Design Diff to see changes on schematics and layout.
Also Read
Mixed-Signal Methodology Guide: Design Management
AMS IC Design at Rohde & Schwarz
EDA User: Rafaela Novais from TowerJazz Semi
Share this post via: