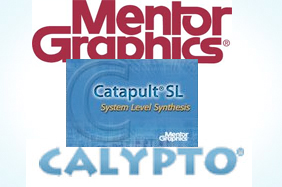 Mentor has transferred its Catapult (high level synthesis) product line, including the people, to Calypto. Terms were not disclosed but apparently it is a non-cash deal. Calypto gets the product line. Mentor gets a big chunk of ownership of Calypto. So maybe the right way to look at this is as a partial acquisition of Calypto.
It has to be the most unusual M&A transaction that we've seen in EDA since, maybe, the similar deal when Cadence transferred SPW to CoWare. There are some weird details too: for example, current Catapult customers will continue to be supported by Mentor.
Who are Calypto? It was formed years ago to tackle the hard problem of sequential formal verification (sequential logical equivalence checking or SLEC). The market for this was people using high-level synthesis (HLS) since they didn't have any way to check that the tool wasn't screwing up other than simulation. There were many HLS tools: Mentor's Catapult, Synfora (now acquired by Synopsys), Forte (still independent). More would come along later: AutoESL (now acquired by Xilinx), Cadence's C to Silicon. But there really weren't enough people at that time using HLS seriously to create a big enough market for SLEC.
So Calypto built a second product line on the same foundation, to do power reduction by sequential optimization. This is looking for things like "if this register could be clock-gated under certain conditions, so it doesn't change on this clock cycle, then the downstream register can be clock gated on the following clock cycle because it won't change." For certain types of designs this turns out to save a lot of power. And a lot more people were interested in saving power than doing SLEC (although everyone who saved power this way needed to use SLEC to make sure that the design was functionally the same afterwards).
So now Calypto also has HLS so has a tidy little portfolio: HLS, SLEC for checking that HLS didn't screw up, power reduction. Presumably in time some of the power reduction technology can be built into HLS so that you can synthesize for power or performance or area or whatever.
Calypto was rumored to be in acquisition talks with Cadence last year but obviously nothing happened (my guess: they wanted more than Cadence was prepared to pay). They were also rumored to be trying to raise money without success.
Mentor says they remain deeply committed to ESL and view this transaction as a way to speed adoption. I don't see it. I'm not sure how this works financially. Catapult was always regarded as the market leader in HLS (by revenue) but Mentor also had a large team working on it. If the product is cash-flow positive then I can't see why they would transfer it, if it cash-flow negative I don't see how Calypto can afford it unless there is a cash injection as part of the transaction.
So what has Mentor got left to speed adoption towards. The other parts of Simon Bloch's group (apparently he is out too) were FPGA synthesis (normal RTL leval) and virtual platform technology called Vista.
Maybe Mentor decided that HLS required the kind of focused sales force that only a start-up has. Mentor seems to suffer (paging Carl Icahn) from relatively high sales costs (although Wally says that is largely because they account slightly different from, say, Synopsys). Their fragmented product line means that their sales costs are almost bound to be higher compared to the other big guys who are largely selling a complete capability (give us all your money, or most of it, and we'll give you all the tools you need, or most of them).
Or perhaps it is entirely financial driven. Mentor gets some expenses off their books, and reduces their sales costs a little. But without knowing the deal or knowing the low-level ins and outs of Mentor's financials it's not really possible to tell.
Full press release here.

Share this post via: